Affiliate Link
Press Sample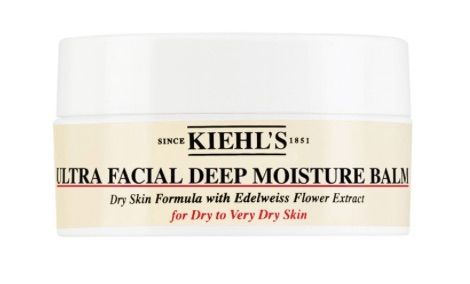 Do you sense a theme with my blog lately? I certainly do! Winter is the time of the year that I am constantly seeking out products to provide moisture and comfort for my Winter-dry skin.
Kiehl's has a brand new product to help us maintain daily hydration for our skin: Introducing
Kiehl's Ultra Facial Deep Moisture Balm
. This innovative balm features the extract of one of the most resilient flowers on the planet, the Edelweiss flower. This flower shows remarkable resiliency in harsh climates.
Kiehl's chemists combined the efficacy of Edelweiss Flower Extract with the Ultra Facial Collection's iconic ingredients Antarcticine and Squalane to help store and retain skin's moisture. This unique balm-textured formula is very successful at providing 24-hour daily hydration to dry and very dry skin immediately after application.
In addition to Edelweiss Flower Extract, Kiehl's Ultra Facial Deep Moisture Balm also contains a blend of ingredients that bind water, help replenish skin barrier's lipids and improve skin's mechanical properties to leave dry and very dry skin looking softer, smoother, hydrated and healthy
. Other key ingredients include: Antarcticine (glycoprotein protects skin and stimulated collagen and elastin), Squalane (a lipid derived from olives that is very similar to the natural lipids in our skin. It has emollient properties that help seal the skin to lock in moisture and increase hydration levels), and Glycerin (a humectant that provides lasting hydration and dryness reduction).
Kiehl's actually tested this amazing new Ultra Facial Deep Moisture Balm in some pretty harsh conditions: during a week-long motorcycle ride in Alaska with Kiehl's President, Chris Salgardo and extreme TV host, Grant Reynolds. Not only did this balm protect their skin from the harsh environment, but also they felt that their skin was healthier and softer after the trip than before they left!
Normally I do shy away from any product that is too rich or heavy for fear of breakouts. However, there certainly are times when I really want a heavier duty moisturizer for my skin. This will be a great addition to my skincare arsenal for those times. While we certainly do not have artic conditions here in GA, it does get cold and dry and my skin does need more help with moisture during this time of year. There is no question that this product helps my skin feel more hydrated and comfortable!
Affiliate Link