Press Sample
Sponsored Post
Affiliate Link
PRIMP Power Primper
The Struggle is Real! Keeping Redness and Irritation at Bay with
Paula's Choice CALM
:
Redness, irritation, and sensitivity...oh my! Skincare can be so complicated! Especially when you have combination skin that is somewhat acne-prone and sensitive. I want products that work for my fluctuating skin type, that don't flare up or cause breakouts, and that are also gentle. That is a tall order and often products fall short on at least one if not more of those three requirements.
As a beauty blogger, I am constantly trying out new things. However, I have to tread lightly with my skincare testing. I have to add in one new product at a time and often I have to stop testing products after just a few days and discontinue if they cause irritation or flare up redness. I actually first got interested in blogging and the beauty community with my search for skincare that works for my complicated skin. Paula's products and her "Don't Go to the Cosmetics Counter Without Me" book have been instrumental in my skincare journey for years!
My goal with my blog is to share with you the very best products that I have found that work for my skin. So, I am excited to share with you today about the Paula's Choice CALM Redness Relief Kit for Normal to Oily Skin. This kit was developed specifically to gently reduce redness and and signs of irritation with comforting and moisturizing formulas.
My Skin:
My skin type is Combination (Normal to Oily) and I am sensitive and prone to redness and irritation. I am somewhat acne-prone. However, I must note that with the right skincare, I can almost completely keep breakouts at bay. But, if I use anything too rich or pore-clogging, the breakouts return. Also, when products irritate me, I don't just get red, I also get irritation bumps that somewhat resemble breakouts on my cheeks. I have often wondered if this is actually boarderline Rosasea. No, I have never been diagnosed with Rosasea, however, I do wonder...My skin is just so prone to redness and irritaion. Not just with products either! Even if I eat spicy foods, go out in the cold, or go running in the heat...guess what? My face turns bright red!

Exfoliation is particularly tricky for me. Great exfoliation keeps breakouts away. However, if I over-do exfoliation or use anything that is either too harsh or abrasive, that will flare up those pesky irritation bumps and redness on my cheeks. Do you know what else is tricky? I am in my early 40s. So, I am particularly interested in anti-aging products. However, effective anti-aging ingredients are often irritating. I want effective anti-aging products with powerhouse ingredients. However, it is not worth irritating my skin. Sigh. It is a vicious cycle and the struggle really is real!
For today's post, I am going to tell you about my experience with the Paula's Choice CALM Redness Relief Kit for Normal to Oily Skin. I have used this kit for a few weeks and am super excited to share these products with you! If you have Combination skin that is prone to sensitivity and redness, you are going to want to read more!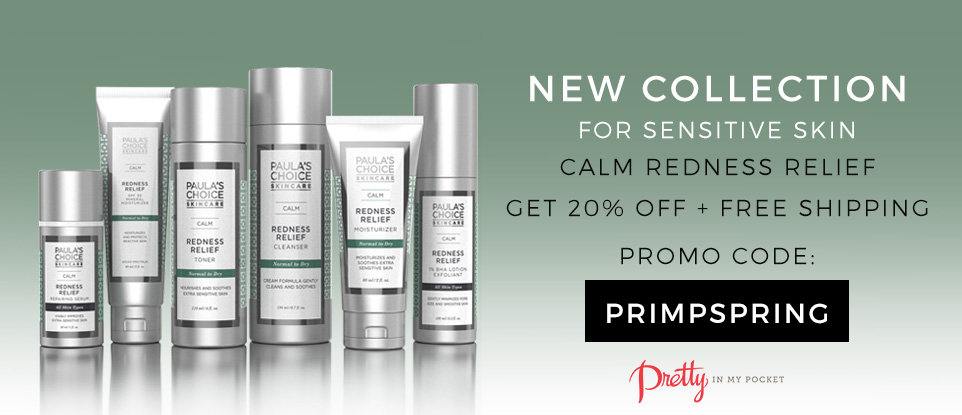 Paula's Choice Perk
: 20% off plus Free Shipping for Pammy Blogs Beauty readers:
How about this awesome deal for Pammy Blogs Beauty readers:
20% off + free shipping with promo code:
PRIMPSPRING
Click through this link to get discount
!
Details and Giveaway:
To find out more about the amazing Paula's Choice Redness Relief Kit, please click "read more" below! Plus, click through below to enter the HUGE Skincare Regime Giveaway (valued at over $200!):
It is so nice to have an assortment of products to pull from that I know will not irritate nor flare up redness in my skin. This
Paula's Choice CALM Redness Relief Kit
was developed specifically to gently reduce redness and and signs of irritation with comforting and moisturizing formulas. Having sensitive combination skin that is prone to breaking out is so tricky! Well, this kit offers 6 products: a cleanser, toner, exfoliant, serum, day moisturizer with SPF, and night moisturizer to take the guess work out of
finding solutions for your sensitive skin!
Lets talk about the Paula's Choice CALM Redness Relief Kit for Normal to Oily Skin
as a whole as well as
each product in the kit
. I am excited to report that I have had fabulous results so far with this kit! There is no question that this kit, as a whole, is extremely gentle and calming for the skin. Consistent use of gentle and calming products absolutely takes the redness away from my skin. So much so that I almost "forget" how much other products, in fact, do irritate my skin and cause redness. Using this kit for a few weeks has returned my skin back to its more porcelain state. Like seriously, I can't get over how even toned my skin is!
Now, I did try the kit for Normal to Oily Skin which, overall, is a good kit for me. I do have combination skin that leans towards oily. However, sometimes my skin does get a little bit dry and dehydrated this time of the year (especially since I have had a bad cold lately and have been taking decongestants). My skin is just constantly changing. So, I might explore some of the items from the CALM Normal-Dry kit in the near future to see if those are a good fit for me as well. The products in the Normal to Oily kit are not overly hydrating (as should be expected because this kit was designed for the Normal-Oily skin type). I was left slightly dry from the combined use of the products from the kit. I easily remedied the dryness by adding in a couple drops of a facial oil or a heavier moisturizer as needed. It may be that I need to add-in/switch out some products from the CALM Normal-Dry Kit into my routine in the future. Even with that said, I still had great results with the CALM Normal-Oily kit and am very pleased! The products absolutely are gentle and had a calming effect on my skin and elimiated/reduced redness! :)
I am a long-time Paula's Choice fan and have used the products on-and-off over the years. It is a brand that I always return to in-between other product testing for the blog. Upon opening up this kit, I was immediately excited about the beautiful packaging of the products in the CALM kit! This is probably the best Paula's Choice packaging that I have seen to date. The packaging looks sleek and modern and high-end. I especially like the inclusion of pumps with a few of the products (the serum and the BHA). I find that pump dispensing keeps products fresher and gives you the precise amount of product that you need.
All the products in this line are 100% fragrance-free as well as colorant-free! In addition, all of the products in the CALM Redness Relief Kit for Normal to Oily Skin are suitable for skin that is prone to breaking out.
I really like that this
Paula's Choice CALM Redness Relief Kit for Normal to Oily Skin includes instructions for the order of using these products for a quick routine (Essential) and a full routine (Advanced) as well as a few product details. I love that you can customize your skincare by using either the Essential or Advanced routines depending on what your skin needs that day or how much time you have to get ready. There are certainly some days that I need an abbreviated routine and it is nice to know which products to focus on those days.
Paula's Choice CALM Redness Relief Kit for Normal to Oily Skin
Lets dive into details about each product in this kit.
CALM Redness Relief Cleanser Normal to Oily Skin: Paula's Choice really does make some of the best cleansers out there and this is certainly one of them. It took me a LONG time to learn that gentle cleansing is a very, very important step for sensitive/reactive skin types. I can eliminate so much redness in my skin just from sticking to gentle and unscented cleansers like this one. When you start out irritating your face with your cleanser...you start the vicious cycle of redness. The trouble is that many cleansers that are formulated for combo or normal-oily skin types really strip the skin and have irritating ingredients. Stop the cycle of irritation and redness and start out your routine with a gentle cleanser like this one. This lightweight gel cleanser leaves my skin completely clean and refreshed without feeling dry nor tight. It rinses clean and leaves no residue. It really is everything that I look for in a cleanser. It removes dirt, oil, and makeup completely and without irritation.
CALM Redness Relief Toner: This toner has ingredients to lightly hydrate your skin and reduce redness like hydrating glycerin, soothing colloidal oatmeal, and various anti-irritant and anti-inflammatory antioxidants. Toner is a step that can be skipped. However, I do find that I crave the instant hydration and soothing feel that this toner brings to my skin. What a nice way to deliver these beneficial ingredients right to your skin when it needs it most (after cleansing!).
CALM Redness Relief 1% BHA Lotion Exfoliant: I am no stranger to Paula's Choice BHA exfoliants...I am actually already a huge fan of Paula's BHA formulas. However, this is my first time using a BHA in lotion form! I am used to a more liquid preparation. This lotion has a thin-consistancy and is completely non-greasy. You just soothe it on after cleansing or toning. You just need one pump's worth. It absorbs quickly and leaves you nicely prepped for your next step. The active ingredient in this product is Salicylic Acid (which is your Beta Hydroxy Acid). This ingredient gently exfoliates your skin and clears your pores of debris which in turn, makes your pores look smaller and decreases your chances of breaking out.
CALM Redness Relief Repairing Serum: An antioxidant serum is another key ingredient in a skincare routine. It really your skincare routine's equivalent of taking a multi-vitamin. With sensitive combo and breakout-prone skin, it is hard to find a serum that plays nicely with my skin (one that is gentle and doesn't cause breakouts). I am pleased with this CALM Redness Relief Repairing Serum from my CALM kit. It feels silky smooth going on (it feels like it has "slip" if that makes sense) and does not feel heavy on the skin. Actually, it feels like it sinks right in. What I love about this serum is how matte it leaves my skin. This is a nice prep for makeup!
CALM Redness Relief SPF 30 Mineral Moisturizer: Yay!!! A mineral sunscreen. With my super sensitive skin, mineral sunscreens are my favorite formulations for SPF. The active ingredients in this CALM Redness Relief SPF 30 Mineral Moisturizer are Zinc Oxide and Titanium Dioxide which are hands-down the SPFs that play the nicest with my skin. Plus, they provide such great protection for my super fair skin. The combination of a non-irritating sunscreen in a gentle skincare routine plus a SPF of 30 absolutely will decrease skin redness! Plus, zinc is a skin soother! Plus, antioxidants and other anti-irritants are included in this formula. The lotion itself is lightweight and silky in texture. It leaves a matte finish and is a great prep for makeup. This product is my personal favorite in this entire kit! I have only been using it a few weeks and I already know that this is going to be one of my Top 5 daytime moisturizers with SPF! Ya'll, it is rare that I find a new product that I enter into my Top 5 list...and this one made it! Sunscreens almost always either irritate my skin or break me out (or both)...this one did neither. Yay!!!
CALM Redness Relief Moisturizer: This is a lightweight moisturizer and it is your final step in your nighttime skincare routine. The lightweight formula is a nice way to add moisture without risking irritation or flaring breakouts. It protects with anti-oxidants and soothes your skin with anti-irritants. It is fast-absorbing and non-greasy. While I do wish it was a tad more hydrating, I am still enjoying using it. My skin feels very soft after using this product!
Overall, I had great results wit
h the CALM Redness Relief
Kit for Normal to Oily Skin. After using for a few weeks, my skin feels smoother and softer and has had a noticeable decrease in redness and irritation. Honestly, I can't get over how smooth my skin feels. The BHA formula amazes me with how effectively it exfoliates and refines my skin without irritation! Another big plus? No breakouts and no irritation bumps! My skin just looks so clear and so porcelain-like. I am thrilled with the results. The kit did leave my skin wanting just a tad more moisture. However, I found that was easy to remedy with just adding in a drop or two of facial oil or hydrating hyaluronic acid into my skincare routine.
Ready to try Paula's Choice? Or, if you are already a Paula fan, are you ready to re-order some faves? Please check out the Perk discount below: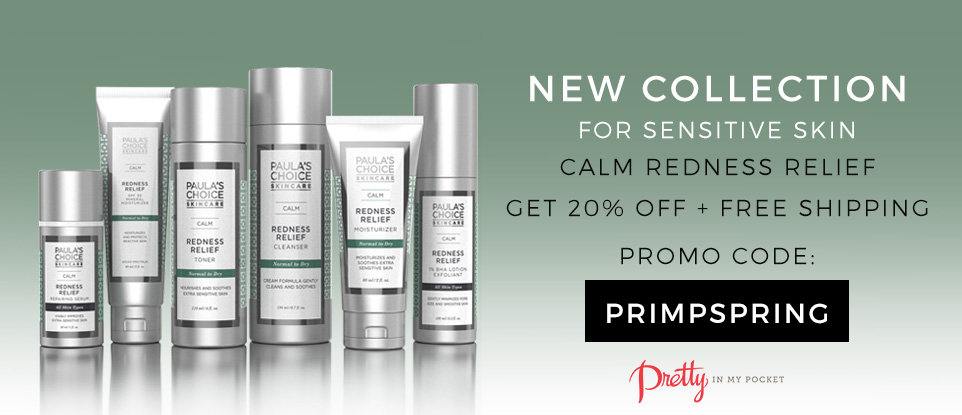 Paula's Choice Perk
: 20% off plus Free Shipping for Pammy Blogs Beauty readers:
How about this awesome deal for Pammy Blogs Beauty readers:
20% off + free shipping with promo code:
PRIMPSPRING
Click through this link to get discount
!
Research your Skincare Concerns on the Paula's Choice Site:
The Paula's Choice website is a great resource for a variety of skincare topics! Wondering if you have Rosacea?
Here are some of the signs to look for
. The Paula's Choice Website has a full encyclopedia of articles and advice for every skin type and concern.
Paula's Choice is a brand that is fully committed to helping customers find the best products for their skin. Their online phone consultations are amazing! They have walked me through product selections many times and have known just the right questions to ask to help me determine what my skin needs. Combination/sensitive skin like mine is always changing. It is good to take time every few months to re-evaluate your skin and determine specifically what you need. The experts at Paula's Choice can walk you right through that process. I can tell you all first hand that I have *always* been happy with my Paula's Choice products! That says a lot about a brand. They want the products to work for you. Actually, they even offer a 100% Money Back Guarantee (within 60 days).
Register for Pretty in my Pocket
:
Looking for beauty inspiration and product reviews from real women? Be sure to check out the awesome P
retty in my Pocket (or PRIMP) App
! This App is an amazing shopping companion! Have you ever been out shopping and wanting to pull up reviews while deciding on what products to purchase? This app is perfect for that! You can follow Power Primpers with your similar coloring or skin type and find out what products work for them. It takes a lot of the guesswork out of beauty shopping. Be sure to find me on the PRIMP app! I would love to connect with all of you on PRIMP! Here is a link to my profile on PRIMP:
Follow me on PRIMP here
!!! :)
The GIVEAWAY:
Paula's Choice is offering an amazing Giveaway: One winner will win an entire skincare regime valued at over $200! Open to US / Canadian residents only - Ends 2/29 at midnight EST
Enter the Giveaway Here:
a Rafflecopter giveaway
Affiliate Link
#KeepCalmAndSootheOn #PowerPrimper #PaulasChoice #bblogger #skincare #PaulasChoiceSkincare
@primp @paulaschoice