Affiliate Link
Press Sample
I don't know about ya'll, but when I do a full face of makeup, I certainly want everything to stay in place all day and look flawless. So, when I do opt for a liquid foundation, I want great coverage and a lasting product. So, I am super happy to have discovered this amazing long-wearing full coverage foundation from Rimmel! Introducting: Rimmel's Lasting Finish 24 Hour Full Coverage Foundation!

Rimmel's long wear skin perfecting foundation has a comfort serum built into the product for feel good, flawless skin that really stays put for hours! The new skin-friendly comfort serum instantly hydrates my skin whilst creating a lightweight finish and maintaining full coverage. This foundation lasts all day on me with no problems. Now, I have not tested it for a full 24 hours since I always wash my face at night, lol. However, it certainly lasts and looks beautiful until I take it off. With full coverage this stay true makeup applies smoothly and evenly to cover my flaws. I just love the texture of this product. It is just so smooth and silky going on. The thicker texture almost makes it act like a primer and foundation in one. It really disguises my pores as well.
Rimmel Lasting Finish Foundation
contains a SPF 20 for that all important barrier from harmful UV rays and added benefit of Vitamin E to help protect your skin from free radicals. So, you are getting skincare benefits from this foundation! It almost acts as a shield to protect your skin. I absolutely love the finish, wear, and overall beautiful look of this foundation. Plus, the shade 091 Light Ivory is a perfect match for my super fair skin. This foundation comes in 11 shades.
Rimmel Keep Calm Lip Balms
:
These lip balms are honestly just too cute. In the days of "Keep Calm" signs everywhere, why not try a "Keep Calm" balm? They are certainly cute and fun to use! These are available in 6 sheer and moisturizing shades.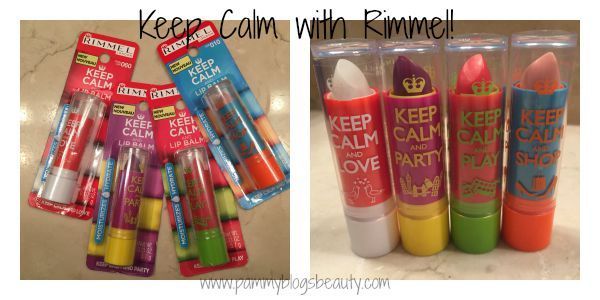 A nourishing balm with a fresh hint of a tint for an alluring just-bitten effect. When lips are lacking luscious care and color, don't panic—Keep Calm and Lip Balm, the latest lip-loving product from Rimmel London.
Available Shades:
Keep Calm and Shop: clear
Keep Calm and Kiss: pink blush
Keep Calm and Rock: berry blush
Keep Calm and Play: rose blush
Keep Calm and Party: violet blush

Affiliate Link