Affiliate Link
Press Sample
L'Occitane's NEW Addition to the Divine Anti-Aging Collection: The Divine Cream Mask:
Did you know that L'Occitane has a new addition to their fabulous Divine Anti-Aging Collection? Introducing: the Divine Cream Mask! This mask is a cream mask with a gorgeous 24K gold-plated massage applicator. The lovely gold applicator actually helps the mask to absorb better for better results: firm and luminous skin!
I am such a fan of the
Divine Collection products
. So, I am super excited to share the news of this product. I have tried out a few of the items from the Divine Collection line and have fallen in love with each one! The Divine Cream is actually one of my very favorite face creams! If you are looking for beautifully packaged luxury skincare with unique and effective ingredients, look no further than L'Occitane's Divine Collection! From the lovely scent of these products, to the outstanding ingredients, to packaging so beautiful that you want to display it on your bathroom counter, this collection is one of my all-time skincare favorites!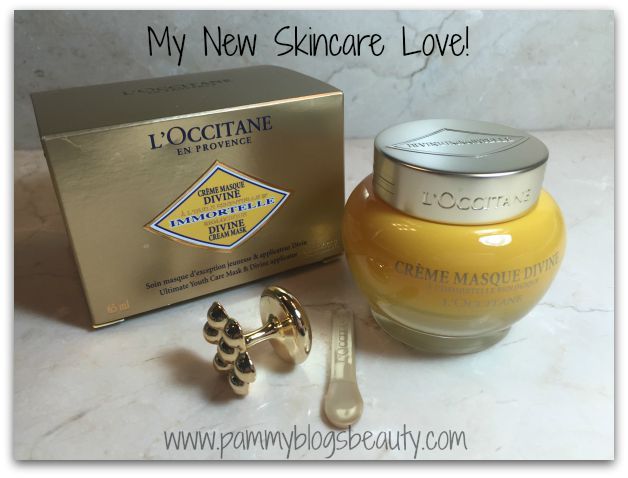 Apparently I am not the only one who loves this mask! Celebrity makeup artist Andrew Sotomayor offers his input on the
Divine Cream Mask
:
"
This mask is like a deep conditioning treatment for your skin. You can use overnight once per week or every night for a week as an intensive treatment to help skin transition during seasonal changes in weather or before big events like weddings and red carpets. The texture is softer than other masks, so it can be massaged into skin easily, and the special 24K gold plated massaging applicator will boost microcirculation and skin breathing while you sleep for a more rested, soft appearance.
"
To find out more about
L'Occitane's fabulous NEW Divine Cream Mask
and to hear about some special application tips and my results, please click "read more" below! :)
I have found that one of my favorite things about using this mask is the process of application. Applying the mask using these precise steps below (outlined from L'Occitane) is an extremely soothing and relaxing ritual. Sometimes part of the enjoyment of a product is the experience, or the ritual, and this process is just...lovely! It is like a spa massage. It is extremely soothing and pampering. There is no question, if you are going to apply this mask, be sure to incorporate the massage steps with the gold applicator! It is so worth it. The applicator just glides across your skin when the mask while the mask penetrates.
Applying the L'Occitane Divine Cream Mask:
A Soothing and Uplifting Ritual:
Step 1 – after cleansing, gently massage bare, clean skin with the smooth side of the applicator, hitting key reflex points. This helps to relax the muscles of the face, making skin more receptive for application.
Step 2 – using the spatula, scoop a dollop of cream from jar, and with your hands, apply a thick layer on skin starting from the center of the face, moving outwards while avoiding the eye area. Rinse and dry hands.
Step 3 – using the textured side of the applicator, move in circular movements all over the face to assist in boosting skin's microcirculation.
Step 4 – remove any excess product with a clean tissue or leave on to further absorb.
Key Ingredients:
Immortelle-this organic essential oil offers skin outstanding anti-aging benefits including increased uniformity, nutrition, elasticity, luminosity, and firmness.
Shea Butter-offers rich and soothing properties to leave skin feeling well-rested and comfortable.
Citus-formulated with a high concentration of aromatic molecules, this ingredients unique relaxing properties work to soothe and reduce feelings of tightness.
My Results:
My skin loves the
Divine Cream Mask from L'Occitane
! It is a perfect mask for this transition into colder weather. It is ultra hydrating and softening. I like using this once a week to give my skin an extra boost of radiance. I have honestly never used a mask quite like this before with the lovely ritual of massage and application with the gold applicator. I honestly feel "fancy" just using it! I use this mask following the steps outlined above. I just apply it as suggested using the gold applicator and massage method after washing and drying my face. On nights that I use the mask, it is the only product that I apply to my skin. It gives my skin such a moisture boost. After the massage step, the mask has pretty much sunk into my skin completely. Then I just sleep overnight while the mask continues to penetrate and work wonders on my skin. I feel like I wake up with fresher, plumper, and more glowy skin in the morning following a Divine Cream Mask application. If you are looking for a total skincare treat or if you are already a Divine Collection lover, you must try this mask! :)
Curious about the rest of the Divine Collection? Check out these products below:
Affiliate Link