Press Sample
Affiliate Link
Blogger Ambassador/Sleek Blogger Club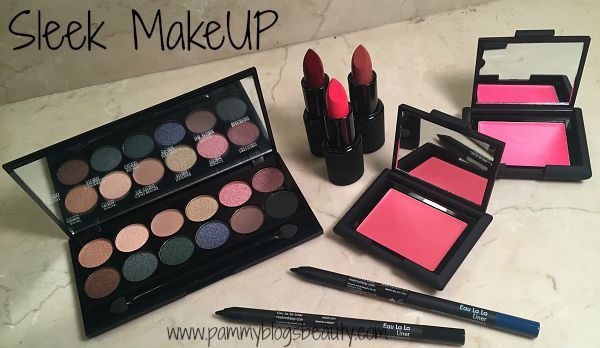 Get Ready for the Fall Season with Sleek MakeUP!
I am so excited for Fall! There is no question that Fall in Georgia is one of my very favorite times of the year. The weather is perfect: somewhat cool at night and warm and sunny during the day with temps in the 70s-low 80s. Not to mention, the beginning of Fall marks the countdown to my favorite month: October! Why do I love October? Just name it: trips to the pumpkin patch, hayrides, carving pumpkins, preparing everyone's Halloween costumes, costume parties, the weather getting colder, hot apple cider, and my obsession with eating and baking anything with pumpkin in it! Sorry, I digress, I clearing could go on-and-on talking about Fall...so, lets get back into Fall with Sleek and their gorgeous Fall Collection!
I am *so excited* to be a new member of Sleek's Blogger Club! I have long admired this brand from the UK. This brand is highly collected within the makeup community. However, it is harder for us in the USA to get our hands on these fabulous products. So, I am super excited to have early access to Sleek launches so that I can pass the information directly to you lovely readers!
For Fall,
Sleek
has a fabulous lineup: A new Creme-to-Powder Blush assortment, True Colour Lipsticks, the i-Divine Eyeshadow Palette in Storm, and Eau La La Liners! To hear more about these awesome items, please click "read more" below! :)
Before diving into specific details about the products from my
Sleek MakeUP assortment
, can we just take a moment to admire the packaging? I must note, these are drugstore/high street price point makeup items. You sure wouldn't guess that from the packaging, right? There is no question that this packaging looks high end! It is all back, smooth, and sturdy with subtle black-on-black embossed lettering. Very nice, indeed! So, now lets jump in to the details about each lovely item!
Creme to Powder Blush:
Well, ya'll know that I am a blush fanatic. So, lets start here! Blushes are the makeup items that I collect (cough *hoard*) the most. There is just nothing better than a great blush to perk up your face! I especially get into blush as the weather gets colder and my pale skin gets even more pale. A bit of eye makeup and a pop of blush is just the ticket to giving me a bit of color and a more healthy look.
I am loving these new Creme-to-Powder blushes! I got to try out two lovely shades: French Rose (a lovely neutral brownish pink) and Pink Peony (an ultra bright pop of bold fuchsia pink). These come in 4 other colors: Carnation (a subtle dusty pink), Crimson (a deep red), Amaryllis (a dusky mauve), and Gerbera (a hot coral). Being the blush-fanatic that I am, I totally want to try the other shades, too (especially Carnation and Amaryllis!).
The Creme-to-Powder texture is so cool! It really does feel just like that: it is a cream going on and as you work it into your skin the texture changes from a creamy feel to a powdery feel. Its like magic! The feel is soft and light on your skin and it leaves you with a subtle glow. These blushes are nicely pigmented. So, I find that just a slight touch of this blush blended in with my fingertips along the apples of my cheeks is all that I need. Also, I find this blush to be long-wearing. It lasts all day on me.
i-Divine Storm Palette:
I have long admired the Sleek MakeUP palettes from afar. These palettes are just amazing. Especially for the price point! I was sent the i-Divine palette in Storm. I am not sure if this is a new palette or part of their standing palette collection. There are quite a few available. This palette is a gorgeous assortment of matte and satin/shimmer shades (mostly these). They are all neutrals (tans, browns, greys, and black) ranging from light to dark. This is an excellent palette for both everyday neutral looks and heavier sultry/smokey looks. The shadows themselves are buttery and smooth and are nicely pigmented. I get gorgeous application and wear from these shadows! Love them! Just look at the photos and swatches...you are going to want this palette! :) I certainly want more i-Divine palettes, lol! ;)
True Colour Lipstick:
OMG! How cute is the packaging of these lippies? I love how small the tube is and the oval design. These lipsticks come in both Matte and Sheen finishes. I tried out Cherry (a very deep almost burgundy red with a sheen finish), Papaya Punch (a bold and bright coral with a matte finish), and Succumb (a lovely neutral pinkish brown with a sheen finish). These lipsticks are nicely pigmented, they go on smooth, and they are hydrating.
Eau La Liner:
The Eau La Liners by Sleek MakeUP are long-wearing and pigmented pencil liners. They are nicely pigmented and apply smoothly. These liners are both smudge-proof and waterproof! I tried out the shades Nior (black) and Blue Moon (deep blue). Both shades are very versatile. These liners come in 20 shades: from neutrals to brights!
Are you a
Sleek MakeUP fan
? What do you recommend from the line? I would love to explore this affordable line of makeup much further! :) So far, everything that I tried has been a winner!
Affiliate Link