Press Sample
Affiliate Link
Blogger Ambassador/iFabboMember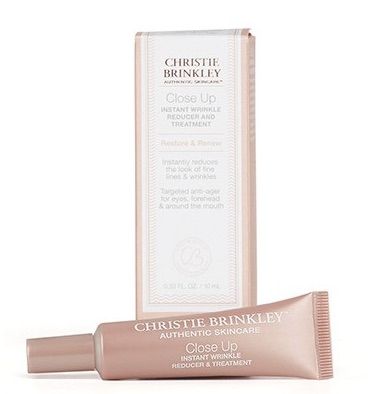 Christie Brinkley Close Up Wrinkle Reducer:
As a bit of a skincare junkie, I am always interested in trying out new products! Now that I am in my 40's, I am especially interested in anti-aging formulas. When I heard about Christie Brinkley's Authentic Skincare line and this Close Up Instant Wrinkle Reducer & Treatment, I jumped at the chance to try it out! Plus, have ya'll seen Christie Brinkley lately? There is no question that she is a legandary beauty who is aging amazingly well. If she has a beauty "secret weapon"...I want to try it!
My Aging Concerns:
As I enter my 40s, my main anti-aging concerns are prevention and softening the look of my fine lines. Luckily, my fine lines are not that apparent yet. However, I do have some around my eye area. Plus, my eye area in general is my "trouble spot". I struggle with dark circles from hereditary, general lack of sleep (I am a Mom of a 1 year old and 3 year old), and allergies. So, I am interested in any product that refreshes, smooths, or soothes the eye area.
To find out more about how I liked this product and how it worked for me, please click "read more". Plus, be sure to enter the Giveaway, too, for a free sample!!!
Christie Brinkley Close Up Wrinkle Reducer:
About the Product:
According to Christie Brinkley Authentic Skincare,
the Close Up Instant Wrinkle Reducer treatment complex combines 4 bioactive ingredients into one unique system fighting the signs of aging skin at all levels, while providing Full Spectrum UVA/UVB and Infra-Red protection.
Get Camera Ready in a Flash!
An instant treatment that tightens the look of skin while firming and smoothing the appearance of crow's feet, fine lines, and wrinkles. Use around eyes, mouth, and forehead to erase years from your appearance.
Immediate sensation of tighter and smoother-looking skin.
Smooth under-eye bags and puffiness.
Tightens skin on contact and takes years off appearance.
How I Use and My Results:
This product is so easy to use and I just love the results! It is kinda-like an anti-aging primer and spot treatment serum in one. The texture feels like a lotion and serum hybrid. As soon as you apply you can feel that it is moisturizing and instantly soothing to the skin. As it absorbs (it takes just a couple minutes), I feel a light firming and lifting/tightening effect. I really love the feeling!
Makeup applies so smoothly on top of this product. My eye area looks so nice when I use this! I feel that it really smooths out my fine lines (I can barely even see mine!). I am totally pleased with this product. I feel like I have found a great new addition to my skincare and makeup routine! The
Christie Brinkley Close Up Wrinkle Reducer
is a quick and easy step with nice results! I love that there are immediate results while the anti-aging ingredients go to work on your skin possibly preventing further signs of aging.
Giveaway:
Enter below to get your own sample of the
Christie Brinkley Close Up Wrinkle Reducer
! The sample is only available to US residents and no purchase is necessary. Click
here
for the giveaway rules and regulations.
Enter here:
#brinkleyCLOSEUP
#iFabboMember
Affiliate Link