Press Sample
Affiliate Link
Blogger Ambassador/iFabboMember
I am an iFabbo Member. Product sent for review from iFabbo.
#ISSAbyFOREO
#iFabboMember
Have you seen this unique new toothbrush from FOREO? It is so unique! Introducing the FOREO ISSA!
As ya'll know, I am a huge fan of FOREO devices. The pink FOREO LUNA is one of my all-time favorite devices that I use on my skin (and the device that I default back to in between product testing). I love the feel of the FOREO LUNA on my face. It is so gentle, but also so effective with cleansing! Now, if you combine my love for the FOREO LUNA with the fact that I also enjoy sonic cleansing for my teeth, then you know that I am excited to try the FOREO ISSA! It honestly sounds like the best of both worlds, right: sonic cleansing combined with the unique silicone texture that FOREO is known for.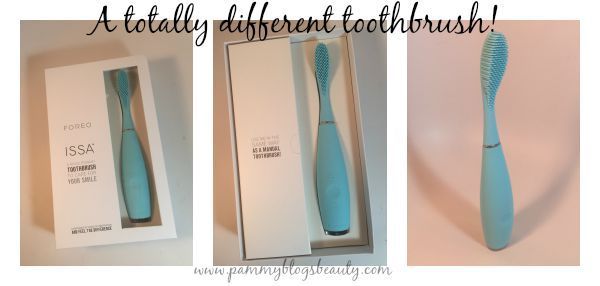 To find out more details about the FOREO ISSA and how I liked it, please click "read more" below! :)
The FOREO ISSA:
Lets start by talking a bit about this unique toothbrush. Just looking at it, you know it is different. It honestly looks like some sort of space age device that the Jetson's would use, lol! All joking aside, this toothbrush looks and feels different for a reason.
The FOREO ISSA uses silicone bristles with pulsation technology for both cleaning your teeth as well as providing a healthy gum massage. The silicone design is far gentler and more hygenic than standard nylon toothbrushes which are abrasive on gums and can harbor bacteria.
The unique brush surface is very hygienic as it is a nonporous silicone. This also means that the brush is quick-drying, easy-to-clean, and resistant to bacteria build up. Honestly, the whole bacteria thing with regular toothbrushes really grosses me out. I mean, after all, we do put toothbrushes in our mouth. So, minimizing bacteria is of utmost importance! So, how often do you have to replace a FOREO ISSA brush head? Only once a year!!! That is amazing considering that you should replace a standard toothbrush every 3 months.
I really like the feel of the FOREO ISSA. It is easy and comfortable to hold while brushing my teeth. Not to mention, the design overall is beautiful. It is certainly an attractive addition to my bathroom counter toothbrush holder. I also like that there is a timer feature on the FOREO ISSA. This guarentees that I am brushing my teeth for the correct amount of time. Like all FOREO devices, the ISSA is amazing at keeping a charge. While I have not had this brush very long, apparently you only have to charge it every 6 months or so. I know with my FOREO LUNA, I have only charged it once and have been using it over a year!
So, how do I like it? Well, I will admit, it takes some getting used to! After brushing my teeth for so many years with a standard toothbrush and the past few years a sonic toothbrush, the feel of the ISSA is completely different. You don't get that "scrubbed clean" feeling that you get with a standard or sonic toothbrush. However, is this just my imagination? I mean my teeth are clean afterwards, but I do wonder how deep of a cleaning I get. Honestly, I think the only way to determine this is to talk to my dentist about it at my next visit.
My verdict? I am honestly on the fence, ya'll. For me, the bottom line is this: I need to find out from my dentist if this brush is effective at removing plaque from my teeth. If so, then I can certainly get on board with this beautiful and unique toothbrush. Yes, the feeling of the cleansing is different. However, if it is an effective brush (from my dentists standpoint), then I can consider this toothbrush to be an option. I have a cleaning scheduled in a couple months, so I will certainly update this post and let ya'll know what my dentist's report was! Honestly, I am not feeling like I get the same kind of cleaning that I do when I use my standard toothbrush or my usual sonic toothbrush.
The FOREO ISSA is available in 4 fun colors: mint, lavender, cobalt blue, and black.
The FOREO ISSA is hygenic: it is bacteria resistant because of it's silicone surface.
The FOREO ISSA features a 3D flexible brush head.
The FOREO ISSA retails for $199
You can shop for the FOREO ISSA here (also available at Sephora)
#ISSAbyFOREO
#iFabboMember
Affiliate Link