Press Sample
Affiliate Link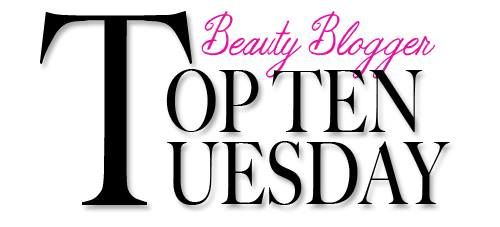 It is Summertime! Summer is all about outdoor time. From pool-time, to outdoor play, to trips to the beach, my beauty products need to stand up to the heat and the sun. Plus, I like to include more products in my day that help me to feel and smell fresh.
This edition of Top Ten Tuesdays includes some new products that I think are destined to be Summertime Essentials! Check out these items that work great for you when you are in the heat of Summer. No matter if you are traveling or staying at home this Summer, these goodies can really perk you up! :)
Summer Essentials:
John Frieda Beach Blonde | Sea Waves Sea Salt Spray: A sea salt spray is the quintessential Summer must-have! It helps to bring out your hair's natural wave. Get the sexy beachy hair look by misting product in and scrunching your hair to encourage the waves. Plus, it smells amazing! Stay tuned for a beach wave tutorial coming soon!!! :)
Nois Shield | Leave-In Conditioner SPF 15: Get color protection, extra moisture, and sunscreen from this leave-in spray! With my super fair skin, I have had my share of scalp sunburns. I love that this product protects my hair while also providing the much-needed SPF for my scalp. I used to have to put sunscreen on my part and it would gunk up my hair. Now I just use this in my hair and concentrate it on my part area if I am going to the pool or will be outside for an extended time.
Swim Spray: Did you know that Vit C breaks down chlorine? This spray neutralizes chlorine on your body and in your hair. Simply squirt this on after swimming and you will remove that chlorine odor and feel. It works great and is natural!
Sun Bum | Lip Balm SPF 30: OMG! I am completely obcessed with Sun Bum lip balms! Their scent/taste is the epitome of Summer to me. I especially love the Coconut flavor. I like that these are not overly waxy. They smooth into your lips almost like an oil. My lips are so hydrated and protected from wearing these. Great for the pool and the beach!
Sarah Potempa | Mini Touch Up Iron: Sometimes the best way to fight frizz is to smooth it out with a flat iron. I find that the humidity of Summer has the ability to ruin my seemingly straight hair in minutes: it turns into a frizzy mess! This little flat iron can come right to the rescue for your Summer frizzies. It is small enough to fit in your purse for emergencies while you are out or at work. Also, its small size makes it perfect for packing for Summer trips!
Sarah Potempa | Wrap Up: With a daughter in ballet, I love bun hacks! ;) Seriously, another great way to fight Summer frizzies and unruly hair is to just throw it all up in a bun! My very long hair is often just too hot to wear down in the heat of the Summer. So, I am always looking for great solutions for up dos! It has a flexible wire on the inside and a foam outer cushion. Just stick your hair through and "wrap it up"! I have it in brown (I really do need it in blonde for my hair color but the brown works for my daughter).
Conair | Wide-Tooth Comb: A wide-tooth comb is a must have for any girl with long-hair at the pool or on the beach! I keep this Conair Wide-Tooth comb in my pool bag for pool-side hair needs. Let the sun work for you by combing a conditioner through your hair as you sit outside. Then just twist up into a braid or a bun. The heat will help the conditioner to penetrate and condition your hair!
RUSK | Anti-Frizz Spray: This humidity-resistant working spray can help your style to resist the heat and humidity of Summer. Plus, this little travel size is great for on-the-go and Summer travel! What is even better? It has ingredients to protect your color!
What are your Summer Essentials? Be sure to check out the thumbnails below to see what my fellow Top Ten Tuesdays bloggers are loving for Summer!
Affiliate Link