Affiliate Link
Press Sample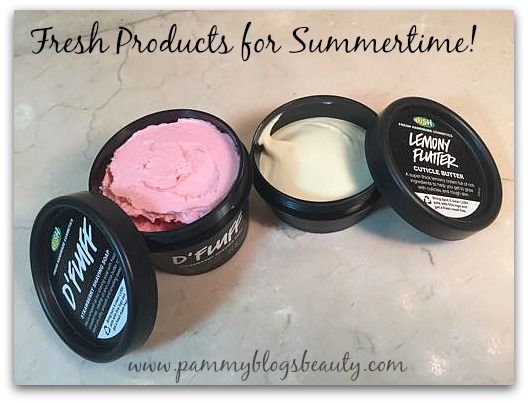 It is time to share some LUSH love! As ya'll know, I am quite a bit of a LUSHie. I absolutely can not resist the LUSH store at the Mall nor the fabulous LUSH products! Many of the LUSH products that I have tried have become staples in my beauty routine. Not to mention, when it is time for a bath, LUSH is my go-to brand for fun bath bombs and a great spa-like bath experience! :) Not to mention, I love that the products are fresh and hand made!
There are a couple LUSH product that I have tried recently that really stand out as fun and fresh products for Summertime:
LUSH's Lemony Flutter Cuticle Butter
and
LUSH's D'Fluff Strawberry Shaving Soap
.
LUSH Lemony Flutter Cuticle Butter
:
I have used this amazing lemony cuticle butter off-and-on for a couple years now. Nothing transforms my dry and sometimes cracked (ewh!) cuticles better than this product! I use nail strengtheners frequently which are super drying to the cuticle area. I do my nails more in this Summer (because of the need for fresh pedicures!). So, my nails and cuticles tend to get their driest ever from the nail strengtheners (and of course the frequent hand washing with diaper changes with my toddler). Lemony Flutter combats nail dryness beautifully! Plus, OMG, the scent is amazing! I literally smell this every single time I open the jar. The naturally fresh lemon scent is so enticing! The product is full of super rich emollients to moisturize your skin...plus, the lemon has natural exfoliating properties that can work on those tough cuticles. I use by dabbing a small bit into each cuticle and massaging it in. It is my nightly ritual to apply this butter. I also dab a bit onto other dry parts of my hands and sometimes even my elbows, too. Love, love, love this stuff!
D'Fluff A Strawberry Shaving Soap
:
One of my all-time favorite Summer scents is Strawberry. I rotate most of my bath and body products seasonally according to scent (and formula: extra moisture in Winter, etc). My shower is currently filled with and assortment of citrus, coconut, and yes even Strawberry body washes, scrubs, and this amazing D'Fluff Strawberry Shaving Soap from LUSH! As someone who shaves her leges every single day (ugh, I know...Dermatologist's orders for me to do it every day to avoid ingrown hairs, which I am prone to), I sure do appreciate a luxury shave product like D'Fluff. I love the sweetness and the fluffy texture of this product. Plus, it is so moisturizing!
Do you have any new daily staple products in your Summer beauty/bath and shower routine? Also, what are you loving lately from LUSH? I would love to continue to explore this brand further and love to hear recommendations! :)
Affiliate Link