Press Sample
Affiliate Link
Blogger Ambassador
#iFabboMember
FOREO LUNA™ Cleansing and Anti-Aging Device: LUNA™ for Combination Skin:
I am a HUGE fan of the FOREO LUNA™! Actually, I have been using the FOREO LUNA™(the pink one for Sensitive/Normal skin) for almost two years now! Every time I am in-between testing out other skincare products, I always go back to my pink FOREO LUNA™. Be sure to check out my previous
review of the FOREO LUNA™
here! Across the board, I think that the
FOREO LUNA™
is an amazing device. I honestly almost don't feel "clean" anymore when I wash without it. I seriously crave the soothing vibration and deep, yet gentle, clean that it gives. Not to mention, I have honestly only charged that device once in 2 years. I am amazed at how it keeps a charge, like, forever!
So, when the FOREO LUNA™ became available through iFabbo, I jumped at a chance to review the FOREO LUNA™ again. Why? Because I feel that my skin has really changed type in the past few years since having 2 babies. My skin is much more oily now from all of the hormonal changes my body has gone through. My skin currently is on the oily side of Combination Skin and I have been wondering if a different FOREO LUNA™ device might meet the needs of my skin better?
This device has all of the great features that I already love about my other FOREO LUNA™ plus some other subtle differences. Like the pink FOREO LUNA™, the blue FOREO LUNA™ channels T-Sonic pulsations through ultra soft silicone touch-points. It cleanses your skin deeply while also being extremely gentle and easy to use. It feels like you are giving your face a wonderful massage every night while cleansing! I seriously have grown to crave the sensations of the device. I find it so soothing! Plus, the FOREO LUNA™ also has an anti-aging surface on the flip-side of the device. Through pulses, it can reduce the look of your lines and wrinkles when you target specific points. Additionally, the LUNA™ has been clinically tested to be 35x more hygienic than other cleansing devices removing 99.5% of all dirt and sebum and 98.5% of all makeup residue.
So, what is different about the pink vs. the blue devices? Well, as I stated the differences are somewhat subtle. The blue device has more pronounced silicone touch-points. They are in a different pattern and are more raised from the surface. Overall, the blue device seems to give a deeper/stronger massage to the face than the pink device. I believe that the overall effect is a bit more exfoliation and stimulation for the skin than the pink device.
Overall, I must say that I love both the pink and the blue devices! They both work extremely well for my skin. I do find that the Pink LUNA™ device is gentle enough for every day for my Combo (yet also sensitive) skin. For me, the blue LUNA™ for Combo skin works great. However, I do need to give my skin a break from it occasionally when my skin gets irritated. So, I have found that using the blue LUNA™ works best for me when using it every/other day. After exclusively testing out the blue LUNA™ exclusively for a few weeks, I now rotate the blue and pink LUNA™ depending on what I think my skin needs that day. If I am craving a deeper cleanse and more exfoliation, I pink blue and if I want my usual cleanse, then I pick pink! :)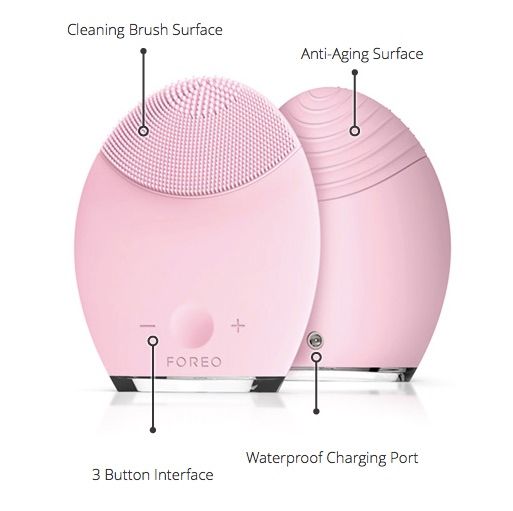 image source: Foreo Luna
How to use the
LUNA™
:
It is so easy to use the
LUNA™
! Simply wet your face and apply your usual facial cleanser. Then wet your
LUNA™
device and turn it on with a push of the bottom center button. Gently move the
LUNA™
device across your skin's surface and enjoy the gentle massage and exfoliation while it works your cleanser into your skin. The device is timed. So, just follow the beeps! :) Finally, just rinse your face and your device and you are done!
Have you tried the
LUNA™
yet? If you have sensitive skin, I do recommend the pink device. If you have Combo/Oily, the blue is a nice option! :)
#LUNAbyFOREO
#iFabboMember
Affiliate Link