Affiliate Link
Press Sample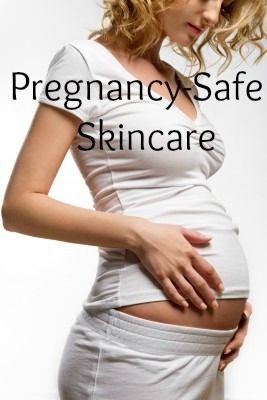 During my two pregnancies, I became a huge fan of the pregnancy and nursing-safe skincare line Belli. I am very conservative when I am pregnant and nursing. I carefully watch not only my diet and exercise routines but also my skincare!
Your skin is your body's largest organ. What you apply to your skin gets absorbed into your system. I must admit, it gets pretty complicated trying to figure out skincare ingredients and researching "what is safe?" for pregnancy skincare. There is a lot of great information online about pregnancy safe skincare (like my friend Christine's post on pregnancy-safe skincare on 15 Minute Beauty Fanatic). However, even with great information available online, I still found myself second-guessing what might or might not be safe when out and about skincare shopping. When I found
Belli Skincare
, I was thrilled...an entire line of pregnancy (and nursing-safe) skincare!
At this point in time, I am no longer pregnant (I have two beautiful and healthy kids: a baby boy and a 3 year old girl), but I still use
Belli Skincare
. I am still nursing my baby and I want to continue to use products on my skin that I know are safe.
Eye Brightening Cream
-- This is a Vitamin K-enriched eye cream that revives and illuminates tired eyes, and minimizes the appearance of fine lines. What can I say, my eyes are my "trouble spot". I have always had the world's *worst* dark circles...and as a Mom of a baby, you know that I am still not getting a full night's sleep. My dark circles have been at their worst! So, you know that I was super excited to start trying this eye cream from Belli! I must report, this is one of my new favorites from Belli!!! After just a few weeks of use, my eye area is noticeably brighter! This eye cream seems to lighten the skin's surface and give an overall brighter appearance. Plus, I like the pump container. One pump gives slightly more than enough product to do both of your eyes. The eye cream has a lightweight feel and it absorbs into your skin quickly. It does not sting nor irritate my sensitive eyes. Now, this is not the richest eye cream. So, I do find that I prefer using this in the daytime and using a richer eye cream at night (during the winter when my skin is super duper dry). This eye cream provides a nicely hydrated base for eye makeup application, too. I am very happy with this eye cream as my everyday morning eye cream!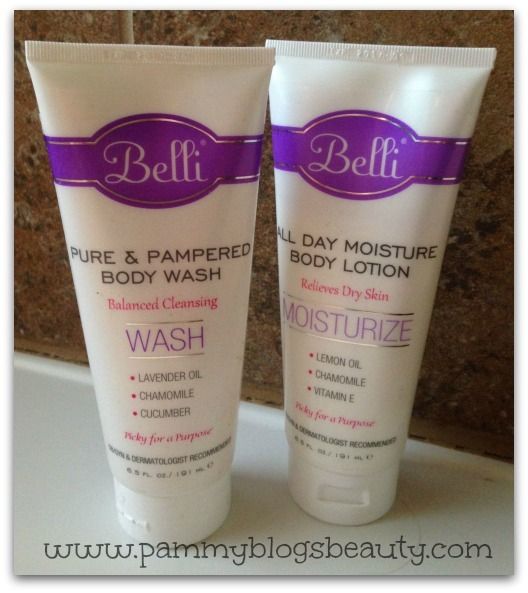 Pure & Pampered Body Wash
– This body wash gently cleanses your skin and leaves you feeling super soft and fresh. It is
a pure and balanced cleanser for the entire body that leaves skin hydrated and silky, never tight or dry.
It works up into a really nice lather on my body pouf. Plus, it is nicely concentrated. So, a tube should last you a long time. The body wash has a lavender scent. So, you really need to be a fan of the lavender fragrance to like this body wash (especially since the scent really lingers on your skin). For me, I prefer lavender scents in the evening. So, I like this body wash for evening rather than morning showers.
All Day Moisture Lotion
– This moisturizing lotion is so soothing! My skin is super dry and itchy from winter. This lotion really calms my skin and soothes the itchiness. Nursing really has left my skin much dryer than normal. So, this lotion really helps! I didn't start using this until after pregnancy. However, I wished that I had used it when I was pregnant as well because I suffered from many dry patches on my body during pregnancy. I really enjoy the lemony scent of this product. It is formulated with lemon oil and chamomile.
After the shower, treat skin to this luxurious, deeply moisturizing cream featuring uplifting lemon oil and soothing chamomile.
Healthy Glow Facial Hydrator
-- This is the product that I have used since my first pregnancy! When I am pregnant (and nursing), I really struggle with breakouts. The catch? I can't use many of my go-to anti-acne staple products since they are not pregnancy safe (I have typically avoided Vit A products like retinol and BHAs and AHAs in pregnancy). Since my skin is more oily and more prone to breakouts during pregnancy and post pregnancy, a light oil-free moisturizer is really my best option. This hydrator from Belli is so nice! I love the lightweight feel. Plus, it does not break me out! I can feel confident that I can apply without risking clogging my pores. The formula is rich in botanical humectants and antioxidants. It is newly packaged in a pump form which keeps the product fresher and dispenses just what you need. Not to mention, I just adore the fresh citrus scent!
Pregnant and nursing ladies: What are you using on your skin? I would love to get even more ideas for pregnancy and nursing-safe skincare! :)
Shop Belli Skincare:
Belli Skincare is a fabulous line not only for pregnant and nursing Moms, but also for anyone looking for skincare that is super safe to use (yet, also effective!). I love using these products with the confidence of knowing that no harmful chemicals will absorb into my skin. Since I am still nursing my baby, this is very important to me. Also, I enjoy these products so much that I plan to continue using many of them after I am done nursing and no longer trying to get pregnant!


Affiliate Link