Affiliate Link
Press Sample
Hi lovely readers! Who else is ready for Spring??? Diving into these beautiful new Spring 2015 makeup collections has me completely ready for the season. Plus, who else is over this cold weather! ; I certainly do gravitate towards certain colors seasonally. I do a makeup rotation every change of season and I always look forward to it! I am so excited to share about Lancome's
new for Spring 2015 French INNOCENCE Collection
!
Welcome to Paris in the Spring:
Ahhh...Paris! No, I have never been but I have romanticized the city in my mind and dream of going there someday. This collection was created to evoke the images of a Parisian woman walking through the streets of Paris in the Spring amongst the beautiful Spring floral blooms and the cobblestone streets. From soft pinks, to delicate nudes, and bright poppy...this collection makes you want to experiment with beautiful color!

To find out more details about the items that I tried from this collection (the
My French Palette
and 3 shades of the Lip Lovers), please click "read more" below!
There is no question, this palette is the standout item from this collection! It is honestly one of the most beautiful palette designs that I have seen! Feminine, sleek, travel friendly...not to mention a fabulous assortment of hues! I love the silver case with the French woman strolling with her dog in a garden. It has just enough whimsy, while also still looking sophisticated. This is the look I strive for...girlie, yet grown up enough to appeal to a woman.
As a neutrals lover, the 6 neutral nude and brown (6 matte and irradecent pink) shades have "me" written all over it. Then, you pop up a little peek-a-boo door to reveal a lovely teal, dark green (liner), and deep gray charcoal shade (liner)! How perfect! I think that the packaging design is really smart here. I must mention, too, that the brush included in the palette is indeed very nice (a dual ended brush with a flat side and an angled liner side). This palette is perfect for not only everyday looks, but also for taking your look from day-to-night with the darker shades and pops of color! This palette is so fun to play with! Bring out your inner Parisian sophisticated, yet playful, woman!
Lip Lovers
:
New Shades for Spring 2015!
These Lip Lover glosses from Lancome are *gorgeous*!!! Lancome has expanded their Lip Lover line with these three beautiful gloss shades for Spring 2015: Rose Victorire (sheer peachy pink), Rose Bagatelle (sheer, but pigmented bright pink), and 242M Rose Monseau (sheer cool toned baby pink). These awesome glosses give the hydration benefits of a lip balm with incredible glossy shine and color. The packaging design is just beautiful with their sleek and portable silver tube with the pop up wand at a click of a button. I am pretty addicted to these glosses already! I love how hydrating they are!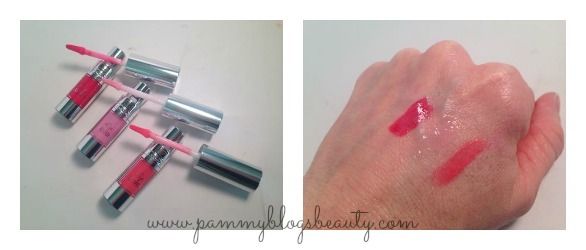 Affiliate Link