Affiliate Link
Press Sample

Hello lovelies! Welcome to "Fab Fast Friday"!!! Nothing invigorates my blogging more than embarking upon an all-new blog series!
What Is Fab Fast Friday?
As ya'll know, I tend to get lengthy and sometimes overly verbose with my reviews. LOL, clearly a makeup and beauty-obcessed girl like myself can talk *all day* about any given product. However, often my readers are in search for the Skinny review: the Down n' Dirty straight talk on a product. Did I like it? Do you need it in your life? Where can I get it? How much does it cost?
Fab Fast Friday is my way of delivering to you short n' sweet reviews for products that are really standing out in my daily routine. These are products that you need to scope out! Some might be new releases...and some might be old favorites that have re-entered (or have always been in) my routine.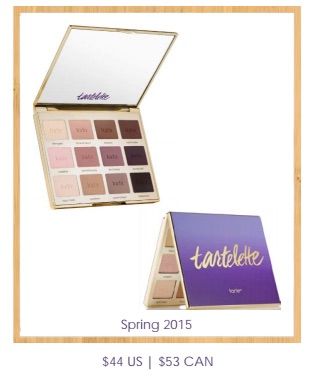 Fab Fast Friday: What I am Loving Latey?
O.M.G. ya'll I love this palette! Believe the hype...yes, you do need this palette in your life.
What Is It?
NEW for Spring 2015! The
tartelette palette
is a gorgeous and sleek all matte eyeshadow palette that features 12 new shades. Like many tarte products, these shadows feature their trademark Amazonian clay which delivers amazing pigment and extended wear. I am obcessed with it! As a neutrals-girl at heart, I can create looks to my heart's content with this palette. Not to mention, I love the sleek purple and gold packaging. Awesome for easy storage and non-bulky for travel.
Free Spirit (Cream)
Force of Nature (Nude)
Dreamer (Warm Brown)
Multi-Tasker (Chocolate)
Caregiver (Pale Pink)
Natural Beauty (Mauve)
Best Friend (Mulberry)
Bombshell (Dark Plum)
Super Mom (Ivory): Yes, as a SAHM, I love this name! ;)
Wanderer (Light Brown)
Power Player (Taupe)
Fashionista (Black)
That is it for this week's edition of Fab Fast Friday! Be sure to check back soon as this will be a weekly or bi-weekly series! As always, feel free to leave your Fab Favorites in the comments below. I want to know what you are loving lately, too! ;)
XOXO! Happy Friday Ya'll!
Affiliate Link