Affiliate Link
Press Sample
I am so excited to share this
Holiday/Winter Nail Polish Collection from KB Shimmer
!!! I am totally new to this line and am so excited about it! This is seriously one of the prettiest polish collections that I have come across in awhile. I don't know what it is, but these polishes just "speak" to me. They are pretty and girly with just enough whimsy to be fun. You know, that is exactly what polish is to me...it is a way to "dress up" my nails and just have a bit of fun. With a baby and a toddler at home, I feel limited in the amount of time that I have to dedicate to my nails. However, fun and pretty whimsical polish like this just entices me to paint my nails!
KB Shimmer
:
KB Shimmer offers not only fabulous nail polish, but also colorful soaps, creamy sugar scrubs, bath bombs, lotions, hand creams, etc! If you are looking for something beyond what you can find at mass retailers, you should certainly check out this amazing indie brand! The polish featured in this blog post is my first introduction into the brand and I am totally impressed. I would love to explore the entire line further.
To find out more details about the
Winter 2014 Polish Collection from KB Shimmer
and see lots of pics, please click read more below.
'Tis the Season to Sparkle:
Winter 2014 Polish Collection from KB Shimmer
: (and re-released Holiday Fan Favorites):
Check out these *gorgeous* polishes! I am seriously in love here, ya'll!!! They are all just so unique and beautiful!
Here are the polishes that I tried from the Winter Collection: (going left to right from swatch photo above):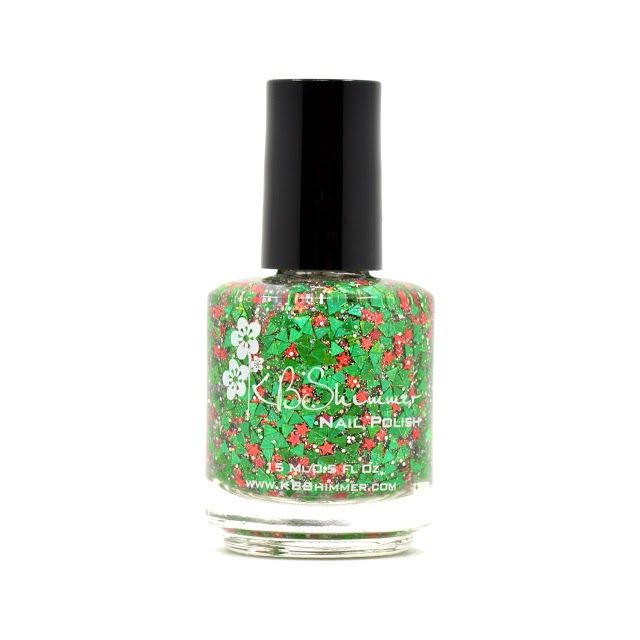 Pine-ing for Yule:
As part of the Winter 2014 Polish Collection, KB Shimmer has also released its 3rd edition annual charity polish: "Pine-ing for Yule".
Pine-ing for Yule is a Holiday inspired glitter top coat swimming with holographic triangle "Christmas Trees", red start tree toppers, and silver holo hex & micro glitters.
Four dollars from each bottle will be donated to the Terre Haute (KB Shimmer headquarters are here) chapter of Toys for Tots. Each bottle retails for $8.75.
Merry Pinkmas:
This is a re-released fan favorite...and I can certainly see why! It is one of my favorites of this group of polishes as well! As a HUGE fan of pink...yes, it is my favorite color. I hate rotating to all typical "winter" polish hues this time of year. Why neglect my signature color (hello Elle Woods here!)??? Merry Pinkmas is
a light cotton candy pink polish featuring red, green, and neon glitters in a variety of shapes
. In my vast polish collection, I don't even have anything remotely similar. It is truly unique! Love, love, love it!!! :)
Fallen Angle
:
Another beautifully unique shade!
Fallen Angle is a vibrant royal blue jelly, this a-cute polish features holographic blue triangles, silver holo hexes, and blue hex glitter with micro sparkles.
I am not quite sure I would describe it as a royal blue, but more of a periwinkle blue. It is absolutely lovely to wear!
Snow Way
:
This is another re-released Fan Favorite! If I was forced to pick a favorite of these, it would have to be "Snow Way". I am sure it is because I am in the midst of getting ready for a "Frozen" themed birthday party for my daughter and this polish is the perfect fit for that theme, lol! :) I really love it! Snow Way is a snow-inspried polish featuring a pale sky blue base with white glitters.
A micro sparkle glistens like the fallen snow on a clear winter's day.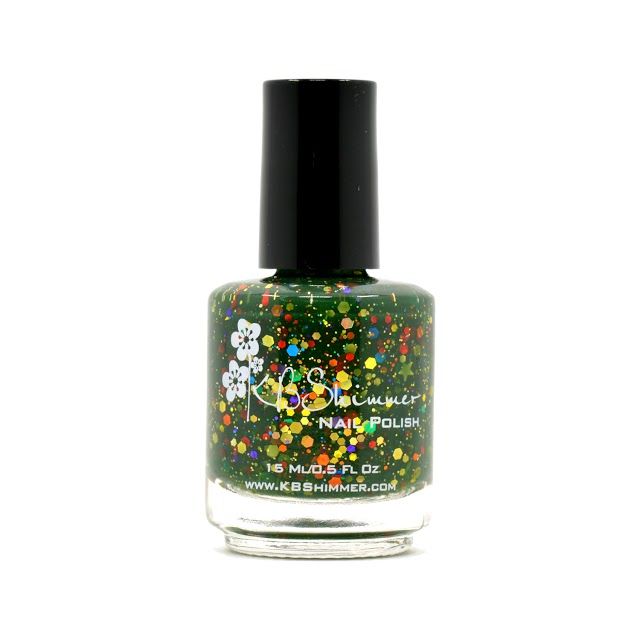 All Decked Out
:
This is another re-released Fan Favorite:
A Christmas Tree-inspired polish with a deep forest green jelly base with a rainbow of hex glitters and a scattering of gold stars.
Very festive and unique!
Deja Brew
:
This shade is lovely!
Like a rich cup of java, or quality conac, this brown polish has red undertones that set off the linear holographic rainbow.
This is such a unique and special twist on a brown polish. The shade represents darker than it appears in the pic above. I would say it is closer to a medium brown with holographic shimmer.
If you love unique and beautiful polish, then you should definately check out KB Shimmer! I am so excited about all of these interesting and sparkly polishes! I love this collection so much that I can't wait to explore the rest of the line and other collections!!!
Affiliate Link