Press Sample
Affiliate Link
Blogger Ambassador
I am so excited to tell you guys about an *ah-ma-zing* new hair tool for creating super-easy volume: the
VOLOOM
!
I will admit, before trying the VOLOOM, I was skeptical. I have tried countless options over the years to try to give volume to my long straight and pretty much flat hair. From bump-style molds to pin in my hair, to teasing combs, to spray in products...nothing really gave me that volume that I craved (and none of these solutions were as easy as the VOLOOM).
Enter the VOLOOM...Quite simply, the VOLOOM is a clamp-style iron that creates a waffle type pattern in your hair. This waffle pattern gives your hair amazing and lasting "lift". It is an absolute no-brainer to use. It is quick and easy and the volume lasts for days. For real!
How to Use:
The VOLOOM is so easy to use! You want to start using the VOLOOM right below your part. Section off a small amount of hair (about an inch thick) about an inch *below* your part line. You want to go below your part because you need a smooth section of hair to hide the waffle pattern the VOLOOM makes. Then, just clamp the iron into your hair for a few seconds about a centimeter away from your scalp and release. Be sure not to get too close to your scalp as the iron is HOT. Repeat this process a few times going further down on your head. I tend to do about 4-5 clampings on each side of my head. If you want or need more volume, do more. You can also clamp around the crown area of your head or really wherever your style needs that volume. Just be sure there is smooth hair on top to cover that waffle pattern. That is it! It is really that easy. It honestly does not add that much time to your getting ready routine. It only takes a couple minutes to do this whole process.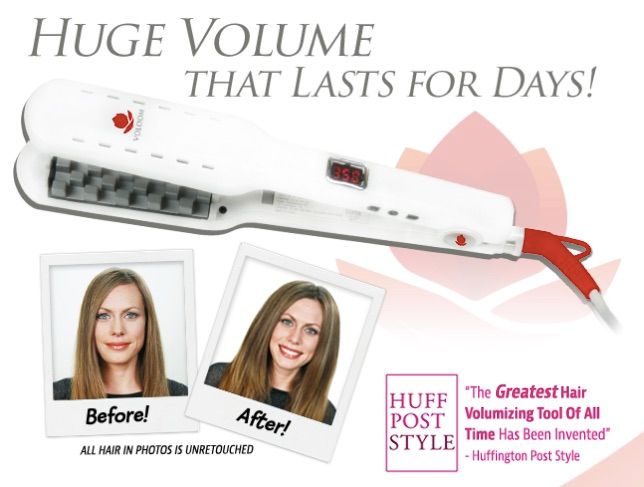 I am amazed at the gorgeous volume the VOLOOM gives my hair. My Before/After pictures really don't even do it justice! The volume is noticeable and fabulous. I have never gotten such great results with a volume product. Even my husband noticed the extra volume in my hair the morning after I used this device for the first time. He said "Your hair looks great! It is like...puffy (lol, Men!)". I can't get over not only that this device gives great immediate results, but also that the results last for days. So awesome!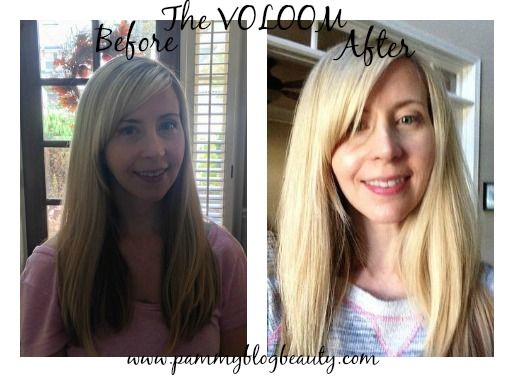 What I love about the VOLOOM:
It is super duper easy to use! Plus, it is also super quick.
The volume *lasts*...for days! I have honestly never used any volume product that has worked this well. Normally, any added volume I give my hair falls flat mid-day. Not the VOLOOM results! The VOLOOM lasts until I was my hair again, which is typically 2-3 days!
I believe that this device is either similar or less damaging to your hair than teasing. Yes, it is a very hot heat device. However, you only apply the heat for a few seconds and only need to use the device every few days/
You can get the VOLOOM for "3 easy payments" of $43.33 plus Free Shipping. Yes, it is expensive. However, it works!!! There is nothing else on the market like it!
The VOLOOM comes with free gifts: 3 clips (they work great while using the VOLOOM), a teasing brush, and a heat protector case.
Do you have any great tricks for giving your hair volume? Does the VOLOOM sound like something that you would like to try?

#VOLOOM
#IFabboMember
Affiliate Link