Press Sample
Affiliate Link
Blogger Ambassador
It is time for another Makeup War! This time the Makeup Wars bloggers are sharing their favorite masks!
Doing a weekly facial mask is one of my favorite aspects of my beauty routine. Masks are a great way to give your skin a skincare "boost" of whatever it needs: clarification, moisture, anti-aging treatments, etc. Plus, the process is so relaxing! The busy pace of life as a stay-at-home Mom leaves me feeling like a haggard Mommy sometimes. I need to give time to myself...to rejuvenate. A facial mask/beauty treatment is a great way to do this with a short amount of time! When I have more time to relax (or when I am not too tired), I like to combine my masks with a nice soak in the tub or a mani/pedi. If I am feeling short on time, I just apply my mask and leave it on while I do my usual bedtime routine.
My Skin:
I am always looking for a good mask! My skin needs fluctuate wildly. I have classic combo skin: From dry patches in the Winter to oil slicks in the Summers. My skin's needs are all over the map. So, I tend to choose my mask depending on what my skin "needs" on that particular day. Or I will use a mask to spot treat (e.g., breakout on my chin? Then I apply a clarifying mask to my chin only).
Facial masks have been part of my skincare routine for as long as I can remember. They have always been a skincare treat that I totally enjoy! I am always excited to try out a new mask. What can I say? As a beauty-blogging skincare junkie, facial masks really do thrill me, lol! When I am checking out a new skincare brand, or a brand that I am already a fan of, I *always* want to try their masks!
Must Have Masks!
So, lets get to my Must Have Masks list! There are *so many* masks that I love. This list is going to focus on the masks that are in my current rotations. These are the masks I love in my current arsenal of products and/or they are newly released masks that you must try! So, when I find myself with some extra "me time", I will reach for one of these masks! My loyal readers know that this blog has a skincare focus. So, you can imagine how many masks that I try. These that I am sharing with you are the ones that I have really enjoyed using for the past 6-8 months or they are masks that have very recently come to me for testing. Either way, I only included my very favorites in this list!
This is a *massive post* my dear readers! Actually, this is going to be a post in 2-parts since I have more masks that are in line to be tested that did not make it into this publishing date (the publishing date got changed before I could test all my masks! Ooops!). So, stay tuned for another masks post in a few weeks with more masks.

I have been working on this post for weeks already in draft form...writing about each mask as I use it. It has been fun! I mean, I always love to mask...but, it is fun having a mask-testing focus to motivate me to mask more frequently and to branch out to try some new masks. So, there are a lot of masks included and a lot of detail.

So, grab a glass of your favorite beverage (wine for me ya'll!), and lets settle in for a nice lengthy mask discussion! Shoot, you will even have time to apply your favorite mask and let it do its magic while you read this post. :) Ya'll know that I tend to be verbose sometimes. Well, masks are apparently one of my favorite things to blog/talk about!

To find out more details about each of these masks, please click "read more" below!
Here are the masks that I am loving lately:
Miracle Skin Transformer Miracle Revival Mud Treatment Mask by Sarah McNamara: I really enjoy using this Miracle Rvival Mud Mask by Miracle Skin Transformer! I am a huge fan of this skincare line and this mask is certainly one of my go-to favorites. I love how this maks clarifies my skin. This mask dries without that "uncomfortable" tight feeling that many masks have. This mask zaps excess oil and leaves my skin feeling soft and nourished. I think this mask has great "balance": It clarifies and hydrates! Yes, it achieves both! :) It fights fine lines (stimulates collagen production), hydrates, minimizes pores, clarifies, reduces redness, firms, etc! Actually, just writing about this mask makes me want to use this mask again...tonight! I find that I often reach for this mask over others in my collection. I just love it!!! About the mask: A mineral-enriched mud mask, Revival Mud works to improve hydration, firmness, and skin clarity, revealing a more even skin tone and reduced surface shine. A special absorbing action helps unclog pores, deliver natural nourishment, eliminate dead skin cells and detoxify impurities. Skin feels comfortably refreshed, invigorated, and youthful. Retails for $38.00.
GLAMGLOW YOUTHMUD™ TINGLEXFOLIATE TREATMENT: There is so much hype surrounding this mask! So, I was super excited to get a deluxe sample with a Sephora order and another deluxe sample in a beauty sample subscription box. I must admit, I really do love this mask and it lives up to the hype. The Skinny: GLAMGLOW YOUTHMUD is a clay-based mask that provides gentle exfoliation, while removing impurities, and tightening your skin. This mask certainly does dry hard and feel tight. Personally, I do not love the feeling when masks get super tight. I know it means they are working to draw out impurities. However, it does feel uncomfortable to me. This mask does feel super duper tight as it dries...but, also, I feel like this process really works to draw out any impurities and clear and clarify your skin. I did not feel like it felt overly tingly (which is good! I have sensitive skin and it did not irritate me). If you are having any issues with breakouts, then this is the mask for you to use! I think I am going to have to buckle down and buy a full size. Sigh! I do love it! ;) My skin feels super soft and smooth after using this mask. Yes, this mask is super expensive. However, it is a great mask and it is very effective.
Pür Minerals Wine Exfoliating Mask: This is one of the newest masks in my collection and it has already become a fast favorite! This mask is different. It is more like a scrub/mask treatment. This mask both physically exfoliates your skin (with peach stones) and chemically exfoliates it (with lactic acid)! If you love the smell of grapes, then you will love the super fruity and somewhat candy-sweet scent of this mask. I like the fresh and fruity scent. :) Actually, they should just call this a grape mask rather than a wine mask, because the scent is straight-up grape, lol! This mask actually contains the antioxidant Vitisin which comes from the roots of wine-producing grapes (works on dark spots) and Resveratrox another antioxidant taken from the skin, shoots, and roots of grapes (works to firm skin). I like this mask for a number of reasons: first of all: it is super quick to use! Just apply and lightly exfoliate with your hands in circular motions. Then you rinse. Super duper quick! Also, it works for my sensitive skin. The exfoliation it gives is really amazing. I recommend this mask for 1x/week use.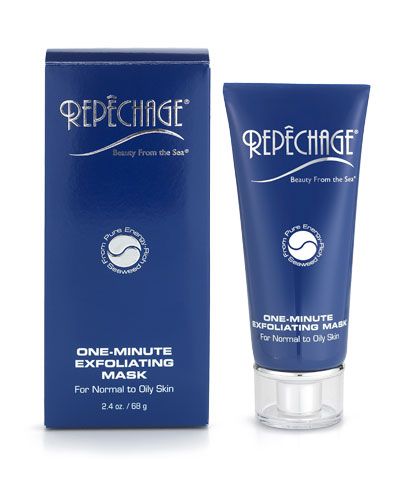 Repechage One Minute Exfoliating Mask: There are masks that are "masks" and then there are masks that are "mini facials"...This fabulous One Minute Exfoliating Mask by Repechage is certainly the latter. We are talking a spa-quality facial treatment right in your own home. This mask is simply amazing! It fights oil while also hydrating the skin, it is anti-bacterial as well as being rich in antioxidants, it purifies skin and fights breakouts, enzyme action refines skin and clears pores, kojic acid brightens skin, and has anti-inflammatory action. Sounds like it does it all, right? lol! The mask itself smells amazing! The mask carries a lemongrass scent with a hint of something medicinal. A very "spa-like" scent if you ask me. The mask itself is a thick white past with mild scrub particles (rice bran exfoliators). The mask also contains lactic acid as an exfoliant. So, you get the benefits of both physical and mechanical exfoliation. I tend to really love products that effectively combine mechanical and physical exfoliation. The best part? Results in under a minute! OMG, I need my masks to work that quick, lol. As much as I would love to lay around in my mask for 20+ minutes...most nights I just want a quick mask because I am short on time. I apply this mask after washing my face. I very gently massage the mask (in circular motions) across my skin. I do this for about 40-50 seconds and then I rinse and remove with a wet warm wash cloth. After rinsing, I do notice a slight tingle on my skin (a good tingle, not an irritation). I follow up with a toner (I love using this mask with Repechage's amazing Algo Mist Hydrating Seaweed Facial Spray) and a moisturizer. The results? My skin feels incredibly smooth and soft! The texture of my skin is so refined. I am really amazed and just in love with this mask!
Repechage Honey and Almond Scrub: Ooooh! Another goodie from Repechage! This mask reminds me so much of an old favorite Oatmeal mask from the Body Shop...However, I think Repechage's version is so much better! The scent of this mask is absolutely amazeballs. Hands-down, this is absolutley the best smelling mask in my mask collection! It goes on thick and pasty with a lovely and gentle scrub from the oatmeal particles and the almond meal. I apply after washing my face. I leave my face a bit damp and then smooth this thick mask over my skin in circular motions to get the mechanical exfoliation benefits from the oatmeal. I leave it on for 10 minutes and then rinse with a warm washcloth. I like how this mask dries a bit but does not harden. It feels comfortable until removal. Plus, the scent...heavenly: like Oatmeal, Almonds, and Honey! Smells so good that I want to eat it, lol! My skin is left feeling amazingly soft and also hydrated after removal. Love this mask!!!
Bausch + Lomb TheraPearl Eye Mask: My eyes are always in need of some TLC. Basically, I am short on sleep and I suffer from terrible dark circles and seasonal allergies. All of these things wreak havoc on the eye area. From puffiness, to dark circles, to redness and irritation...my eyes are in some major need of soothing and pampering. This TheraPearl Eye Mask from Bausch + Lomb pampers your eyes with Cold or Heat therapy. It is a plastic mask that fits over your eyes that contains little gel pearls that hold either the heat or cold. For Cold Therapy (to relieve puffy eyes, dark circles/bags, swelling, headaches, bruising, and soothe sinuses) freeze for 2 hours. I like to lay the eye mask over a cotton handkerchief and then place over my eyes. It feels sooooo good. I tend to use it mostly for Cold Therapy. Heat Therapy (to relieve dry eyes and styes): just heat in microwave (there is a heating guide on packaging). In addition, I like to keep it in the fridge for soothing my eyes quickly with its coldness (rather than freezing it). I don't even wait for "mask night" to use this. I just put it on whenever I feel like my eyes need the extra soothing!
Algenist Algae Brightening Mask: I love this mask so much that I have been squeezing every last bit out of a deluxe sample that I have had for a few months. As many of you know, I am a HUGE fan of Algenist skincare. Seriously...Algenist is in my Top 5 Skincare brands overall with many products being Holy Grail staples for me (I can't get enough of their Regenerative Anti-Aging Daily Moisturizer with SPF. I am completely obcessed!!!). This mask is really amazing! It combines the benefits of Algenist's famous and exclusive Alguronic Acid with six different typs of microalgae and the gentle exfoliation of real sea kelp particles. This mask works wonders to refine my pores, draw out impurities, as well as pack some major anti-aging ingredients into my skin. I love it and hope to explore this mask further with a full size!
Korres Greek Yoghurt Advanced Nourishing Sleeping Facial: A facial that you can sleep in? Yes, please!!! I just love the idea that I can sleep while nourishing my skin with a facial treament. No long will the excuse "I am too tired to mask tonight" hold water. This is the ultimate in relaxation: a sleeping facial! :) We all know that Yogurt is a centuries old beauty remedy. Well, what better way to pack moisture, protein, and nutrients into your skin! This facial is super hydrating. I just apply it after cleansing and before going to bed. I awake with plumped and hydrated skin. Now, who doesn't love that?!?!
Shop the Products Mentioned in this Post:
What masks are you loving lately? What do I need to add to my personal wishlist of masks to try? I would really love to hear in the comments below! :) Also, please be sure to click on the thumbnails below to find out what masks my fellow Makeup Wars bloggers are loving lately!
Affiliate Link