Press Sample
Affiliate Link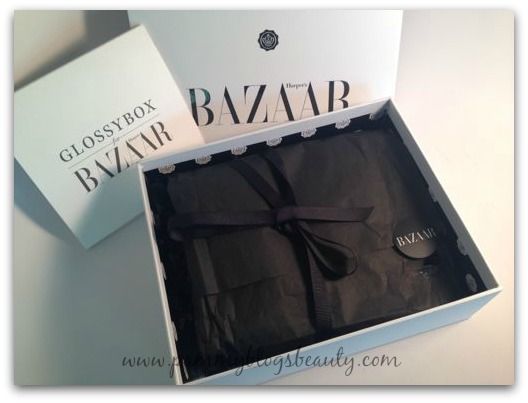 GLOSSYBOX teams up with Harper's BAZAAR for a September Collaboration Box
! We all know that the September fashion mag issues are the best. Well, Harper's BAZAAR coordinated the release of this special edition GLOSSYBOX to coincide with the release of their Sept issue. This amazing beauty sample box was co-curated by the editors of Harper's BAZAAR and the folks at GLOSSYBOX. I honestly can't wait to dig inside this box!!!

The Skinny:
The Harper's BAZAAR for GLOSSYBOX box is available at Harper's BAZAAR (and ships from GLOSSYBOX) for $21.00. The box is also available at GLOSSYBOX until the last day of Sept.
To find out what is inside this amazing box, please click "read more" below for "Box Opening" details!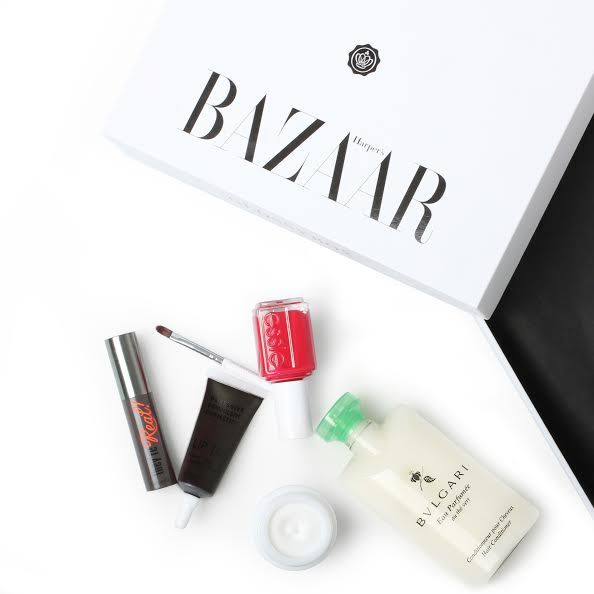 I am so excited about this box! It has been awhile since I have opened a GLOSSYBOX and I must say...GLOSSYBOX really knows how to wrap a beauty sample box. Seriously, nothing beats the luxe look of this box. From shredded black paper to black tissue...all tied up with a grosgrain ribbon bow and a sticker inside a gorgeous sturdy box, this package epitomizes sophistication in a sample box. This is a luxury box done right!
Fashion and Beauty go hand-in-hand. For 2014, Harper's BAZAAR is offering more beauty content across all their platforms. So, it is very fitting that they can curate an awesome beauty sample box! The items inside really are amazing!!!
Inside the
Harper's BAZAAR GLOSSYBOX Box
:
Vichy Liftactiv Night (0.51 fl oz): Ooooh I love Vichy! Yay! This nighttime moisturizer contains a continuous release Vitamin C and other ingredients to reduce appearance of lines and wrinkles while boosting skin's firmness. Plus, it promises to hydrate and improve skin tone. Can't wait to try this. I am always looking for a great night cream. Especially this time of year. I am quite pleased with the large size of this sample!
Benefit, they're real! mascara (0.1 oz): Yay!!! I am already a fan of this awesome mascara. So, I am happy to have this deluxe sample to use. This mascara really does do everything: curl, lengthen, volumize, lift, and separates...all while leaving no smudges. This is a feat! I will enjoy using this sooo much!
Bvlgari Eau Parfume eau thé vert Conditioner (2.53 fl oz): This is a deluxe sample size conditioner with the Bvlgari Eau Parfume scent (which I am already a fan of). While I love the inclusion of this sample, I really do wish that they would have included the "matching" shampoo. I like using matching scents with shampoo and conditioner. I am matchy/matchy like that, lol! Either way, I am still going to enjoy using this. So luxurious!
Essie Madison Ave-Hue (0.5 fl oz): Oh this shade is *so lovely*! It is the perfect shade of pink with a hint of lilac and a very subtle silvery shimmer/glitter. This is a full sized bottle of polish. Woot woot! ;) I am literally going to apply this polish today! Can't wait. What a pretty shade to wear on either tips or toes. Perfectly girlie!
OCC Lip Tar Authentic (0.33 fl oz): Can you believe that this is my first time, ever, trying an OCC Lip Tar!!! I have heard amazing things and am completely thrilled to now have a lip tar of my own! This densely pigmented lippie is infused with metallic pigments. It is completely opaque in coverage. This frosted bronze metallic is a perfect shade for Fall! Plus, this is a Full Sized product!!! Yay!
What do you think of this GLOSSYBOX Collaboration? I think that the box is *amazing* and a spectacular value! I love all the products and am going to love using them!
Affiliate Link