Press Sample
Affiliate Link
Blogger Ambassador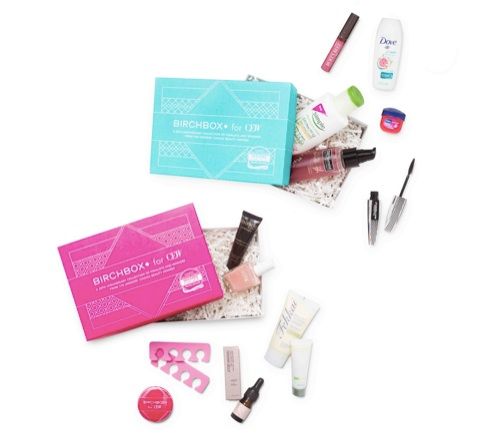 Who doesn't love trying award-winning products? I don't know about ya'll...but, I am always looking for both "tired and true" as well as cult-favorite products. I am always making lists on my phone of products that I want to try. I often add award winning products to my list. Well, Birchbox has a great way for you to try out an assortment of award-winning products!

Birchbox and CEW (Cosmetic Executive Women) have teemed up to create two Limited Edition Birchboxes filled with finalists and winners from the CEW 2014 Insider's Choice Awards. Every year I look forward to hearing about these winners. Birchbox offers a fabulous way for you to try out an assortment of winning items!
The Mass Appeal box contains "Mass Appeal" drugstore items
and the Prestige Headliners Box contains "Prestige" or high end brands.
To find out more about what is inside the Mass Appeal and Prestige Headliners CEW/Birchbox Limited Edition Boxes, please click "read more" below!
Lets open up these boxes and find out what is inside!
Limited Edition: Mass Appeal
:
This box is filled with the "best of the drugstore"!
The Mass Appeal box retails for $15 at Birchbox.com.
Burt's Bees® 100% Natural Lip Gloss in Spring Splendor: I love Burt's Bees products...but, had never tried a lipgloss. So, I am super excited about this sample! Plus, it is a full-sized sample! :) The gloss is shimmery, shiny, and hydrating with a pretty pink "easy to wear" color. Plus, all natural ingredients!
Dove Go Fresh® Restore Body Wash: I am already a huge fan of Dove body washes and use them all the time. So, I am glad to get a cute little travel size to take with me when I'm out of town. Dove body washes smell amazing and leave my skin feeling clean and hydrated.
L'Oréal Paris Voluminous Butterfly Mascara: Awesome!!! I love getting mascara in beauty boxes. This is a full sized mascara! Yay!!! I have never tried this mascara. So, I am pumped! This mascara has a rubberized volumizing brush for winged-out lashes.
Simple® Protecting Light Moisturizer with SPF15: Whoo-hoo! Another full sized product! I wear facial SPF every single day. So, I am always looking for a good one. The formula is oil-free and gentle enough for sensitive skin (me!). Looking forward to trying this out.
TRESemmé® Keratin Smooth Keratin Infusing Serum: This looks like another full sized product. I am certainly impressed with the number of full-sized products here in this box. This is a smoothing serum for your hair. You apply to wet hair before styling. Looking forward to trying this!
Vaseline® Lip Therapy® Rosy Lip: OMG! This is so cute! It is a tiny little pot of vaseline! While it is tiny, I do believe it is full sized since it is packaged as a lip product. It has a rose tint. As a fan of Vaseline (and I have used it on my lips off and on for years), I am happy to have this little tinted lip balm/gloss!
What a great box full of drugstore gems! With all the full-sized products included, there is no question that the box is an amazing value. There are products and brands that I already love and products that I am excited to try!

Limited Edition: Prestige Headliners:
This is the Birchbox/CEW box filled with higher-end products. The Prestige Headliners box retails for $18 at Birchbox.com

100% Pure Creamy Nail Polish: Yay! A full-sized nail polish! I have never tried anything from 100% Pure. So, I am super excited about this polish. I got the shade "dreamy" which is a super sparkly nude. The shade looks easy to wear. I am going to apply this today! This formula contains no harsh chemicals. I love that!
Coola Environmental Repair Plus® Radical Recovery After-Sun Lotion: I have gotten a few Coola samples through previous Birchboxes and have really had great results! So, I am happy to try another product from the line. I do like to apply super-nourishing products after sun exposure. Living in GA and loving the outdoors, I have plenty of opportunities to use a product like this! It takes the sting out of sunburn and heals dry skin. Sounds great! I am looking forward to using this. The 0.5 oz sample size is certainly enough to get 3 or more uses on your face.
Fekkai Brilliant Glossing Crème: This is a generous sized deluxe sample (2 oz). Like all Fekkai products, it smells amazing! You only need a pea-sized amount of this product. So, this big sample will last me quite awhile. I can't wait to use this! My hair needs all the help it can get with shine! :)
Josie Maran Cosmetics 100% Pure Argan Oil Light: Oh YES!!! I have wanted to try Josie Maran's Argan Oil for ages now. This light version sounds super appealing. It is sourced from Morocco and is 100% organic. I can't wait to use this!
philosophy Miracle Worker® Overnight: This is a night time moisturizer from philosophy. It has a blend of marine algae, peptides, and Vit C. I can always use a good night cream. So, I would like to try this.
Lifestyle extras:

Pocket Mirror and Toe Separators: I do like these little random Lifestyle Extras that Birchbox sometimes includes. I actually really needed some new tow separators. So, sweet! Glad they were included. I don't think that they add that much value to the box. However, as "extras" they are nice!
These boxes are available for a Limited Time. So, if you are interested, head over to the Birchbox Shop. You can buy them individually for either $15 or $18 each or purchase together for $28.
Affiliate Link