I Bought It
Press Sample
Affiliate Link/referral links
Blogger Ambassador
With Fall and "Back to School" Season fast approaching, what better time to organize and re-vamp your handbag?! Or, shall I say, what better time to get a new bag! ;) I know that my purse/diaper bag is in constant need of re-organization and cleaning out.
The "Mommy Bag" Handbag:
With two kids in diapers (a 7 month old and a 2 year old), I am always going back and forth between a diaper bag and a purse. So, what is the best middle ground for me? A large handbag that I turn into a diaper bag or a "Mommy Bag"! Really, all it takes to turn a purse into a diaper bag is sticking in a diaper organizer and a changing pad. In my pre-kid life, I was all about my designer handbags. I am sure I will eventually go back to that. However, for a bag that also functions as a diaper bag, I am all about inexpensive synthetic bags that I don't mind getting a bit dirty. I mean, there will be spills from sippys and stray fruit snacks in my bag. So, lets be real, right?! ;) With a synthetic/inexpensive bag, there are just no worries...just wipe up your spills and all is good! Not to mention, I feel so much more chic carrying a cute and trendy large bag than a diaper bag. :)
Want to know all the details about my bag and exactly what is inside??? Please click "read more" below!
My Handbag: The
Mainstream Bag from JustFab
:
I got the Mainstream handbag from JustFab at the beginning of Summer, and it has totally become my go-to Mommy bag. It is just so much more chic to carry a bag like this than to carry a regular diaper bag! I like that it is a big and roomy bag that is "big" without being overly huge. I have a small frame. So, sometimes totally huge bags just overwhelm me, lol. Not to mention, they get too heavy. So, this mid to large sized bag is just right! I can fit my things in here as well as my diaper organizer and a small fold-up changing pad. Plus snacks and sippys for the kids. Oh, and not to mention, this bag is totally cute!!!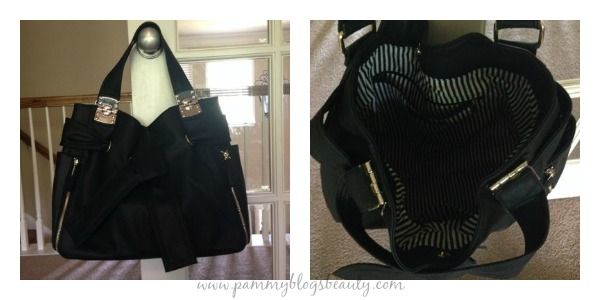 Handbag Details:
Material: Faux Leather with a matte/flat finish.
Size: 19L x 12H x 6.5W
Hardware color: Light Gold
Strap detail: Removable shoulder strap (I prefer not to use this).
Shoulder drop measurement : 7"
Closure: Snap closure
Features: Metal tops clasps and side zippers and knotted bow detail. Inside is lined with cute striped fabric. Inside of bag has one zipper pocket and one side pocket.
The Mainstream bag comes in 3 colors: Black, Tan, and Blush. I hate to tell you, but the black is currently sold out. However, you can sign up for the waiting list for this color.
Retails for $39.95 at JustFab
Sign up for JustFab
:
Have you heard of JustFab? If not, here is the scoop:
JustFab
is an online fashion site which features a monthly boutique format. When you sign up, the "styling service" pairs your style (determined from a style quiz) with bags, shoes, and accessories from JustFab. Every month, you will get an email with your custom choices for the month. You can opt to purchase items or skip the month. Almost everything on the site is $39.95! Plus, the are often offering sign up deals for 50% off or special sale prices. You will be charged a monthly fee (unless you elect to "skip a month" then you won't be charged) which gives you credit for one item. So, that is one monthly fee for one item (not an item plus an additional fee). If you are looking for inexpensive and trendy bags and shoes, this site really is the place to shop!
Inside my Bag:
Okay, so lets talk about what is in my bag! What does a Mommy Beauty Blogger carry with her? Apparently, tons of lip products and kid snacks, lol! What keeps me organized? Lots of little zipper bags. I am an IPSY subscriber and fully admit that one of my favorite things about this sample service is their reusable zipper bags. :)
Kid/Mommy Stuff:
Diapers/Wipes: I love this diaper organizer that I got from Birchbox! It is big enough to hold a portable wipes container and diapers for both kids. I typically carry at least a couple diapers for each kid. So, typically here is what is inside this zipper bag: 4 diapers, wipes container, disposable changing pad, antibacterial hand gel, and zipper bags for trash bags (for dirty clothes or diapers). I am super loyal to Huggies diapers and wipes. I just like them the best, hands-down.
Kid Snacks: Fruit snacks, Yogurt raisins, and goldfish. These are my go-to standard kid snacks for on-the-go. My daughter loves all of these things! Plus, I find that simple snacks can buy me an extra few minutes while out to complete my grocery shopping or other outing.
Water sippys and/or Bottles: I usually carry a water/juice mixed sippy for my toddler and either a water sippy or a bottle for my baby boy. Bottles and tall sippys fit in the outer side pockets of this bag! LOVE that!!! Because, hey, who wants to dig for a sippy when your child is fussy?
Small toys: I carry small books, rattles, and toys to keep the kids going! These are especially helpful at restaurants and in waiting rooms.
Hand wipes, antibacterial hand gel, and tissues. All useful items with kids! Plus, one can never have too many ways to clean your hands. What can I say? Toddlers get into everything, lol!
Sunglasses and SPF: I do a ton of outdoor activities with the kids. While we apply SPF at home, I like being able to reapply their sunscreen and mine if needed.
My Stuff:
Products, Makeup, ect:
I feel that I carry all of the purse essentials (wallet, keys, phone, umbrella) plus makeup and beauty items that can be used throughout the day. I feel like I just carry the basics here. Most of the makeup that I apply at home lasts all day. I pretty much just need to touch up my lips or add lip moisture and keep shine at bay. So, makeup-wise we are mostly talking lip products and powder.
Here are some of the products currently living in my purse: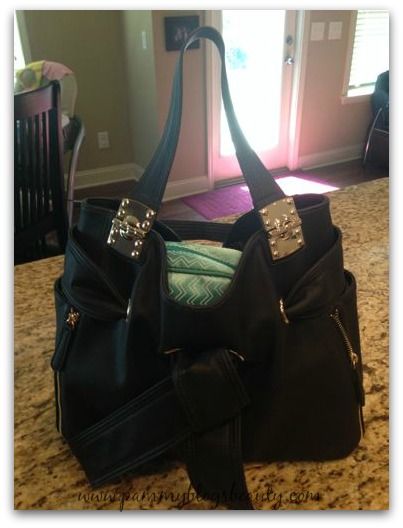 My Wallet and Sunglasses:
Last but not least, I almost forgot to mention my wallet and my sunglasses! I love them! My wallet was my bday present last year and it is still going strong! I tend to use wallets for years. So, I always like to carry nice ones. :) My last Gucci wallet I used for like 6 years, lol! My current one is a grey one from
Michael Kors
. My current sunglasses are from
Maui Jim
. They were a gift from my lovely neighbor, Lisa. I literally can't go outside without sunglasses. With my sensitive light blue eyes, I am never without my sunnies!!!
Whew!!! So, that is it! Can you believe the amount of stuff that I am able to fit into this bag? Crazy!!! My fellow Mommies of Littles...what are your diaper bag/purse essentials? I would love to hear!
As always, thanks for reading!
XOXO!!!
Pammy Blogs Beauty