Affiliate Link
Press Sample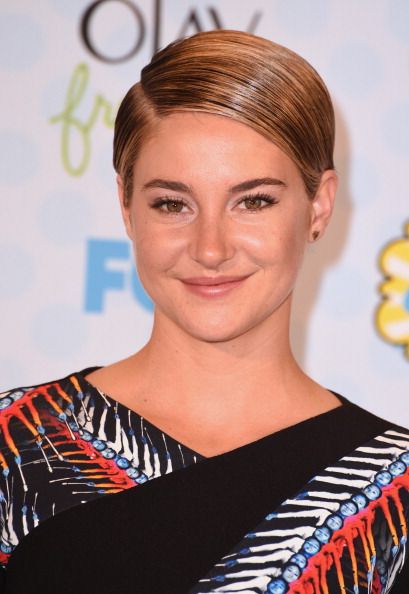 Shailene Woodley's Teen Choice Awards Makeup:
Its not just the awards and the fashion...I think that one of the best things about award shows is finding out what products were used on the celebrities to create their look! I am such a fan of the Divergent series. So, I was super excited to see Shailene's look! :)
Shailene Woodley was a big winner at the show: she picked up awards for Choice Movie Actress in an Action/Adventure for her role in Divergent (yay!!!) and Choice Movie Actress in a Drama, for her role in The Fault in our Stars. Celebrity makeup artist Roxy created Shailene Woodley's gorgeous look. So, lets take a peek behind the scenes to find out exactly what she did to leave Shailene looking so gorgeous.
"We wanted to keep Shailene's makeup clean and not competitive with her gorgeous and colorful Peter Pilotto dress," said Roxy. "Using monochromatic colors on her eyes and cheeks, I defined her features to make them pop while not overwhelming her with color. Her soft plum rose lip – which we created using tarte's LipSurgence™ matte lip tint in hope, was the perfect finishing touch to her ultra-feminine look."
Get the Look: The Basics:
Shailene Woodley's Makeup for the Teen Choice Awards:
Roxy began by spraying Caudalie's Beauty Elixir Spray all over Shailene's face, neck and décolletage to revive, sooth and hydrate her skin. She then prepped her skin further, applying tarte's clean slate™ flawless 12-hr brightening primer with tarte's the buffer™ airbrush finish bamboo foundation brush which helped spread the primer all over the face, evenly and fast.
Roxy applied tarte's Amazonian clay full coverage airbrush foundation in fair-light honey with tarte's airbuki bamboo powder foundation brush all over the face in circular motions to melt the makeup into Shailene's skin. "I started at the center of her face and blended out to her jawline until it was seamless," said Roxy."
Since color was not a big part of this look, I wanted to do more with sculpting to bring out her beautiful features," said Roxy. She played up the definition on Shailene's gorgeous cheek bones with tarte's Amazonian clay matte waterproof bronzer in park ave princess™. For this look Roxy applied the bronzer right under Shailene's cheek bones and softly at her temples.
For the eyes, Roxy started by applying tarte's clean slate™ 360º creaseless 12-hr smoothing eye primer. She wanted to sculpt the eyes in a monochromatic manner to keep it simple while still bringing out the best in Shailene's gorgeous eyes. Roxy started by applying tarte's Amazonian clay waterproof cream eyeshadow in shimmering bronze along the edges of her top and bottom lash lines. She diffused it softly with tarte's undercover lover™ bamboo concealer brush, which allowed her to blend it softly but keep the strength of the color intact. Roxy then applied some nude-taupe shadows in the outer corners of Shailene's eyes from tarte's rainforest after dark limited-edition colored clay eye & cheek palette.
On Shailene's eyebrows Roxy used tarte's colored clay tinted brow gel in medium brown to give them a little more structure than usual and keep them in place. "This brow gel is awesome because the brush is so tiny it makes detailing the brows naturally very easy," said Roxy.
On her lips Shailene applied tarte LipSurgence™ matte lip tint in hope straight from the pen. "This muted down-plum rose color was a wonderful finish to Shailene's monochromatic look because it fit with in the color family of her eye shadow and cheeks, but added a bit of feminine softness to her over all look."
What do you think of Shailene's look? Is it something you would like to re-create? I think the look is natural, pretty, and everyday wearable!

Shop the Post:
Here are the items used in Shaliene's Look! Create this look for yourself at home! :)

Pammy Blogs Beauty