Affiliate Link
Press Sample
The Japanese Konjac Sponge: Simple and Effective!
Don't you love finding something so simple that makes such a difference in your skincare routine? Thats how I feel about the
Japanese Konjac Sponge
! Konjac sponges sure are having their "moment" right now as far as popularity. This
Japanese Konjac Sponge
is the very first version that I have tried and I am just hooked on the whole concept!
What is a Konjac Sponge?
Konjac sponges are 100% natural and vegan sponges made from fibers of the Konjac plant. These natural sponges make the perfect gentle exfoliators! Konjac is rich in vitamins (A, B1, B2, B6, B12, C, D, & E), proteins, lipids, fatty acids and natural minerals such as copper, zinc, iron and magnesium. These ingredients help nourish and smooth skin naturally. It contains no harmful chemical, so irritation is very rare even for those with sensitive and dry skin. The concept is so simple: just use it everyday with your regular cleanser for an exfoliating boost.
The Konjac Sponges from
Japanese Konjac Sponge
are handmade in Japan without any preservatives. They are cruelty-free and biodegradable. Japanese Konjac Sponge offers 9 different styles of both face as well as body sponges. The sponges hang on a little string. So, they are so simple to keep on a hook in your shower. I have tried a wide assortment from the range and must say that I love all of them. There are subtle differences in their sponges (different extracts infused into the sponges and different colors). I found that all of them worked equally effectively on my skin.
More cool facts about the
Japanese Konjac Sponge
:
Konjac Sponge has a unique propriety layer that can hold water very well. When the sponge is saturated with water, its surface is covered by a water layer. This water layer on the sponge's surface constantly acts as a buffer to the skin and the layer forms a barrier between the sponge and the skin. As a result, the skin is never in direct contact with the fiber and it will not scratch and damage the skin even with hard scrubbing.
The wet Konjac layer is also slightly alkaline, so it works well to neutralize slightly acidic grime. This layer helps to break down blackheads, dirt, oil and downy hair and rinses them away, leaving your skin fresh and clean, even without the use of soap.
The overall result? Natural mechanical exfoliation that is unbelievably gentle on your skin! You seriously do not have to worry about "over scrubbing" your skin with these amazing sponges. Actually, quite the contrary, it feels very soothing and relaxing to use these sponges. I just love them!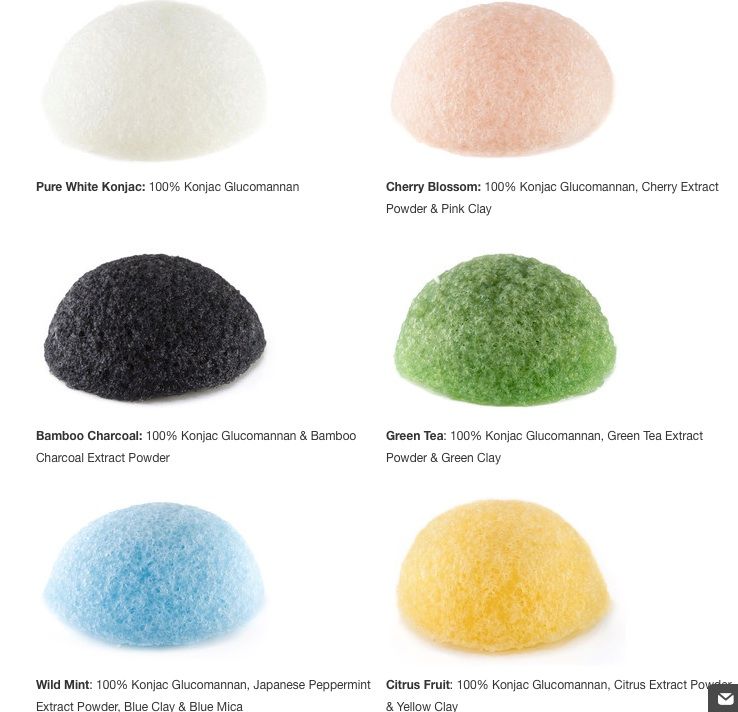 I have been using these sponges for a few months. Adding them to my routine was so simple! I just hang a sponge in my shower and use it in the mornings during my shower with my regular facial cleanser. To use: Just wet the sponge, apply your cleanser to your face, gently massage the sponge in circular motions over your face, and finally rinse your sponge. That is it! The sponge really boosts my cleansers ability to get my face skin and leave my skin looking smooth! I replace the sponge about every 6-8 weeks. I love using this sponge so much! I almost feel like my face does not get clean now without using it. I am hooked!!!

Have you tried Konjac sponges? I would love to hear your thoughts, too!

As always, thanks so much for reading!
XOXO!!!
Pammy Blogs Beauty