Affiliate Link
Press Sample
As ya'll know, I love me some LUSH!!! :) However, as much as I love LUSH their bath and body products, I am just starting to explore their facial skincare products. Previously, the only skincare item that I have tried from them is their Tea Tree Water toner, which I totally love and adore. So, I am super excited to try out some of their facial moisturizers!
For this review, I tried out
LUSH's Vanishing Cream Facial Moisturizer
,
Celestial Facial Moisturizer
, and Enzymion Facial Moisturizer. If you want to hear more about my first impressions of these fabulous facial moisturizers from LUSH, please click "read more" below.
Exploring skincare is one of my favorite things to do! As much as I love makeup and body products, skincare is really what got me into beauty blogging in the first place. I love trying new things and seeing what works for my skin.
The Packaging:
I will admit, the packaging of LUSH's facial moisturizers is not my favorite. LUSH's facial moisturizers are packaged in LUSH's little trademark black screw top jars. I mean, the jars are cute...but, they are a little messy and I personally prefer facial moisturizers to be packaged in pumps. The good news is that you can recycle them (bring back 5 clean LUSH pots and get a fresh face mask for Free!).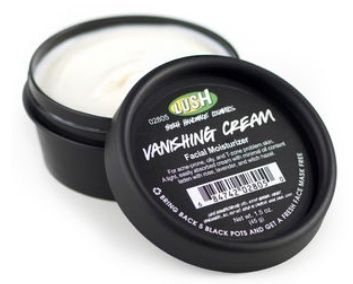 LUSH's Vanishing Cream Facial Moisturizer
:
Our lightest blend absorbs easily to gently condition oily or combination skin. The witch hazel, grapeseed oil and honey make it perfect for daily use to help keep skin even and clear.
The first thing that hits me about this product is that it is very scented. If you prefer non-scented products or products with light scents, then you may want to pass on this one. However, if you like herbal-type scents (this product smells like lavender), you will enjoy the fragrance of this moisturizer. This cream is super light! I think that the light texture makes it ideal for my combo (combo-oily in summer) skin. This moisturizer was designed to help balance combo and oily skin types. Yes, even oily skin needs to be moisturized. I find that I really enjoy the light texture of this facial moisturizer. This thin moisturizer absorbs very quickly and has a non-greasy feel. Despite its lavender scent (okay, I am not a fan of lavender), I like using this moisturizer! It really is a good fit for me for a light Summer moisturizer for my combo skin. Plus, it is nice knowing that this moisturizer shouldn't cause any breakouts...actually, it is supposed to help with breakouts!
LUSH's Vanishing Cream retails for $42.95.
Celestial Facial Moisturizer
:
Crafted with extremely sensitive skin in mind, Celestial's cocoa butter, vanilla water and almond milk blend keeps skin hydrated, soft and glowing.
Oh my, this moisturizer smells amazing!!! The scent is vanilla with a hint of almond. I mean, this smells like cake/muffin batter! Yum! :) Moving on beyond the scent, this is a good moisturizer for my somewhat sensitive skin. Actually, it was designed for sensitive skin types and it is formulated with soothing ingredients like cocoa butter, almond milk, and vanilla water (no wonder it smells good!). So far, I like this one best as a night cream
as I do feel that it takes awhile to absorb and leaves a trace of greasy residue on my skin. I find this cream to be a bit richer than the Vanishing Cream. It certainly does not irritate my skin. It leaves me feeling super soft and my skin feels very hydrated and dewy after using this.
Celestial Facial Moisturizer retails for $24.95
Enzymion Facial Moisturizer
:

Freshly squeezed fruit juices help give combination or oily skin a matte finish. It also mops up excess oils to leave your face feeling clean and refreshed.
This moisturizer was specifically formulated for those with oil through the t-zone area. It contains astringent citrus fruits like pineapple, papaya, and lemon. This is great for breakout prone skin because the citrus fruits can kill breakout-causing bacteria. Overall, my skin really seems to respond well to the gentle exfoliating properties of fruit enzymes. Now lets talk about the scent...I adore it! What a lovely fresh and light fruity scent. It is like citrus mixed with something sweet. This moisturizer has a non-greasy finish. Actually, it is mattifying and works great under makeup. So, I like this one as a daytime moisturizer.
Enzymion Facial Moisturizer retails for $39.95.
In addition to Enzymion, Celestial, and Vanishing Cream, LUSH has many other moisturizers available. Actually, there are 8 available. I just tried the ones that are really geared more towards combo skin. If you are searching for a moisturizer, LUSH is a great place to shop! They can make you samples in store and you can pick out which moisturizer works right for you. :) I know that as seasons change and it gets colder, I might want to explore LUSH's other moisturizers that are more rich and hydrating for the cold months.
Have you tried any moisturizers from LUSH? What ones do you like?
Be sure to check out my
LUSH collection on Luvocracy
!