Press Sample
Affiliate Link
Blogger Ambassador/Formal Relationship
This is the 4th time that Total Beauty and HSN has teamed up for a collection box. The samples in this box were carefully selected from HSN's fan-favorite brands and curated from the TotalBeauty.com editorial team. This collection contains a wide assortment of products from top brands like: Nyakio, Tan Towel, Soap & Glory, Ruby Crystal, Too Faced, Serious Skin Care, Taya, NYX, and YBF.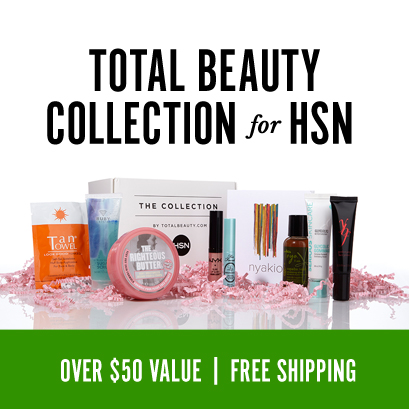 The Skinny:
The beauty box will be released on HSN.com on June 23rd. A LIVE 24hr on-air HSN event will take place on July 2nd. So, mark your calendars for that event! Total Beauty editors will appear to share information about this collection and answer questions.
This collection contains nice products for $19.95. Plus, Free shipping and a $10.00 off coupon to spend on your next full size product purchase.
You can purchase the box here. No subscription needed! One of the best things about the Total Beauty Collection boxes is that you purchase each box separately. So, no need to sign up for a service. If you like the box, you can buy it...and that's it! :)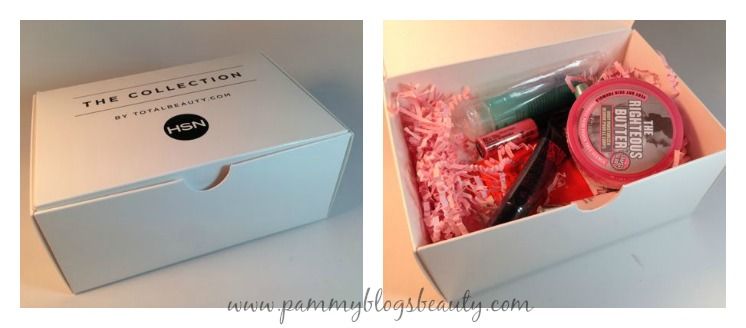 So, lets dive into the box opening! Click "read more" below...
Inside the Box:
The Collection Box by Total Beauty for HSN
"Box Opening" and First Impressions:
Soap & Glory "The Righteous Butter" Body Moisturizer (Sample size: 1.69 fl oz, full size retails for about $22.00) I have always wanted to try out Soap & Glory's products! So, I am super excited about this deluxe sized sample. This heavily scented body cream carries Soap & Glory's "pink" fragrance: very floral and somewhat sweet (mix of bergamot, mandarin, rose, jasmine, peach, strawberry, oak moss, and amber with woody and warm vanilla notes). The scent is really strong. So, I am thinking it is the only scent that you need when you wear this cream. This product may be a hit or miss for you depending on how the scent sits with you. I, personally, like the scent.
Ruby Crystal Ruby Falls Sugar Scrub (sample size: 1.3 oz, full size retails for about $19.95) I can always use a sugar scrub. So, I am always happy to see them in my sample boxes. This scrub was designed for both hands and body. What a great way prep for a home mani/pedi night! Actually, I am going to put this right with my nail stuff to reserve it for just that purpose!
Nyakio Foil Packet Samples (a trio pack with Kenyan Coffee Face Polish, the Kenyan Coffee Body Scrub, and the Hydrating Face Oil with Kola Nut, full sizes retail from $34-$55): Have you heard of Nyakio? I am a *huge* fan of the line! I have tried a variety of products from Nyakio and am consistently impressed. I am particularly a fan of the Hydrating Face Oil. With that said, I really don't think that these super small sample sizes add that much value to this box. However, if you have never tried this line before, at least test them out a bit.
Serious Skincare Glycolic Gommage Exfoliating Facial: (sample size: .50 oz, full size cost: $38.50): This product is both an exfoliating cleanser and a mask in one. You apply it and then let it sit for 10 mintues. Then you re-activate with warm water to scrub and remove. This is a great time saver...a way to give yourself extra exfoliation and a facial at the same time. I love that! Plus, I just love home-spa treats like this! I am excited about this product!!!
Tan Towel Self-Tan Towelette for Face & Body: (sample size: one single use packet: enough for 1/2 your body, full size cost: about $26.00 for a 12 pack): I love to self tan. While I love it, I don't have a ton of time to devote to it...just about once a week. I like quick and easy application methods and this Tan Towel is great for that. However, I wish that this sample was enough to do your entire body (this is a "Half Body Application" size...they should have given us two packets to do a full body tan). I think that these foil packets are perfect for travel! I never want to bring a whole bottle of self tanner when I know I will only tan for one night during vacation.
ybf Perfect Prep Primer: (sample size .5 fl oz): , full size cost $28.00): This is a primer from the brand ybf (Your Best Friend)...not to be confused with ybf (Your Best Face...another brand I love and adore). I know, I was confused at first! This is a great size sample! This sample should last me quite some time as I tend to go very light on primers. I think this silicone-based primer is going to be great for Summer.
NYX Glam Lip Gloss Aqua Luxe in Beat Goes On: (Full Sized! Retails for $6.00 each): This really is a pretty gloss! It is a super shimmery/glittery golden light pink. The shade is nice for Summer if you like wearing glittery gloss.
Taya Copaiba Resin Volumizing Elixr (sample size: 1.5 oz, Full size retails for about $34.00 for 2) I am so intrigued by this product! I have never heard of this brand. So, I am excited to try this one. It smells amazing: a very clean unisex fragrance.
Too Faced Lip Insurance Lip Primer: (sample size: .12 oz, Full size cost: $19.00): Oh yay! I love this stuff!!! So, I am thrilled to have a sample. I feel that it really does help your lipstick and gloss last longer. Plus, it does not seem to dry out my lips.
In addition to these products, you also get a $10.00 off coupon for the Full Size version of your sample products (with a $29.00 or more purchase) at HSN. So, if you really fall in love with something...you can get it with a great discount! Yay!
You can
purchase the box here
. No subscription needed! Thanks for reading! xoxo