Affiliate Link
Press Sample
It is time for another Special Value package announcement from
IT Cosmetics for QVC
! As you fans of
IT Cosmetics and QVC
shoppers know, getting a "Today's Special Value" deal package on QVC can save you a ton of money. IT Cosmetics is a fabulous line...with some higher end prices. So, finding a deal like this is a great way to get incredible value for your money while exploring a truely great brand!
IT Cosmetics
has quickly become on of my very favorite cosmetics lines. I honestly have yet to try something from this brand that I do not love.
The Skinny:
"IT's All About You" from IT Cosmetics is Today's Special Value package on QVC
This five-piece collection will be available for one day, Saturday June 21st-June 22nd (midnight Eastern Time June 21st-2:59 am June 22nd)
This collection is Limited Edition
This 5-piece collection contains: Celebration Foundation, Brow Powder Universal Brow Pencil, Limited Edition Heavenly Luxe Dual Ended Complexion Perfection Brush, CC+ Radiance Palette, and Waterproof Bye Bye Under Eye Anti-Aging Concealer
To find out more details about these amazing products in this
IT Cosmetics "IT's All About You" Collection
from QVC, please click "read more" below!
As always with the QVC Collections, this kit is an amazing value! You get 5 full-sized products from the fabulous brand
IT Cosmetics
. Not only are there best sellers, but also and amazing new product release as well and a reformulation of a hit product! Lets find out more product details as well as my first impressions of the products and this kit!
IT Cosmetics Celebration Foundation:
(and the Heavenly Luxe Dual-Ended Complexion Perfection Brush):
The IT Cosmetics brand is all about packing fabulous anti-aging skincare ingredients into the products. This line really is structured around not only creating beautiful looking skin, but also giving your skin that anti-aging boost while wearing makeup. The idea really is genius! It Cosmetic's Celebration Foundation is an award-winner from QVC (won the 2013 QVC Customer Choice Beauty Award for "Best Foundation"). It is a full coverage powder that is also lightweight! The powder is packed with peptides, hydrolyzed collagen, silk, and more. You simply brush this foundation on with the Heavenly Luxe Dual-Ended Complexion Perfection Brush to get flawless coverage instantly!

NEW Clinically-Proven All Day Waterproof Bye Bye Under Eye Concealer:
Now, I am already a huge fan of the Bye Bye Under Eye Concealer from IT Cosmetics. So, I am super excited about this new clinically-proven Waterproof version of their best seller. While I do think that their other version was, in fact, waterproof, this new version I guess is "clinically proven" to be waterproof for 12 hours. In the Summers, I need my concealer to really stand up. Between the heat and humidity and pool time, swim lessons, splash pads, sprinkler play, etc...there certainly are plenty of things to melt my concealer! The best thing about this concealer? It is so concentrated that you only need a small amount. This means that you get complete opaque coverage without your concealer looking cakey or heavy. This formula completely covers my super dark circles. That is a feat! Plus, the formula contains skin-loving anti again ingredients and lasts all day. What is not to love! :)
NEW CC+ Radiance Palette:
OMG! I am soooo excited about this face palette. Since I am already an IT Cosmetics fan (and already love many of the products in this kit), this palette really is the most exciting thing about this entire kit. I adore blush and blush palettes. So, this really is the perfect makeup product for me! The palette contains three new formulas from IT Cosmetics: The CC+ Brightening Finishing Powder, the CC+ Matte Bronzer, and the CC+ Anti-Aging Blush. Put them together and you have everything you need to add color and radiance to your face! Each powder contains color correcting pigments to add radiance to your skin while warming up your complexion. Plus, they are formulated with silk and collagen to work on fine lines and pores and are packed with peptides, hyaluronic-filling spheres, Vitamins A, C, E, Grapeseed, Green Tea, aloe, and more to treat and boost your skin. On top of all of this, the colors are gorgeous and universally flattering. This has been the only blush, bronzer, and highlighting face powder that I have used since I got this kit!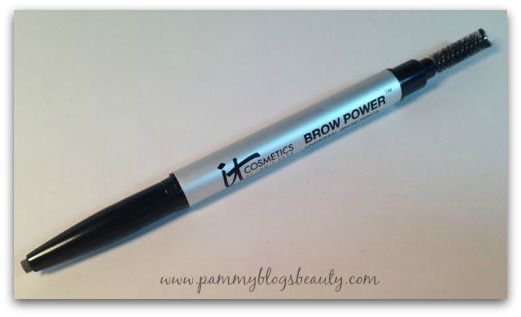 Brow Power Universal Brow Pencil:
Your face is just not complete without doing your brows. Nothing pulls a look together better than well groomed brows. IT Cosmetic's Brow Power Universal Brow Pencil is another QVC award winner! The formula is long wearing and the shade is universal (just adjust application pressure: light for lighter hair and harder for darker hair). I like that this pencil is retractable and doesn't need sharpening. Plus, the spoolie on the other end is super useful. I enjoy using this brow pencil. It is super quick and easy to use.
The
"IT's All About You" Collection is available on QVC
as "Today's Special Value" starting midnight June 21st 2014- 2:59 AM the following day. At $59.96, this package is a really amazing value!
What do you think? Are you interested in this kit? Have you tried any of these products already? If so, I would love to hear what you think!
XOXO!!!