Press Sample
Affiliate Link
Blogger Ambassador
An innovative, anti-aging serum that incorporates fresh Royal Jelly from African bees known to stimulate collagen production and provide vital nutrients and anti-oxidative properties to the skin. Additionally, all the water has been replaced by extremely pure rose distillate that has moisturizing and toning properties.
To find out more about this product and how it worked for my skin, please click "read more" below!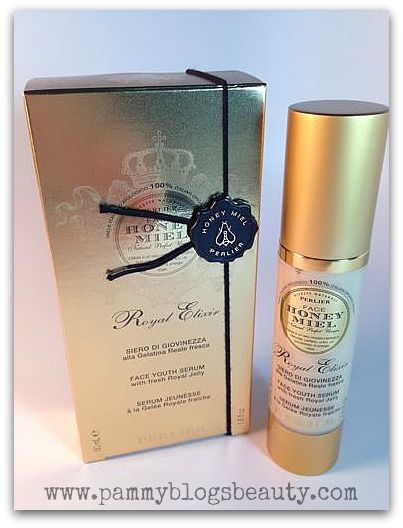 This product has such a lovely feel and a beautiful light scent. It looks like cream when you pump it out but when you smooth it onto your skin, it has a gel-like feel. The serum leaves your skin looking slightly dewy and feeling hydrated.
I have been using this serum as my night serum for the past few weeks and really enjoy using it. I apply it after cleansing my face in the evenings. It is hydrating enough that I often skip using an additional moisturizer. My skin certainly looks smooth and feels hydrated from using this product. I feel like this serum helps to plump my skin and minimize the look of my fine lines. Overall, I am really happy with the results of this serum. It feels so luxurious going on and gives my skin such a nice instant glow (the product contains a slightly glittery shimmer). It really is such a treat to use this decadent product as part of my nighttime skincare routine. I love the smooth feel of this product on my skin and the hydration that it provides.
This product contains Perlier's exclusive "Youth Elixir" which contains Royal Jelly. Apparently Queen Bees live 50 times longer than other bees because of the nourishment of Royal Jelly. Now we can give this nourishing and regenerating ingredinet to our skin. According to Perlier, Perlier's Royal Elixir can help to optimize cell renewal, optimize the production of collagen, alleviates tired skin, and provides brightness and a rejuvenated look.
The Skinny:
Perlier's Honey Miel Royal Elixir Face Youth Serum is
available on HSN
! Retails for $99.00.