Affiliate Link
Press Sample

As many of you know, I have had a life-long struggle with dark under eye circles. They are so dark, that they almost look black & blue. I blame heredity, fair skin, allergies, sensitive eyes/eye area, and a general lack of sleep. Well, things have gone from bad-to-worse in regards to my dark circles...because I have a 4-month old baby at home (and, yes, a toddler, too). My sleep is fragmented at best and I am lucky to get 5-6 hours a night with no chance to nap during the day.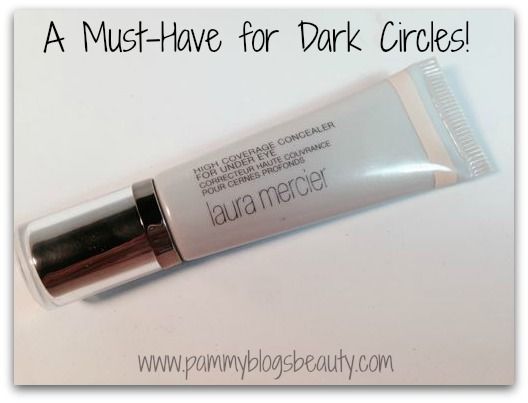 When I heard about
Laura Mercier's new High Coverage Concealer For Under Eye
, I knew that I had to try it out immediately! High Coverage for under eye? That is exactly what I need! I need heavy duty coverage. I need a concealer that won't budge and has completely opaque coverage. So, did this concealer work for me? Has it improved my under eye area? Please click "read more" below to find out!!! ;)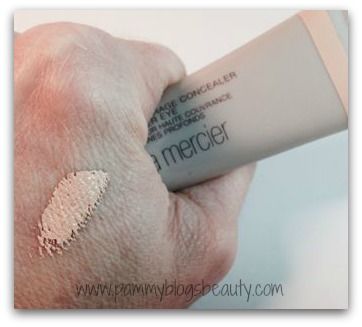 Quite simply, this concealer is a God-send for me right now. The concentrated formula and opaque coverage is hiding my *super-duper dark* circles beautifully! Plus, the drier formula holds up well all day in the GA heat. It stays all day with no problem! I am pretty much in love with this concealer right now. It is certainly now rates amongst my top 5 concealers for the under eye area!
This formula is super thick. Actually, it is so thick and concentrated that you only need a small amount. I squirt out about a 1/4 pea size out and end up using about 1/2 of that for both eyes. So, you can imagine how little you need. That said, a tube is going to last me just about forever! I am the shade 0.5.
This formula is a 3-in1: it is formulated to cover, de-puff, and brighten the eye area. It also contains honey, fruit acid, and vitamin E to nourish and protect the skin.
If your dark under eye circles are not that bad, then you probably don't "need" this concealer as it is very thick and heavy. However, if you are like me, and struggle with finding concealers that are opaque enough, then you will certainly love this!
The Skinny:
What concealers do you like for the under-eye area? I would love to hear!