Affiliate Link
Press Sample

This summer, escape from the heat and take a dip into the refreshing waters of the French Riviera with Lancôme's NEW Summer Color Collection. Inspired by the alluring Cote d'Azur, the sophisticated collection is comprised of modern marine blues for an effortless je ne sais qois.

Experience the breathtaking colors of the legendary French coastline inspired by the brilliant blue of the Riviera and the sparkling gold of the sand.
In addition to the Star Bronzer Palette, I also tried out the Star Bronzer Intense All Over Magic Bronzing Brush and the Baume In Love Sheer Tinted Lip Balm in Peche Pout. To hear more about the items that I am loving from the
Lancome French Riviera Summer 2014 Collection
, please click "read more" below!
Apply NEW Baume in Love ($26) for a lasting stain of color with comfort and moisture in Verry Cherry, Berry Crush, O'Honey, and Peche Pout or try Gloss in Love ($27) for lush lip color with radiant shine and six hours of hydration in Fizzy Rosie and Scarlette Starlette.
I tried the Baume In Love in Peche Pout. Tinted Lipbalms totally suit my lifestyle right now. I need "non-fussy" lip products...I am a stay-at-home Mom of a Toddler and an Infant. Needless to say, I am kissing them all the time, lol, and a tinted lipbalm is just the way to go. Plus, I have limited time to reapply. I need something that I can just swipe on without looking. So, this lip product is really perfect for that! I love the sheer color of this lipbalm. It gives a hint of light peach and provides excellent moisture. Plus, can I just mention that the packaging is beautiful! This is probably the most elegant looking tinted lipbalm that I own. The tube is compact and sleek. Plus, I just love the cool metal feel of the packaging and the trademark Lancome rose on the top. Classic, sleek, and pretty. You are going to want to whip out this lipbalm in public! ;)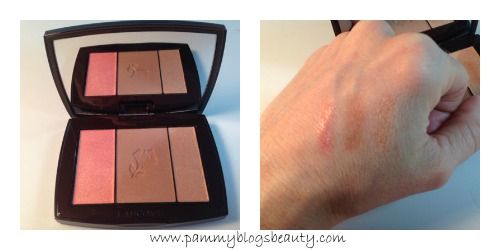 Get Bronze:
Achieve the perfect summer glow with the Star Bronzer Palette ($43), including a bronzer, blush and highlighter, or the Magic Bronzing Brush ($35) to achieve all over color.
So, lets talk about this new face palette that I am in love with. ;) This Limited Edition palette is in the shade "Bronze Essence". This palette contains powder blush, bronzer, and highlighter. The shades are universally flattering to most skintones and the powders all contain shimmer and even some slight gliltter. The blush reminds me a lot of the famous NARS Orgasm blush. It is a glorious peachy pink with a golden shimmer. The bronzer is a medium golden bronze. I like to apply this in the classic "3" bronzer pattern on my face. The highlighter is pretty much a pure yellow gold shade. I wear this the the most sparingly as it is just a little bit too gold for me. I literally just apply a "touch" of this product to the tops of my cheekbones for a bit of added shimmer.
The packaging of this product is really what makes it the perfect face palette for Summer! It is sleek and compact and great for all of my Summer trips! It does not take up too much room in my travel makeup bag and it is so nice not having to pack separate products. The true love for me in this palette is the gorgeous blush. It truly is the shade that I want to wear most days. It is just so flattering!
Tropiques Minérale Magic Bronzing Brush automatically releases powder onto its brush at the press of a button. Features 100% minerals from pure earth for a natural-looking, shimmering, bronze glow, head to toe. So convenient for sunny touch-ups on the go.
Now, I am rather "new" to click-up type brush applicators. It did take me a hot minute to figure out the whole click-up thing. Your first time using this product, you will need to click it about 20 times to get the product out. After that, you just click a few times for each application.
As the name suggests, this bronzer is great when you want to just dust it all over for an overall tan glow. I even love using this down my neck and on my decolletage area.
What are you eyeing from this Summer 2014 French Riviera Collection from Lancome? I am lusting after the Color Design 6-Pan Palette!