Press Sample
Affiliate Link
Blogger Ambassador
Hello lovelies! It is time for my monthly
Beauty Box 5
Box Opening
and Product Review! This month's box is all about giving yourself a "beauty boost". Now, who doesn't need that? ;) These products are intended to be little treats for yourself. So, lets take a break and use some of these beauty pick-me-up products! I can't wait to dig inside this box!
Beauty Box 5 is a monthly subscription service that delivers 5 cosmetic samples to your door for $12 a month.
The samples are all deluxe and sometimes the boxes include full-sized products, too! Shipping is free on every box. :) When you subscribe to Beauty Box 5, each month you get a beauty box delivered right to your door! The boxes contain a mix of makeup, beauty accessories, skincare, fragrance, bath& body items, and nail products (Not all of these this month, but something from those categories). Beauty Box 5 is a great way to discover new products or get yourself out of a cosmetics rut!
Want to find out what is inside? Click "read more" below to discover these products with me! :)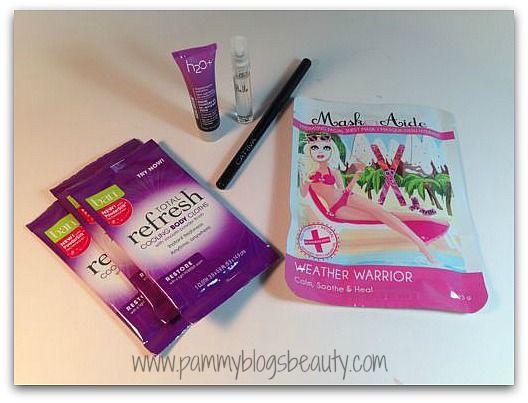 May 2014 BeautyBox 5 Box Opening: What is inside the box?
MaskerAide | Hydrating Facial Sheet Mask (One full-size mask, retails for $5.99 per mask): Oh yay! I love MaskerAide masks. So, I am happy to see one in this box. These masks are so soothing and hydrating. They are easy to use. Just open the pouch and apply the mask to freshly cleansed skin. Then, let it sit for 15-20 minutes while you relax. When you remove, just pat in remaining serum into your skin or you can rinse and pat dry. These are so gentle that they can be used every day. Although, I usually mask or do a treatment like this weekly. I am going to use this tonight!
H2O Plus | Aqualibrium Marine Cleansing Gel (sample size: .27 fl oz, full size retails for $18.00): This is an oil-free cleanser that exfoliates while protecting your skin from free radicals/environmental damage. Plus, it is full of marine extracts and sea salt. It is a clear gel and I can't detect any major scent (unless my nose is just congested, lol). It looks like I can get about 3 washings out of this tube. Looking forward to giving this product a try as I generally like gel-based cleansers.
Ban | Total Refresh Cooling Body Cloths (3 packages included, full size contains 10 cloth packages for $2.97): Oh cool! I was just reading about these online a couple days ago. So, I am happy to have some to try out for myself! These look perfect for on-the-go refreshment and cleansing...you know, when you need to freshen up after the gym, traveling, or if you are going straight from work out somewhere. I never want to feel like I, um, smell bad...so, these will be great ton toss in my purse/diaper bag/gym bag for on-the-go cleansing! Note: these are available in the deodorant aisle in the drugstore.
Harvey Prince | Hello (mini glass vial sample, full size retails for $55.00): Now, I will admit, I am not a huge fan of getting these mini fragrance samples in my beauty boxes. Mostly just because I do not feel that they add any value to the box (just because you can get them for free at the mall or Sephora). Anyways, with that said, I do generally like fragrances from Harvey Prince. I will add this to my collection of fragrance mini vials that I take with me on trips. This is a nice fresh scent for Spring/Summer. Plus, I do like that this fragrance vial has a spray top.
CATTIVA | Precision Eye Liner in Black (Full size, retails for $20.00): Now this full size product really adds some value to this box! I always appreciate eyeliners in my beauty boxes! Especially in a useful shade like black. This is an automatic pencil liner (never needs sharpening). It is waterproof, too! Looking forward to using this one!!!
So, there ya have it...May's BeautyBox 5 box! Overall, a really nice box with a very good value. Plus, the assortment of products is nice...a mask, cleansing cloths, a cleanser, an eyeliner, and a fragrance. A little bit of everything!
BeautyBox 5ers, what did you think of your box this month? Do you get a lot of beauty sample subscriptions? What was your favorite box this month? So far, I have only gotten this box and my Julep box...I always like to figure out who had the "best box" each month, lol! ;)