Affiliate Link
Press Sample
There are certain celebrities that I just adore. Kate Winslet is one of them. Not only is she a fabulous actress, but also her look is so sophisticated, beautiful, and achievable. She just seems so "real". Right? So, I am happy to feature her look for the Divergent premiere featuring Lancome! Any other Divergent fans? I am almost finished reading the book and am dying to see the film adaptation!!!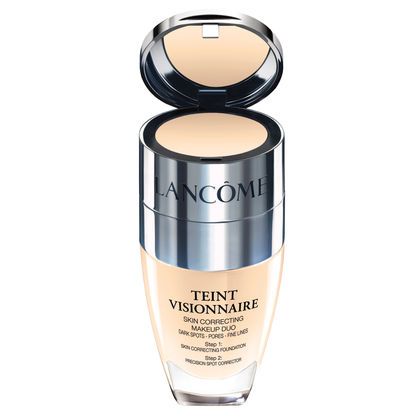 Lancome's New Teint Visionaire Skin Correcting Makeup Duo Foundation/Corrector
:
OMG! This product is my new foundation love! This
Skin Correcting Makeup Duo
contains a liquid foundation in the bottle and a concealer/corrector in a flip up compartment inside the lid. What a handy combo! This foundation was specifically designed to tackle dark spots, pores, and fine lines.
I wear the shade #100 Ivory which is an absolutely perfect match for my near-porcelain skin. Yay!!! This foundation leaves my skin looking so lovely! It has a light, yet buildable to medium coverage with a somewhat dewy finish. It perfects my skin while also letting my natural skin show through. Coverage is buildable and extremely customizable with the included concealer in the cap (Lancome quotes this as a moderate to full coverage product, but I must assume that the full-coverage portion is the concealer as I find the foundation to be on the light side). Also, I must comment that I love the pump for the liquid foundation product.
This product overall is just perfect: that foundation has nice coverage, fabulous packaging, and a great color match: everything I am looking for in a foundation! Plus, the formula contains SPF 20 (Octinoxate, which my skin loves) plus skin-loving ingredients like Vitamin C plus the foundation is
concentrated in LR 2412, the active ingredient in Visionnaire serum
. So, think of this foundation as much more than just a foundation...it is skincare (much like a BB or CC Cream!). Not to mention, the concealer is really nice, too. I like to just dab it over areas that need extra coverage after I apply my foundation. Usually I apply the concealer around my nose and on my chin. I use a different concealer under my eyes.
Benefits (from Lancome):
Immediately: Perfectly even, flawless complexion with a natural finish.
In 4 weeks*:
Size of dark spots are reduced by 17%
Fine lines are reduced by 12%
Size of pores are reduced by 11%
In 8 weeks*:
Size of dark spots are reduced by 22%
Fine lines are reduced by 20%
Size of pores are reduced by 17%
The Skinny:
Available in 20 shades
Retails for $60.00
As you can tell, I just adore this foundation and must say that it is my new favorite and the one I am reaching for most often lately. I love the coverage, finish, and wear on my combo skin. I adore it!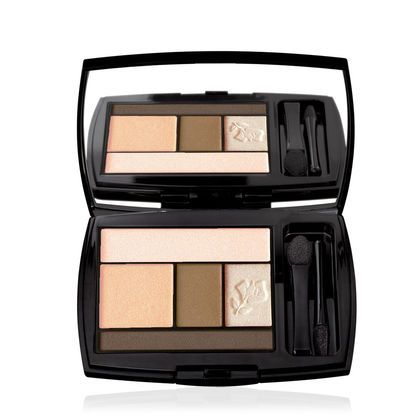 NEW Color Design Eye Brightening All-In-One 5 Eyeshadow & Liner Palette in French Nude
:
As a perennial neutrals-lover, this gorgeous palette "had me at hello". I just love being able to reach for one small and sleek palette that contains everything that I need for an everyday eye look...not to mention a look that can easily go from day-to-night.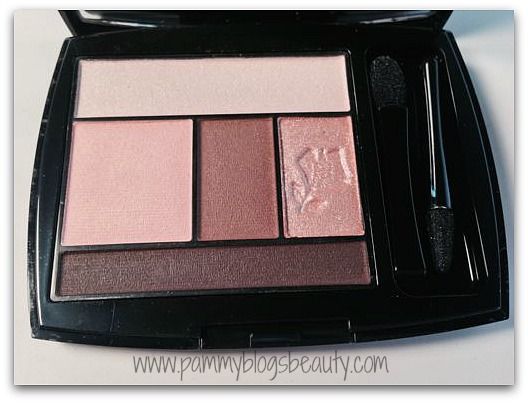 The palette is divided into sections to help your application: 1. all-over base 2. Lid 3. Crease 4. Highlighter and 5. Liner. I use this palette just as suggested and it works great like that! Although, I often use the highlight as a lid shade (or inner corner highlight) and the base as my brow highlight. This palette has a nice mix of satin, matte, and shimmer finishes for a dimensional eye look.
This palette's gorgeous neutrals and easy-to-use design makes it a perfect go-to palette for day-to-day looks when I am short on time.
Shop the Post:
Be sure to check out my
Lancome Loves on Luvocracy
!