I Bought It
Affiliate Link
Press Sample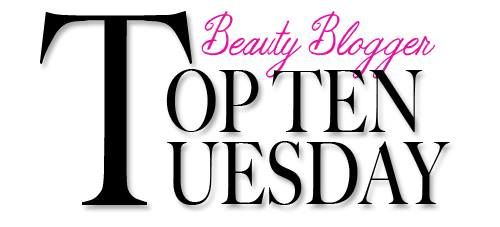 Tis the Glittery/Shimmery time of year! So, I am excited to share my Glittery and Shimmery favorites for this addition of Top 10 Tuesdays! When it comes to glitter, I immediately think "nail polish". However, I have so many favorite glittery polishes that I would find it almost impossible to choose (and then the whole Top 10 list would end up nail polishes). So, I decided that Glittery Polish deserves its own post and that this post will feature other product that make you shimmer, glitter, and shine! :)
To find out more about each product, please click "read more" below!
Top 10 Products for Glitter and Shimmer:
I especially love using highlighters this time of year. My fair skin is at it's fairest. So, I find that the most beautiful way to perk up your complexion is to apply a shimmery highlighter! You will see some of my top favorite highlighters in this list as well as some other lovely glittery and shimmery products to make you shine! :)
To create this list, I literally just went through my makeup and product stash and selected the glittery/shimmery/shiny products that I reach for most often these days! As I write this, I realize that I just picked 9, not 10 things, lol!
Shop the Post:
Be sure to click on the thumbnails below to see what my fellow "Top Ten Tuesdays" bloggers choose for their Glitter and Shimmer Favorites! :)
XOXO!!!