I have found a new love in the cosmetics world:
IT Cosmetics
!!! Ya'll know that I just love getting into new brands!!!
Not only do I love trying new things, but also I love discovering products that are destined to be favorites. This is a line that I have been dying to try for a long time! I have found some new loves and am excited to share them with you!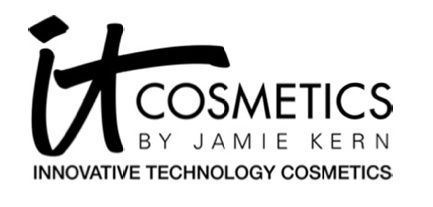 About IT Cosmetics:
IT Cosmetics is an innovative cosmetics company that features anti-aging formulas in their color cosmetics. This seems to be a trend with cutting edge cosmetics companies. I, for one, would much rather use cosmetics that pack in extra anti-aging ingredients that are proven to work! I am in my late 30s and want to do everything that I can to fight off age! Plus, I just feel better about using cosmetics with skin-loving ingredients like antioxidants.
It Cosmetics makes product that are cruelty free! Also, the products are
free of talc, parabens, sodium lauryl sulfate, mineral oil, petrolatum, synthetic fragrance, and phthalates.
Any QVC shoppers out there? If so, you may be familiar with this brand already! Besides being available on QVC, IT Cosmetics is also available on line at IT Cosmetics. I think I need to investigate QVC shopping more. They really do have some amazing package deals on cosmetics!
For this review, I got to test out the Hello Light Illuminating Powder and the Vitality Lip Flush in Je Ne Sais Quoi and Damsel. To hear all the details, and for swatches, ect...keep reading!
The Packaging:
Before getting into detailed reviews, I must make a general note about the gorgeous packaging! I love package design that is sleek and modern. IT Cosmetics really achieves that! Given that this is my first introduction into the brand, the packaging really stands out to me more. I mean, honestly, how many times is the packaging the thing draws you in to a purchase? Not only is the packaging beautiful, but also it appears to be very durable. The lippies are in gorgeous shiny silver tubes with pink metallic accents and black lettering and the highlighter in a NARS-esque rubbery-textured black compact with a mirror. I even love the font of the brand logo lettering! :) These lipstick tubes are amongst the prettiest in my collection!
It Cosmetics: Hello Light Anti-Aging Radiance Illuminating Powder
It is no secret that I adore highlighters. However, I am quite picky! It seems that most highlighters that I test out just don't quite cut it. The only powder highlighters that I tend to ever reach for are my # 1 fave Dior Amber Diamond and my Physician's Formula Happy Booster powder in translucent. Well, after testing this Hello Light Illuminating Powder from IT Cosmetics, I have a new favorite to add to my highlighter rotation!!! I mean, seriously, I might even like this highlighter *better* than Amber Diamond, gasp!!!
The Effect:
This product is a-ma-zing!!! The effect of Hello Light Anti-Aging Radiance Illuminating Powder is just beautiful!!! While it looks somewhat golden in the pan, this product is actually a completely colorless translucent highlighting powder. Hello Light helps you to look flawless and illuminated by blurring your pores while it doesn't settle into fine lines and wrinkles like most highlighters tend to do.
The overall effect is just a beautiful and naturally lit glow. You will not see any obvious glitter or shimmer, just a beautiful and natural glow! It is amazing how just a few sweeps of this powder can brighten up your skin and make you look so vibrant and pretty! Plus, you get the amazing hydrating and anti-aging benefits from the fabulous ingredients packed into the product.
How I Apply:
I always use this powder, or any highlighter, as my next to last step (with lippies being the last step, if you are curious!) in my makeup routine. I apply it to any area that I want to highlight or to look lifted. Basically, you want to apply it to areas of your face in which you want to capture light.
This powder is packaged with a handy-dandy face chart printed on the back of the box that shows you exactly where to place the product. While I sometimes follow the chart exactly, more often I just apply it to the tops of my cheekbones, my chin, along the length of my nose, and over my brows.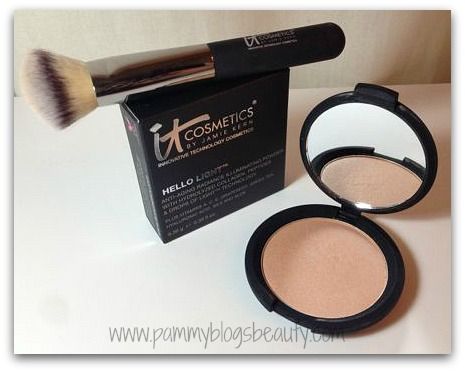 My powder came with the
IT Cosmetics Luxe Angled Radiance Brush. I believe this brush is usually sold separately. I found that this brush was absolutely the perfect tool for application of the Hello Light powder. The brush is a super soft and dense angled face brush (pictured above). The density and softness of the hairs reminds me a lot of the Sigma Sigmax brushes. You can tell just from holding this brush what nice quality it is.
Here is the face chart from IT Cosmetics from the back of the Hello Light powder.
You can place your highlighter exactly where thewhite lines are.
Bronzer or Contour goes where the brown lines are.
The Formula:
The formula is infused with
micronized pigments of light
, plus skin-loving ingredients including
peptides, hyaluronic acid, hydrolyzed collagen, silk
and
Vitamins A, C, & E
and free of all of the bad ingredients that make skin appear older like talc.
Anti-oxidants
hydrate, condition, and nourish your skin while warding off free-radicals all day long!
In the past, using a highlighter was often an "additional" step in my makeup routine that I would skip. Now that I have found this amazing Hello Light powder, I wear highlighter almost every single day! Love, love, love this product!!! Actually, I love it so much that I am going to give it my Pammy Blogs Beauty PBB Stamp of Approval (that I reserve for only the best of the best!).
ANTI-AGING LIP BALM, LIPSTICK, LIP GLOSS AND LIP STAIN
With Plum & Cherry Oil, Shea Butter, Argan & Jojoba Plus Vitamins A, C, E, Green and White Tea & Aloe
Vitality Lip Flush in Je Ne Sais Quoi
Vitality Lip Flush:
I just love the all-in-one trend in lip products lately. I have tried out a few drugstore incarnations of the all-in-one lip product and let me tell you, these Vitality Lip Flushes from IT Cosmetics completely blow away the competition here. My lips just love these Vitality Lip Flushes! I find that they provide lasting moisture and color. The packaging is absolutely beautiful and these are just a pleasure to wear. My lips have been so hydrated since I started using these!
A 4-in-1 Product:
This innovative multitasker

takes the place of a

long-wear lipstick, anti-aging lip balm, ultra-hydrating light gloss and lip stain.
The cutting-edge, yet all-natural formula contains IT Cosmetics' patent pending

Hydra-LuxeTM Technology, which relies on

ingredients such as

PLUM OIL, CHERRY OIL, SHEA BUTTER, ALOE, ARGAN & JOJOBA

that work together to treat, hydrate, condition, and nourish lips, minimizing the appearance of lip lines and wrinkles.

Not only do you get great color and moisturization, but

you also get a formula that is packed with antioxidants! The Lip Flushes contain
anti-aging anti-oxidants including

Vitamins A, C, E, Acai, Green Tea

and

White Tea
The Vitality Lip Flushes are QVC exclusive and they retail for $20 each

.
As you can tell, I have found a new cosmetic love with IT Cosmetics! If you have never heard of or seen the brand, I highly recommend scoping out them out (and these products in particular). I know that I am very excited to explore the brand further! I am already eyeing the "My Sculpted Face" kit and the "Bye Bye Undereye" Conce

aler!
Have you tried out anything from IT Cosmetics? If so, I would love to hear about it! I definitely want recommendations

! :)
T

hanks for reading!
XOXO!!!