I Bought It
Affiliate Link
Press Sample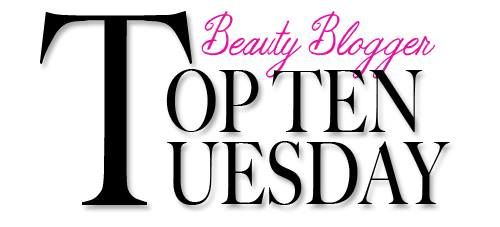 Are you ready for another installment of Top Ten Tuesdays? This time the Top 10 Tuesdays bloggers are sharing some of their top picks for Beauty Stocking Stuffers!!!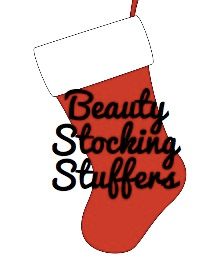 While I adore many aspects of Christmas shopping, I must stay, filling stockings is my favorite!!! I think there is an art to it. I like going with a "theme" (like beauty) and I like there to be a personal touch. Plus, the items must be small enough to fit! So, makeup and beauty items are a great choice! Not to mention, these items are all festive, affordable, and many are part of limited edition Holiday collections! Any beauty lover would love to collect and use these fun items!
Here are my Top Beauty Picks for Christmas Stocking Stuffers 2013: To find out more details about all of these products, please click "read more" below! :)
LUSH's Snow Fairy Shower Gel:
This annual favorite has quite the cult following! This pink bath and shower gel has the fabulous famous sweet Snow Fairy bubble gum vanilla fragrance and contains shimmery "Fairy Dust" (iridescent glitter) to make your bath and shower sparkle! This is the perfect gift for any girly girl in your life (regardless of age!). A super fun and practical stocking stuffer! Snow Fairy comes in a variety of sizes ranging from $9.95 each-$29.95 each bottle.
LUSH Santa Baby Lip Tint: This candy apple red lip tint is so festive! The perfect red tint for your lips for the Holidays. You only need a little dab of this product to create a deep and rich red pout. A perfect addition to a beauty stocking! :)
LUSH's Santa's Lip Scrub:
This is LUSH's new cola-flavored Holiday 2013 lip scrub! I am a long-time fan of LUSH's lips scrubs. Actually, they are the only lip scrubs that I use! My lips get super dry this time of year. So, a weekly lip scrub treatment is just what I need! In the evenings, I just gently rub this sugar scrub onto my lips and then lick it off. The sugar exfoliates and the moisturizing base leaves my lips feeling super soft. Then I apply a moisturizing lip product before bed. It removes all the flakies and leaves my lips very smooth. The product itself is cute, too: red tinted sugar with an edible heart layer, too! This jar will last a long time. Another adorable stocking stuffer!!! Retails for $8.95 per jar.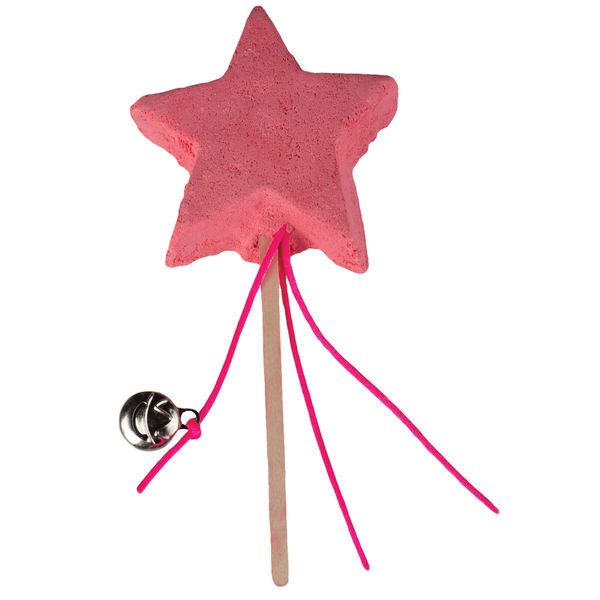 LUSH Magic Wand: Of all of my LUSH Holiday 2013 items, this one is possibly the most "fun"! It is certainly the most whimsical. If you are a big fan of LUSH's perennial Snow Fairy fragrance, then you are going to want to pick up this adorable bath bar! Or, if you are looking for an adorable treat for a younger tween/teen bath lover, then this is the perfect little gift! I adore the sugary cotton-candy/vanilla bubblegum scent of Snow Fairy! I love how easy it is to use. You just hold it by its handle and swirl it into your bath water while your tub fills up. It creates gorgeously scented bubbles and adds a pretty pink color to your bath water. Then you just store it for your next bath! Super duper cute!!! Retails for $9.95 each.
Make Up For Ever Midnight Glow Holiday Palette: Have you seen this gorgeous palette? It is the perfect stocking-stuffer sized palette. I, for one, really enjoy slim palettes. Very travel friendly! This Midnight Glow palette features 8 shadows (6 of which are Limited Edition Holiday Shadows!): Holiday 2013 Gun Metal, Holiday 2013 Snow White, Holiday 2013 Icy Blue, Holiday 2013 Icy Pink, Black (matte), Holiday 2013 Gold Pink, Holiday 2013 Midnight Purple, and Metallic Taupe (satin). I love the shimmer and shine of the LE Holiday shades. Plus, the taupe satin and matte black are great additions to create a complete look! These are seriously beautiful shadows! Fabulous pigmentation and texture!!!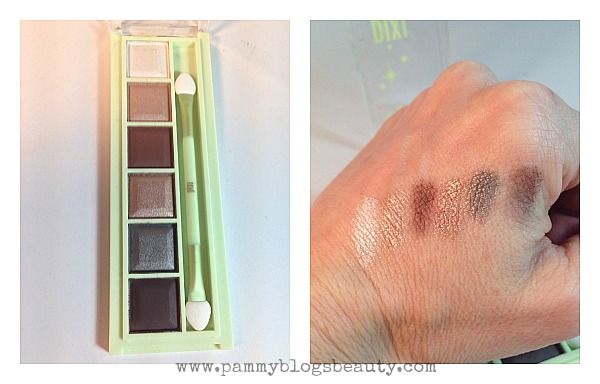 Pixi Icy Eye Palette in Buff Blizzard: Here is another great option for a sleek stocking-sized palette! Pixi's new for Holiday 2013 Icy Eye Palette. This is a gorgeous collection of nicely pigmented and textured shimmery neutral shadows ranging from light to dark. You can easily create an everyday look or even a smoky look with this palette. I adore it and have been using it continuously since I got it! What a great deal for only $12.00 at Target!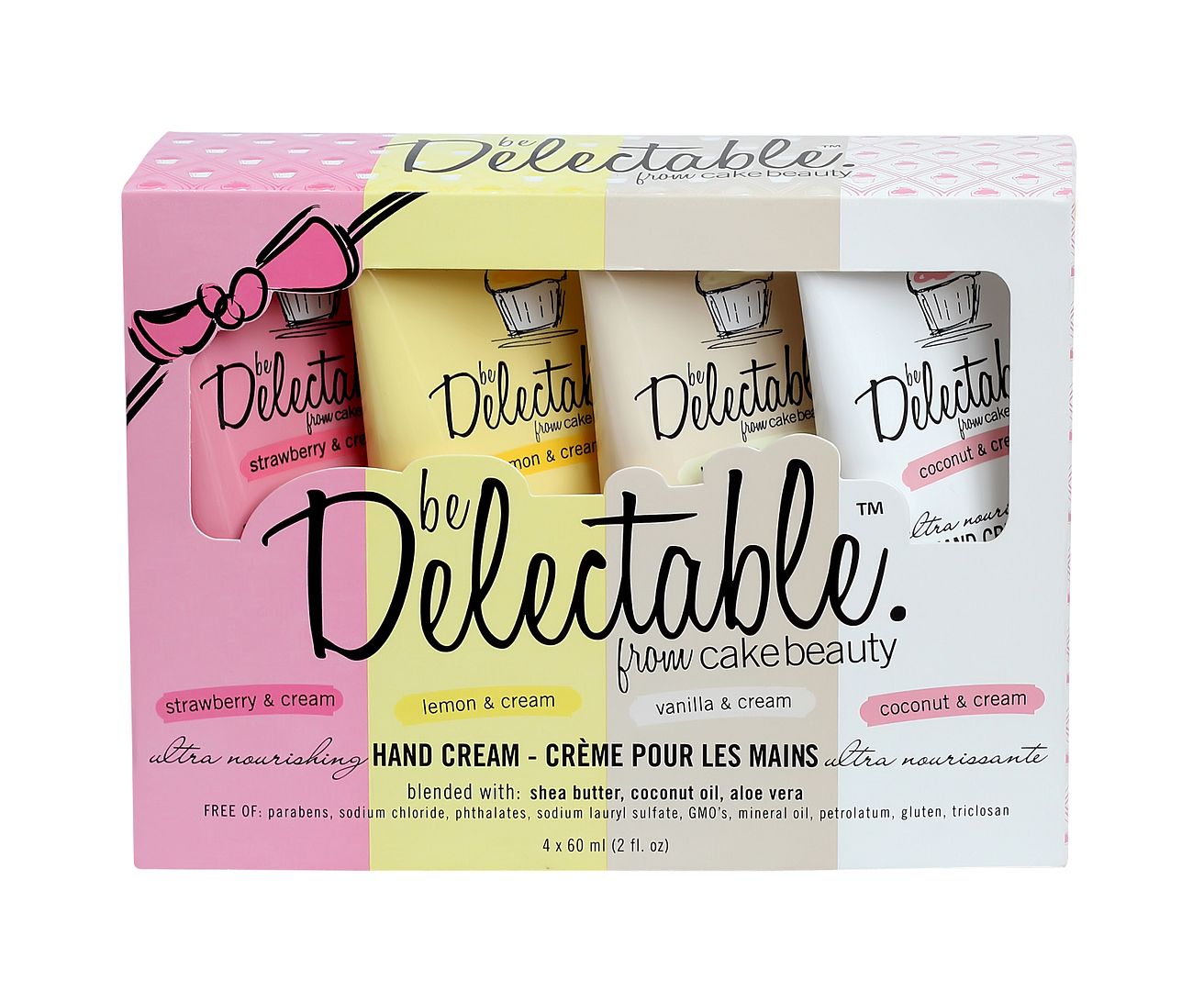 Be Delectable from Cake Beauty Strawberries & Cream Hand Cream and Be Delectable from Cake Beauty Vanilla & Cream Body Polish: Did you know that Cake Beauty has a new line available at Kohl's??? Kohl's has been my go-to store this year for my Holiday shopping since there is one less than 3 miles from my house! Sorry, I digress! This new Be Delectable line from Cake Beauty is just as it sounds...delectable! If you love sweet foodie scents, then you will love this new heavily scented body line. The products really do smell good enough to eat. :) The Strawberries & Cream Hand Cream is thick; yet, it is also non-greasy. I also have the Vanilla & Cream Body Polish. This body scrub is so nice for this time of year when my skin is so dry. The scrub contains moisturizers like coconut oil and aloe vera as well as apricot shells to exfoliate. Plus, I love the yummy scent!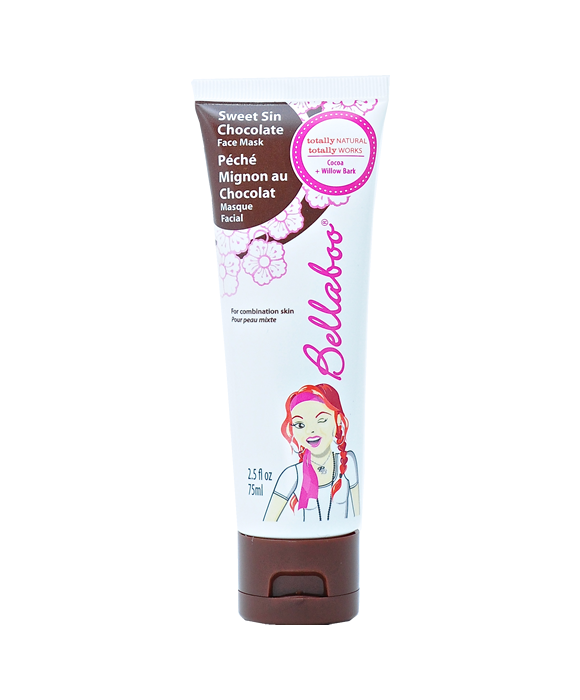 Bellaboo Sweet Sin Chocolate Mask: This mask is great to include in a stocking for a teenage or actually any chocolate-lover that you know. The 99.5% natural line Bellaboo was developed especially for the needs of younger skin (tweens, teens, and 20s). While I am certainly not the target market for this line, I can certainly appreciate the fresh and natural approach and I really do enjoy using the products. Plus, hello...a Chocolate Mask! ;) This new line is available at Ulta, drugstore.com, and Bed, Bath, & Beyond.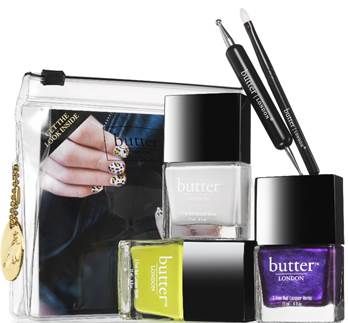 butter LONDON Animal Instincts Gift Set: This nail polish gift set from butter LONDON is such a fantastic value! Butter LONDON polishes are fabulous; but also, they are a bit on the expensive-side. So, a gift set like this is a great way to experience the brand at a really reasonable price! For $39 you get the following: Cotton Buds Nail Lacquer, HRH Nail Lacquer, Squatter Nail Lacquer, butter LONDON Clean Up Brush, butter LONDON Dotting Tool, butter LONDON Clear Branwen Bag and Get-The-Look Instructions. Plus, the kit comes in a cute and stocking-sized clear zipper bag that looks very "gifty"! Not only do I like the shade assortment in this set, but also I am so excited about the dotting tool! :)
So, those are my top picks for Beauty Stocking Stuffers for 2013! What would you like to find in your stocking beauty-wise? Do you have your eye on anything?

Please be sure to click on the thumbnails below to see what my beauty blogger friends are picking for Beauty Stocking Stuffers this year! :)

XOXO!!!