Affiliate Link
Press Sample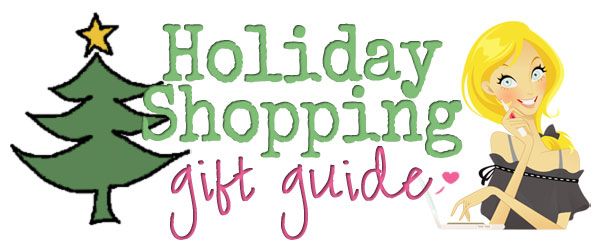 My Holiday Shopping 2013 Gift Guide continues! This time I am going to share with you some of my favorite items from LUSH's Holiday 2013 lineup!!!
As ya'll know, I love me some LUSH! ;) Not only are these items great for the bath-lovers in your life, but also they are just all-around cute gifts! I know that if you walked into a LUSH store you would not be able to resist these cute bath and gift items! More than anything, LUSH products are a completely sensory experience. The intoxicating scents...the vivid colors...you will be absolutely enveloped in these bath products!
LUSH: Great Gifts!!!
There are many ways that you could either combine the LUSH seasonal products for gifts or give them individually. LUSH is unique: they do not package most of their products. The bath bombs, soaps, bubble bars, etc are stacked out on display in their stores. The actual products are so decorative and cute...you wouldn't want to package them! For gifting, I would recommend getting plain clear cellophane bags. That way you can see the product in all of its festive glory. Just add a bow and a gift tag! Give them individually when you need that perfect "under $10/$15" type gift. Or combine a few for a bigger gift.
From the
Holiday 2013 LUSH Collection
, I have tried and will share my thoughts on the following products:
Cinders Bath Bomb
,
Father Christmas Bath Bomb
,
Star Light Star Bright Bath Melt
,
Magic Wand Bubble Bar
,
Santa Baby Lip Tint
,
Santa's Lip Scrub
,
Snow Fairy Shower Gel
,
Rose Jam Shower Gel
and
Snow Globe Soap
. To find out more about all of these decadent bath and body products, click "read more" below!
LUSH Holiday 2013:
Cinders Bath Bomb
: A spicy and crackling bath bomb! This bath bomb is exactly the type of scent that I adore this time of year: sweet, spicy, and warm. Cinders is a combination of crackling vegan candies and cinnamon oil leaf. It also contains moisturizing ingredients like almond oil to leave you feeling soft after your bath. It fizzes up when it enters the bath and then it releases the crackle from the candies. It is really quite a cool effect! It will leave your bath water yellow. However, I don't mind this since I tend to take my baths in the dark with candles lit anyways. I adore the scent of this bath bomb and will look forward to its Christmas release every year! Retails for $4.95 each.
Father Christmas Bath Bomb
:
This bath bomb is so festive: it is Santa's face!!! Seriously, LUSH gets some points here for their festive creativity. :) I love the transformative effect of this bath bomb in the water: it turns your bath from red to green with lots of froth throughout the process. If you like fresh citrus scents, then you will love how your bathroom smells with this bath bomb! This scent, to me, is such a "classic" LUSH fragrance. The citrus scent has an "herbal" note to it as well. Father Christmas makes for a fabulous bath experience and a really fun and festive gift!!! Retails for $6.40 each.
Star Light Star Bright Bath Melt
:
This is one of LUSH's new inventions for this Holiday season! This super sparkly star bath melt is packed with shimmer! To use, you just smoosh it under the running bath water. It releases a gorgeous shimmer to your bath while turning the water blue. The scent is a strong herbal citrus fragrance with ginger, lavender, and lime. The product itself is super soft. So, you need to be careful if you are packaging it for a gift. Mine came wrapped in one of LUSH's reusable tins (that are great for keeping your massage bars!). This Star bath melt was so fun to use! :) Retails for $6.95 each.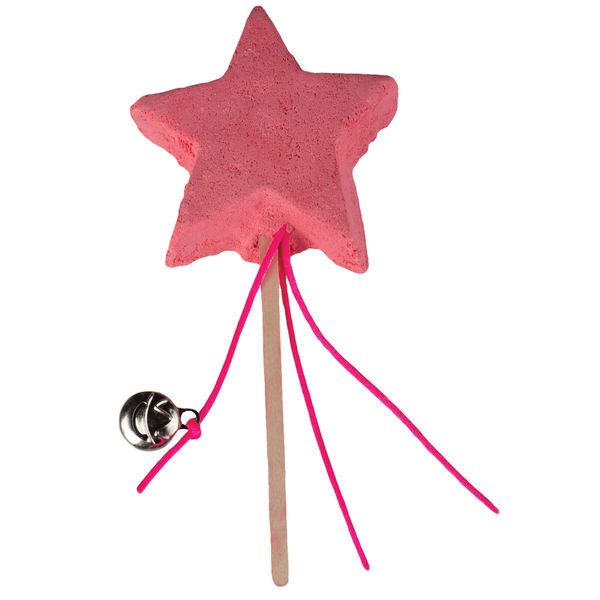 Magic Wand Bubble Bar
:
Of all of my LUSH Holiday 2013 items, this one is possibly the most "fun"! It is certainly the most whimsical. If you are a big fan of LUSH's perennial Snow Fairy fragrance, then you are going to want to pick up this adorable bath bar! Or, if you are looking for an adorable treat for a younger tween/teen bath lover, then this is the perfect little gift! I adore the sugary cotton-candy/vanilla bubblegum scent of Snow Fairy! I love how easy it is to use. You just hold it by its handle and swirl it into your bath water while your tub fills up. It creates gorgeously scented bubbles and adds a pretty pink color to your bath water. Then you just store it for your next bath! Super duper cute!!! Retails for $9.95 each.
Santa Baby Lip Tint
:
Looking for a gorgeous red for your lips for the Holidays? Look no further than LUSH's Santa Baby lip tint! This balmy tint packs mega color! The shade? A deep warm orangish-red. While I tend to prefer blue-toned reds, this one is still very pretty on. It gives your lips a festive deep red matte tint while also giving your lips some moisture. Just a swirl of your finger produces very rich pigment. So, this little balm tin will last you forever. This lip tint contains both shea and cocoa butter along with carrot oil. The scent/flavor is cherry cola derived from cherry and date extracts. Makes and adorable little stocking stuffer!
Santa's Lip Scrub
:
This is LUSH's new cola-flavored Holiday 2013 lip scrub! I am a long-time fan of LUSH's lips scrubs. Actually, they are the only lip scrubs that I use! My lips get super dry this time of year. So, a weekly lip scrub treatment is just what I need! In the evenings, I just gently rub this sugar scrub onto my lips and then lick it off. The sugar exfoliates and the moisturizing base leaves my lips feeling super soft. Then I apply a moisturizing lip product before bed. It removes all the flakies and leaves my lips very smooth. The product itself is cute, too: red tinted sugar with an edible heart layer, too! This jar will last a long time. Another adorable stocking stuffer!!! Retails for $8.95 per jar.
Snow Fairy Shower Gel
:
This annual favorite has quite the cult following! This pink bath and shower gel has the fabulous famous sweet Snow Fairy bubble gum vanilla fragrance and contains shimmery "Fairy Dust" (iridescent glitter) to make your bath and shower sparkle! This is the perfect gift for any girly girl in your life (regardless of age!). A super fun and practical stocking stuffer! Snow Fairy comes in a variety of sizes ranging from $9.95 each-$29.95 each bottle.
Rose Jam Shower Gel
:
I adore LUSH's Rose Jam scent. I first fell in love with this particular scent when I discovered the Rose Argan Body Conditioner which carries the same scent (the Rose Jam Bubbleroon has the same scent, too!). This Rose Jam shower gel is a great way to get that blissful scent during your daily shower! This rose-honey-vanilla scent is just purely divine! Rose Jam Shower Gel comes in a variety of sizes ranging from $10.95-$29.95 per bottle.
Snow Globe Soap
:
LUSH bar soaps are so fun. They are *almost* too pretty to use! This Snow Globe soap looks just how you would imagine...a light blue base with cute white "snow" chunks suspended in it. The zesty grapefruit scent is invigorating in the shower. Great later, too! Plus, it leaves me feeling soft and moisturized. Retails for $7.95 for 3.5 oz.
Have you scoped out LUSH's Holiday 2013 Collection yet at your local LUSH store? If not, you should check these cute items out before they are out of stock! They make such great gifts for your family and friends or...yourself! I mean, who wouldn't want a decadent soak in a LUSH-infused tub during the busy and sometimes stressful Holiday season!
XOXO!!!