Press Sample
Affiliate Link
Blogger Ambassador
Top Ten Tuesdays:
Welcome back to Top Ten Tuesdays!!! For those of you not familiar, Top Ten Tuesdays is a blog link up series where Top Beauty Bloggers share their Top 10 (ish) items in a given category. As a list lover, I love to both write these posts as well as scroll through the other Top Ten Tuesdays blogger's lists! What a great way to find out about products that Beauty Bloggers really use and love! Be sure to click through the thumbnails at the bottom of this post to see what my fellow Top Ten Tuesdays bloggers are loving for Cold Weather Skincare!
To find out more details about all of these amazing products, please click "read more" below!!!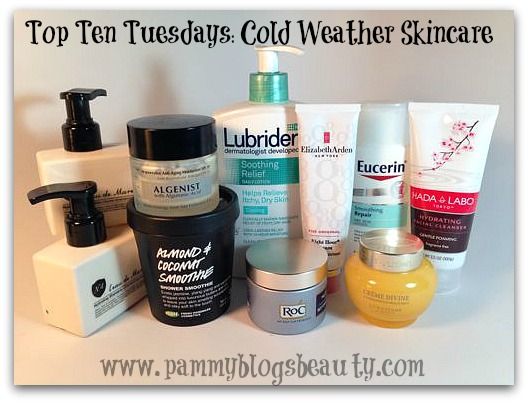 Lubriderm Soothing Relief Daily Lotion
: Lubriderm is a brand that I know and trust and always come back to when it comes to body moisturization. They have many formulations of their Daily Lotion and I honestly have liked each one that I have tried. Currently, I am using the Soothing Relief formula. It contains menthol to help with dry/itchy skin (which has been a bit of a problem with my pregnancy. So, I am happy for the relief!).
L'Occitane Immortelle Creme Divine
: L'Occitane's Creme Divine is the ultimate luxury moisturizing creme. It is extremely rich and hydrating. However, somehow it does not feel "heavy" on your skin. I adore the scent...it is hard to describe, but is intoxicating. I only need the smallest half-of-a-pea size amount to moisturize my entire face. Yes, it is super expensive, but a jar will last you a long time. I love how dewy and glowing this moisturizer leaves my skin. When I apply this in the evenings, I awake in the mornings to plumper and softer skin. I won't give any more details here as a full review is coming soon! :)
Elizabeth Arden 8 Hour Cream Skin Protectant, The Origional
: This is one of those "I Can't Live Without It" products. Literally. I discovered this amazing moisturizing balm right after I had my first baby and I was suffering terribly with uncontrollable dry lips. Applying this 3x a day completely healed my dry lips. I now use it every single night before bed (and throughout the day as needed) and my lips stay soft and smooth! It is not just for your lips though! It is an all-purpose moisturizing balm that heals any dry/cracked skin or skin injury: cuticles, cracked heels, etc. 8 Hour Cream has a celebrity and cult following for a reason: it is amazing!!! I will never be without it! I always travel with it, too. Now, the taste/scent is really off-putting. However, I have gotten used to it and it also comes in an unscented version (which I totally need to try).
Algenist Regenerative Anti-Aging Moisturizer with SPF 20
: This moisturizer is one of my go-to faves for cold weather! It is my daily moisturizer that I use in the mornings whenever it is cold outside. I am literally at the end of my jar trying to get every last drop of this amazing moisturizer out of it! It is richly hydrating and plumping without being at all greasy nor heavy feeling. Plus, it contains Algenist's revolutionary anti-aging ingredient (that you can't find anywhere else!): Alguronic Acid. I love, love, love this stuff! Plus, it has SPF 20 which is a nice SPF strength to wear in the colder months when I am not outside as much (I like a higher SPF in the Spring and Summer months). Oh, and have I mentioned that I love the smell and texture? This moisturizer just feels so luxurious going on. Be sure to check out my full review here:
Algenist Regenerative Anti-Aging Moisturizer with SPF 20
.
RoC Multi Correxion 5-in-1 Restoring Night Cream
: When the cold weather arrives, I need to amp up my nighttime moisturizer! In the warmer months, I either skip moisturizer all-together and just use a serum or I use a very light moisturizer. Lately, I have been using
RoC's new Multi Correxion 5-in-1 Restoring Night Cream
after my serums/treatments before bed. I love the perfume-like scent and the ultra rich feel. My skin just drinks this stuff in! As a RoC Ambassador, I love having the opportunity to test out new RoC products as soon as they come out! RoC's recently revamped their Multi Correxion line of products with their breakthrough new "Hexinol Technology". These new products are backed by 7 years of research! Hexinol Technology works to reverse signs of aging in as little as 4 weeks. Hexinol helps to restore elasticity and firmness, smoothes out fine lines and wrinkles, reduces discolorations, improves radiance, and hydrates skin. Hexinol is not Retinol! While RoC is known for its Retinol formulations, the Multi Correxion line was designed to compliment Retinol products (and does not contain Retinol).
LUSH Almond & Coconut Shower Smoothie
: Does your daily shower wash dry you out? You might need to switch to a shower smoothie from LUSH! :) LUSH's Shower Smoothies are great for cold-weather dry skin! LUSH's Almond & Coconut Shower Smoothie is a creamy moisturizing shower wash. It looks and feels like a smoothie! There really is virtually no lather with this product. It feels somewhat like a thick cream going on your skin. It cleanses gently and leaves you very moisturized. You will feel a silky layer of moisture on your skin after your shower. You might even be able to skip a moisturizer after your shower from the hydration you get from this product! This Shower Smoothie feels so healing and soothing on my dry skin. Plus, the soft jasmine, ylang ylang, and vanilla scent is to-die-for!
Hada Labo Tokyo Hydrating Facial Cleanser
: Have you seen this new line at Ulta? Hada Labo Tokyo is a leading Japenese skincare brand and it is now available in the USA! The entire line is focused around one powerhouse skincare ingredient: Hyaluronic Acid. I am a HUGE fan of Hyaluronic Acid as it has an amazing ability to draw moisture to the skin which leaves it plump and hydrated. Hyaluronic acid is a great moisturizer for acne-prone skin (it never breaks me out!). This creamy Hydrating Facial Cleanser from Hada Labo Tokyo can be worked into a nice lather. It leaves my skin feeling clean and hydrated without a heavy residue. Plus, it is so gentle! What a great cleanser for colder weather! This is the first product that I have tried from the Hado Labo line and I am excited to explore the line further!!!
No 4 High Performance Hair Care Hydrating Shampoo and Conditioner
: Have you heard of the French No 4 Hair Care line? They are the ultimate luxury hair care brand. I first discovered No 4 High Performance Hair Care through
Birchbox
. I must say, that is something that I really love about a beauty sample subscription...finding new brands! The more I explore this No 4 line, the more I love it!!! My hair is extremely dry and somewhat damaged from highlights. In the winter, it just gets drier and I need a lot more moisture. The Hydrating line from No 4's Shampoo and Conditioner combo leaves my hair feeling like silk! I love how smooth and shiny my hair is when I use this rich and luxurious shampoo/conditioner combo. Plus, I adore the scent: Ylang Orchid, Jasmine, Vetiver, and Patchouli.
Eucerin Soothing Repair Lotion
: When it gets cold outside, I stock up my nightstand drawer with moisturizers. This moisturizer from Eucerin is a nice basic! It sinks in quickly and doesn't leave you feeling greasy. Plus, it is super gentle! If you have sensitive skin and are looking for a nice fragrance-free non-greasy moisturizer, you might love it! Note: Since this moisturizer contains AHAs, I am reserving this to use after I have my baby.
Shop the Post:
Items from my Top Ten list and other favorites from these brands:
What are your favorite moisturizers and skincare items for cold weather? I would love to hear!!! Also, be sure to click on the thumbnails below to read more "Top Ten Tuesdays" posts from my fellow bloggers!!!
XOXO!!!