Affiliate Link
Press Sample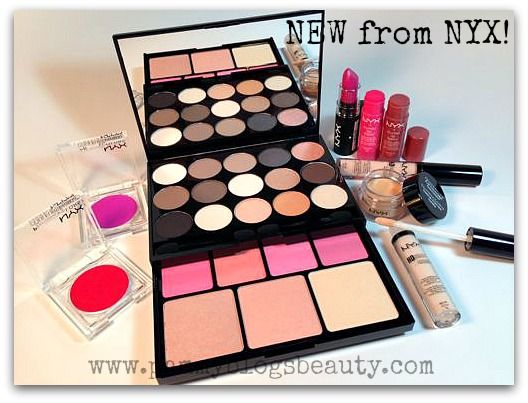 Are you in need of a NYX fix? I sure am, lol! ;) NYX, across the board, has some of the best cosmetics available for the drugstore price point. These new additions to the line are no exception! Lets just dive right in to the details of these fresh new products from NYX!!!
New Products from NYX: Here are the items I got to try out:
To find out more details about all of these new NYX products, please click "read more" below! :)
NYX Primal Colors
:
Vibrant Pressed Pigments:
Ok, WOW! These are crazy, crazy pigmented!!! These are probably and actually the most vividly pigmented cosmetics in my entire makeup collection! I am completely impressed with the amazing quality of these pressed pigment powders. If you didn't know that these were a drugstore priced item, you would guess that these were high end pigments.
There is no question that these colors are not for the faint-of-heart. You need a skilled hand to apply these because of the extremely concentrated color. I tested out two shades: #PC04 Hot Fuchsia (a vivid cool fuchsia shade) and #PC07 Hot Red (a vivid tomato red). These are both matte finish powders. Because of the shades, I applied these as blushes. However, I believe that these products are all-purpose pigments. NYX states that these are for "face and body".
These both wear beautifully as blushes *IF* you apply with a very light hand. I had the best results using a duo fiber brush as it allowed for a lighter application. I just barely touch the brush to the pigment powder and then lightly dust onto the cheeks focusing on the apple area. I especially love the look of the Hot Fuchsia shade on my super fair skin. It gives such a doll-like pop of color! I totally recommend these vivid pigments as blushes! I think these might be a great option for those of you with very deep skin tones that have trouble finding blushes that can show up well on your skin.
Let me tell you, NYX knows how to do palettes!!! I was so excited to get this palette! I already owned NYX's first "butt naked" palette. So, I was curious to see the differences and how this palette compared! This new palette contains a fabulous assortment of neutral shadows as well as cheek products! What a steal for only $25!!! Plus, I just love the idea of any makeup palette that has everything you need for eyes and face! You have it all at your fingertips with this convenient kit!
The
"butt naked" Turn the Other Cheek Palette
contains 15 eye shadows in an assortment of neutral shades ranging from light to dark and with both matte and shimmer finishes. It also contains 4 matte and pearl blushes as well as 3 pearlescent face illuminators. I would consider the shadow's pigmentation to be about average. Some are more pigmented than others. The shadows are soft and blendable.
I think that the blushes seem to have better pigmentation than the shadows. I find them to be very vivid and pretty! What a pretty assortment of peaches and pinks! These are exactly the types of shades that I love to wear. :)
The shimmer powders range from a light buttery shade, to a light and medium skintone shimmer shade. I find them all to be lovely and like the middle shade (the light skintone shimmer shade) the best!
I think that the
"butt naked" Turn the Other Cheek palette
is an ideal palette for a makeup newbie or beginner. The eye shadows are super easy to apply and the range covers the whole spectrum of neutral shades. Plus, this palette is great for travel! I could easily take this as my primary makeup item for a weekend with just needing to add basics like mascara and lipgloss to my bag. :)
So, what are the differences between this new "butt naked" palette and the first one? Well, the shadow selection is almost the same. There is some variation (slight variation in the shadows, a bit warmer toned, and more peaches and bronze tones with the face and cheek colors)...but, overall, I find it to be extremely similar. Please see my side-by-side comparison photo below! :) Do you need both? Probably not...but, I am happy that I have them both anyways! :) Then again...I am a makeup nut, lol!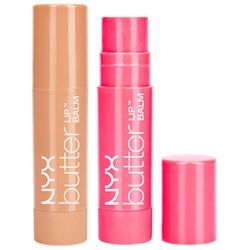 NYX Butter Lip Balm
: Rich and Buttery Balms with a hint of Color:
If you are a fan of sheer color and moist lips, then you will love these new
Butter Lip Balms by NYX
!!! I truely tend to reach for my tinted lip balms over all over lip products in my collection. They are really the best type of product when you are looking for a quick dose of sheer color, moisture, and shine for your lips. I love that you can apply without a mirror! Super duper quick and easy!
I tried out the shades Parfait (a bright sheer pink) and Brownie (an natural brownish pink neutral sheer). They do have a very fruity smell. Honestly, I am not a huge fan of the scent. However, I know that other people love fruity scented lip products (I personally prefer vanilla or mint scents in lip products). Even though I am not over-the-moon on the scent, I still enjoy using these! The scent will disappear and you are just left with smooth and soft lips with just a slight hint of color. :) The best part? These are only $4.00 each!
NYX Matte Lipstick
:
These
Matte Lipsticks by NYX
are a great option for a drugstore-priced Matte Lipstick! I tried the shade Sweet Pink which is a bold fuchsia matte. The pigmentation is very intense! One swipe is all I need. I find this lipstick to be less drying than other matte lipsticks that I have tried. Plus, I find the formula to be very long wearing. What a great deal for $6.00 each!
So, that is it! My newest NYX additions to my Makeup Collection! :) Overall, I really liked just about everything that I tried. I think that the
Primal Color Pigments
are a standout product as are the
Butter Lip Balms
! I would recommend the
"butt naked" Turn the Other Cheek palette
to any makeup beginner or anyone looking to expand their neutrals collection with easy to wear shades.

Concealers:
HD Photogenic Concealer Wand
and
Above & Beyond Full Coverage Concealer
: I tried out two different types of NYX Concealers. The
HD Photogenic Concealer
and the
Above and Beyond Full Cover Concealer
. The
Above & Beyond
was in too dark of a shade (#04 Beige). So, I was unable to test out, only swatch. I can say that the coverage does appear to be very opaque and the formula has a somewhat dry feel. I hope to try this in my shade sometime as the coverage appears to have good potential for covering my dark circles???
I tried the
HD Photogenic Concealer
in two shades Porcelain and Light. Out of these two shades, I much preferred the Porcelain for my skin tone (the Light looks too dark and orange on my light skin). The coverage of the HD Photogenic is light, yet it is buildable! I like using this concealer around my nose area and on my chin. I did not find the coverage to be quite heavy enough for my very dark under eye circles. However, it worked perfectly to cover the slight redness on my nose area and chin. Both types of concealer retail for $5.00 each.
What do you love from NYX? I would love to explore this line further!!!

Shop the Post: