Affiliate Link
Press Sample
Are you into fun and girlie makeup with lots of glitter and shimmer? Well then, you will love these new products from
Hard Candy
! What a fun assortment of new makeup!!! Seriously, from the pretty packaging to the shimmer and sparkle, these products were so much fun to try out. Not to mention, these products are so affordable and available at your local Walmart.
To find out more about all of these products from
Hard Candy
, please click "read more" below!
Hard Candy Poppin Pigments
: Loose Pigments:
Hard Candy's Poppin Pigments are loose eyeshadow powder duos. They are packaged in cute little shaker containers and sold as a coordinated pair. The powder is fine with a shimmery pearl finish. These powders pack good pigmentation and intense sparkle! I especially love the light pink color in this pair. It is lovely for an all-over wash of shimmery pink. Also, I love to wear the pink all over the lid with the purple in the outer corner and blended up through the crease. So pretty!!! $6.00 per pair.
Hard Candy Shadow Dancers
: Liquid to Powder Eyeshadows:
Hard Candy's Shadow Dancers are liquid-to-powder eyeshadow duos packaged in a wand. Each side opens separately and has a doe foot applicator. The shadow is very soft and creamy with a velvet feel and a shimmery pearl finish. I tried the shade "Private Party" which is a pair of ultra light irradecent pink and a silver-white glitter. The glitter shadow was a bit on the sheer side with intense glitter and sparkle. The pink side was a creamy opaque pink pearl shadow. These wore all day on me without creasing! I love the shimmery effect. Plus, these were super quick and easy to apply! $6.00 each.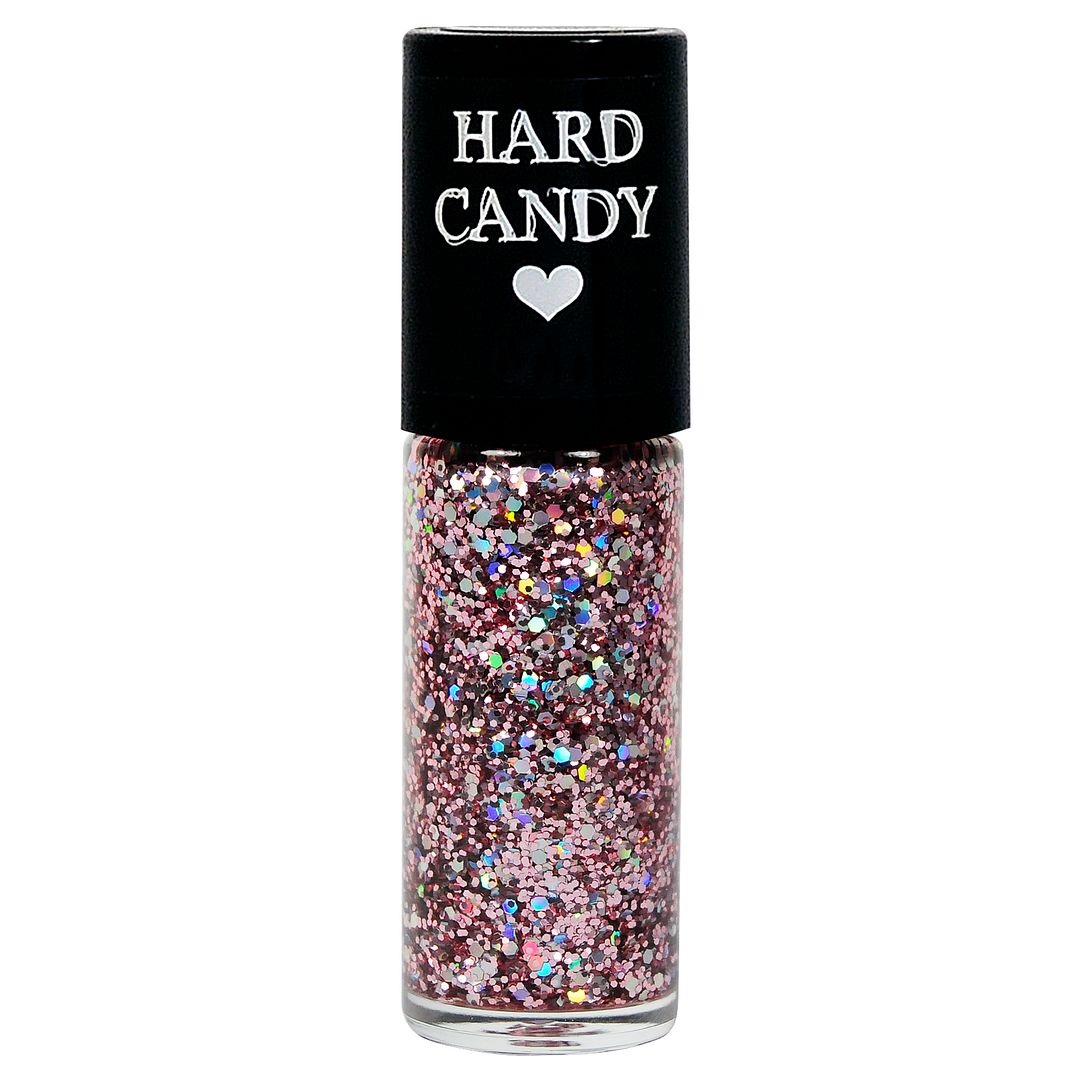 Hard Candy Nail Color
:
As a lover of all things girlie and sparkly, I just adore this glitter top coat polish from Hard Candy! Isn't this glitter gorgeous?!?! I tried the shade "bridal party" which is a light pink glitter with gorgeous iridescent sparkle! Two coats lays down a pretty decent amount of glitter. It is not full coverage, but packs a good sparkle on top of another polish shade. Plus, at $4.00 a bottle, you really just can't beat it!
Mod Quad Baked Eye Shadow
:
What a pretty little palette! I tried out the Mod Quad Baked Shadow Palette in "Smoke & Mirrors" which is an assortment of white, silver, and grey shimmery baked shadows. Like most baked shadows, these seem to be best applied wet. The colors coordinate beautifully with each other! I love the super shimmery silver look that I get with these shadows. It is a nice switch from my usual neutral/browns/pinks. These palettes come in 5 different shade combinations and retail for $6.00.
I just love the fun girly assortment that I got from Hard Candy! The overall quality is very good, especially for the price!
Have you tried
Hard Candy
? What do you like from this brand? I am always looking for good product recommendations!!!