Affiliate Link
Press Sample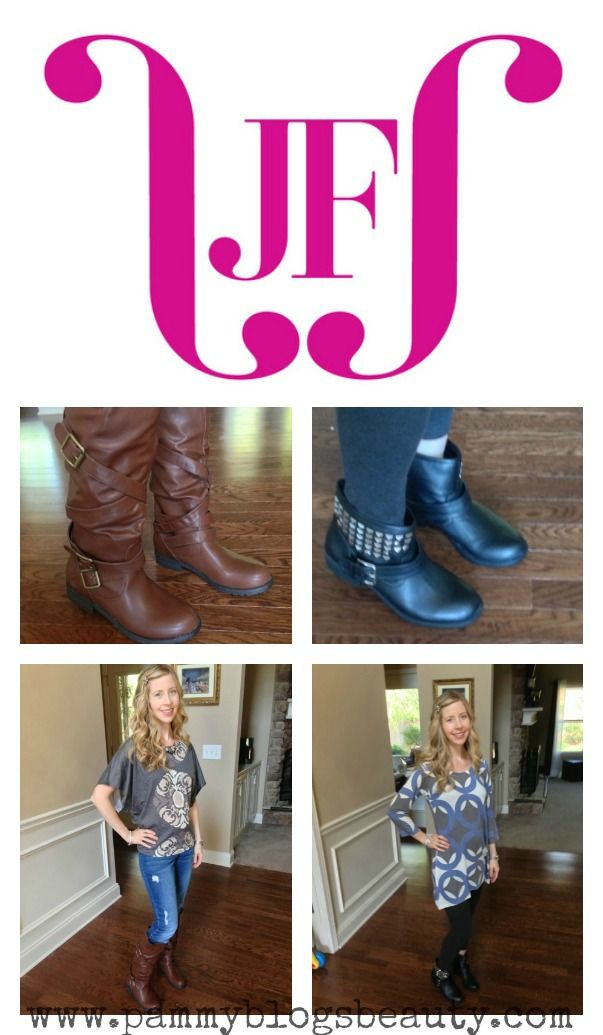 Can you believe that it is already time to start getting your Fall Wardrobe together?!?! I know, it is always hard to think Fall and boots in August (especially in hot/humid Georgia)! However, Fall is literally right around the corner. So, it is time to get shopping!
My wardrobe has a twist this Fall season...maternity wear! I am just at the beginning of my 2nd trimester and am slowly making the shift to maternity clothes. I am currently wearing some maternity pieces mixed in with looser fitting regular clothes. For the most part, I am going to keep my maternity outfits comfortable and casual to fit my lifestyle as a stay-at-home Mom. No one wants to spend a lot on maternity wear. So, I am going to amp up my outfits with cute accessories and shoes!
JustFab
to the rescue (of my maternity wardrobe)!
In honor of the transition to Fall, I selected two pairs of boots for my
JustFab
items this month! The classic
Arron
tall boot in brown and the edgy/trendy
Brooklynn
in black. Also, I was recently sent some super cute tees from
Before + Again
and was able to combine these with some of my maternity pieces for some perfect late Summer/early Fall outfits!
To hear more about these fun
JustFab
boots, please keep click "read more" below!
What is
JustFab
?
JustFab
is an online fashion site and styling service. They offer trendy and affordable shoes, handbags, jewelry, jeans, and accessories to subscribers (called VIP members). When you
sign up to become a VIP member
, you take a style quiz. Then
JustFab
pairs you with a stylist who creates a personalized online boutique for you to shop from. Everything on the site is $39.95!!! You will be charged a monthly fee (unless you elect to "skip a month" then you won't be charged) which gives you credit for one item. So, that is one monthly fee for one item (not an item plus an additional fee). Of course, you could always purchase more than one item a month. They seem to have a lot of 2 for/ $39.95 deals, too. So, you can almost always find a good sale!
So, you might see a trend in my shoe and boot selection over the next 6 months while I am pregnant. I am looking for cute, comfortable, and trendy shoes and boots with a minimal heel. I seem to get a bit of foot pain and swelling while pregnant. So, I am going to be kind to my feet and keep my heels low.
I am so excited about the JustFab boots that I got this month! While it is really too hot to wear these boots right now, I am already imagining how I am going to style them.
JustFab
Arron in Brown:
A tall brown flat boot is just so classic! I choose these Arron boots to be my go-to neutral boots for everyday-type wear. These will look great this Fall or Winter paired with leggings or skinny jeans. I really like the buckle styling and the casual look of these boots. Plus, these boots are so super comfortable!!! I love both the color and the buckle detailing on these. I instantly feel more stylish when I put these on. Honestly, trying on these boots has me wishing for Fall weather now!
The Skinny:
heel height 1"
the boot features soft faux leather
runs pretty true-to-size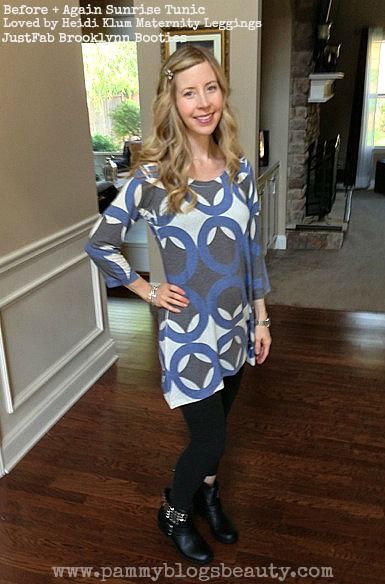 JustFab
Brooklynn in Black
:
Oooh! I just love these! These little booties have just enough "edge" to make them cool without making me look like I am trying too hard. I find that short boots are so easy to style. They look equally great with dresses or skirts and skinnies! Plus, I know that these will be super easy to slip on when I get huge in my 3rd trimester and want something that is quick and easy to put on. These boots are super on-trend and I just know that they will sell out quickly! The stud detailing on these boots gives my outfits just enough "edge"! Plus, these are really comfortable!
The Skinny:
heel height 1 1/2"
synthetic upper
comes in black and taupe (the taupe looks brown on the JustFab site...)
What shoes and boots do you have your eyes on for Fall?
Tees and Tunics from
Before + Again
:
Have you heard of
Before + Again
? It is not a maternity line. It is an online shop for adorable custom print tees, tanks, tunics, and dresses! The designs are absolutely adorable as well as being completely unique! The fabric is super comfortable, too! Normally, I am a size XS or S. So, I ordered my items in size Medium to allow for an ever-expanding belly with my pregnancy (in the pictures I am exactly 19 weeks pregnant. So, I am just beginning to show).
Medallion Black Premium Short Sleeve Dolman: This is probably my favorite item (so far!) from Before + Again. It is just adorable! IT is a grey printed tee with dolman sleeves. It is just loose enough to accommodate my pregnancy belly. I feel super stylish when I wear this with jeans!
O-Sunrise Blue (3785) Buttersoft Tunic : Tunics are perfect for Maternity wear! This tunic pairs beautifully with my grey maternity cropped leggings. So comfortable!!!
Indian Pink Classic Dress Crew: Isn't this dress just perfect for late summer? It hits right at my knees. It is lightweight and perfect for the hot days of September.
Shop the Post:
Thanks for reading!!!
XOXO!!!