Affiliate Link
Press Sample

The Colour Clash Collection is a chic, surprising new collection of brights and whites that are perfectly on-trend to take your look from summer to fall. The collection includes vibrant bright nail lacquers in Wellies, Pimms, Cake Hole, Silly Billy and Giddy Kipper that can add a much-needed pop of color to any look. Ready to rock out in white? Sport a trendy white-nail with Cotton Buds, which can also be used underneath nail art to punch up any color.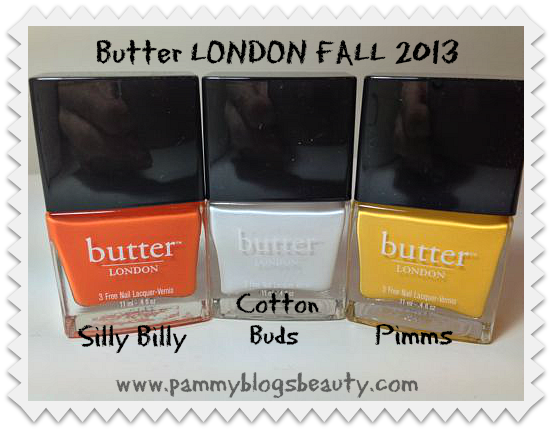 Candy Corn Mani??? ;)
I tried out an assortment of polishes from this gorgeous collection. I had to lol a bit when I opened up my package as the assortment that I got totally reminded me of Candy Corn: Silly Billy (orange), Cotton Buds (white), and Pimms (yellow). No, I wouldn't wear them all together...but, really, these shades combined would make a fabulous Candy Corn manicure for Halloween this year!!! :)
All Candy Corn joking aside, these shades really are beautiful. They are all creme colors. Like all Butter LONDON polishes, I am very pleased with the application and wear of the lacquers. My favorite of the group is Cotton Buds as I am a perennial fan of white nail polish. I just find it so flattering!!! Plus, it is such a useful base shade under glitters. Currently, I love wearing Cotton Buds on my tips and Silly Billy on my toes. Such pretty shades!!!
The Skinny: