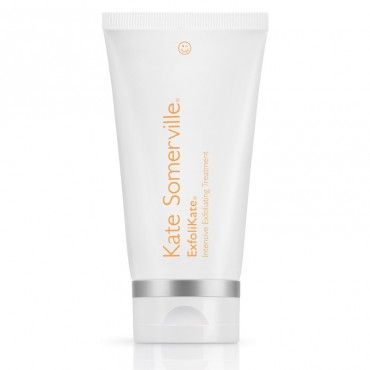 I am so excited about this review! Is there ever a buzzed about product that you are just dying to try for so long that you finally try and it exceeds your extremely high expectations? Well, that was exactly what happened to me when I tried
ExfoliKate by Kate Somerville
!!! lol, I am sure that was an overly verbose way of saying that ;) I know, I tend to get wordy. I have literally wanted to try this brand for so long! So, I was just thrilled when the brand reached out to me.
There is just nothing like a facial to get your skin looking good! However, going to a spa is expensive! So, I do facial treatments at home. :) Actually, one of my New Year's resolutions is to carve out some personal time for myself for some self-pampering. Weekly home facials are part of that goal!
Are you in need of some beauty-pampering, too? Or are you just tired after a big night? Here are some
Skincare Tips
and Suggestions for how to "Fake a Good Night's Sleep" and get great skin:
Need a perk up? Get a 2-minute facial by using ExfoliKate with natural fruit enzymes and Microbeads.
Have a blemish? Ice it! Use an ice cube wrapped in a paper towel. Just hold it to the area for a few minutes. The cold ice will bring down any swelling.
Are your eyes tired? Use the good old spoon trick. Just pop two spoons in the fridge for a few minutes. Hold over your eyes to de-puff. Another trick? Use the cold spoon as a spatula to apply your eye cream!
Uh-oh! Did you drink too much, lol...it happens! ;) Drink a ton of water! Hydration is key with a hangover. Cranberry, lemon juice, and green tea in water will help hydrate and cleanse while balancing your system.
Load up on organic and fresh foods whole foods like almonds, avocados, blueberries, melon, pomegranate, salmon, spinach, tomatoes, yogurt, whole grains, etc...A good diet will benefit your figure, brain, and skin!
There is no question that the Kate Somerville ExfoliKate is my new all-time favorite exfoliator. Do you want to hear more details?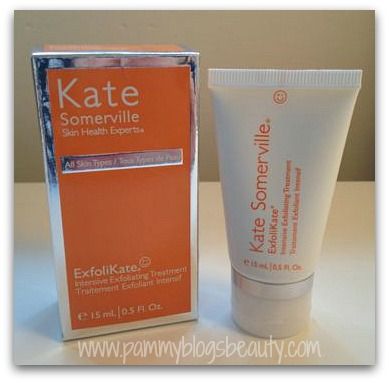 ExfoliKate Intensive Exfoliating Treatment:
This exfoliating facial treatment has made a tremendous impact with my complexion! It has instantly become a favorite product!!! This is skincare that *works*! The impact is immediate and long term: I saw immediate results and as I continue to use this on a weekly basis, my skin continues to improve! Wow!!!
More about ExfoliKate from the Kate Somerville site:
Salicylic Acid is designed to balance hydration, without over-drying.
Scrubbing Microbeads and the three powerful P's - Papaya, Pineapple, and Pumpkin Enzymes - are designed to effectively clean pores.
Rosewood and Cinnamon Extracts are combined in an effort to reduce the appearance of lines and wrinkles.
Aloe Vera, Honey, and Vitamin E smooth and soften skin.
The Impact of the Ingredients on my Skin:
Looking at the ingredients, I can see why this product works so well! It combines manual (scrubbing microbeads) and chemical exfoliation (Salicylic Acid: My skin loves this ingredient!) with enzymes (papaya, pineapple, and pumpkin).
This triumvirate of ingredients magically clears out pores and refines the texture and appearance of skin: my skin just looks so "fresh"! Plus, the texture of my skin? OMG! So soft!!! It is literally a pleasure to apply lotion to my skin after using this treatment. I feel like my skin is better able to drink in my moisturizers and serums as it is free of debris and pore cloggers. Those active ingredients in my serums and moisturizers are able to absorb better and work better. Great exfoliation really is the key! This exfoliator really is magic in a tube!
Besides the result of incredibly smooth skin, my skin also seems to be more even toned after continual use of this product. My skin tone just seems more even and my complexion is more clear. Granted, I am not one that breaks out often. However, when I started testing out this product, I had a few blemishes on my chin. These blemishes seemed to heal and clear more quickly than usual. My skin seems more plump and my fine lines look diminished. I wonder if this is because my lotions and serums are able to absorb and work more effectively with the enhanced exfoliation from ExfoliKate? I am completely in love with this product!!!
Does it work for Sensitive Skin?
I was a little "scared" when I initially tested this product. After reading through all of the literature in the box like the good little beauty-blogger that I am, I was really worried that this product might irritate my sensitive skin. The packaging actually stresses to only leave the product on for 30 seconds-2 minutes. Also, it states that you might have a temporary increase in redness for up to 20 minutes after your facial. So, I proceeded to test this item very cautiously. The last thing that I want is more redness in my skin or painful irritation. Believe me, that has happened before during the testing of other products (especially exfoliating products!).
How I use:
I started out by using this product only for 30 seconds. Each subsequent time I tested this product, I increased the time I allowed this product to be on my skin. Slowly I worked up to a full 2 minutes with absolutely no problems. I only use a small pea-size amount. You apply the product to wet and clean skin after washing your face. After gently massaging the ExfoliKate in circular motions for desired amount of time, I simply rinse off and follow with a serum and moisturizer. There is only a *very* slight temporary increase in redness when I use this product (like literally just a few minutes). I experience absolutely no pain nor any other irritation while using this product. Actually, I find that this product feels incredibly good on the skin. I enjoy the feeling of the exfoliating particles and it just feels like a mini massage for your face!
The Skinny:
The product itself is a green scrubby paste. The density of exfoliating particles feels like a microderm cream.
Comes in 3 sizes: .5 oz for $19, 2 oz for $85, and 5 oz for $175. Yes, this product is extremely expensive. I almost wish that I didn't love it so much, lol! However, the results are *completely* worth the price! Plus, you only need a small amount. So, even the small .5 oz size should last you quite awhile.
I totally love this product!!! I highly recommend it. Also, I award it my PBB "Stamp of Approval" that I save for only my very favorite products!!!
If you have been thinking about trying this product, then you absolutely must! It is well worth the hype and likely won't disappoint! :)
Check out some of my favorites from Kate Somerville!