I am so excited about this
new natural skincare line from Paula's Coice: Earth Sourced
!
For those of you that don't know Paula "The Cosmetics Cop" or the Paula's Choice brand, let me introduce you! Paula Begoun is one of the main inspirations for why I started getting into reading product reviews and writing them myself! I stumbled across her amazing book "Don't Go to the Cosmetics Counter Without Me" over 10 years ago. The book is a reference volume of 100s of cosmetics and skincare product reviews by brand. I instantly became hooked on reading product reviews before buying. The reviews are written based on the product formulations. So, the products are evaluated based on the integrity of the ingredients (rather than personal reviews).
I feel like I owe a lot to Paula as she was such an inspiration to me! I have always loved testing out and trying products. My search of product reviews led me to Makeup Alley where I read and contributed to the product reviews in the MUA database. I also discovered many great product review blogs, such as 15 Minute Beauty Fanatic, where I would read product reviews on a daily basis. After years of reading reviews, I finally decided to start my own blog to publish all my product reviews in one place! I am so happy that I have found an audience and I just love my readers!!!
Not only does Paula Begoun have a fabulous beauty product reference book, but also she has an amazing skincare and makeup line: Paula's Choice. Her products used to be staple items for me years ago. I found her skincare to be very effective while not irritating my sensitive skin! I still like her products. However, I had not used them in awhile. I do so much product testing (especially with writing this blog), that I switch up my skincare frequently. So, I was absolutely thrilled when Paula's Choice contacted me about her new Earth Sourced Skincare line!
The Earth Sourced Line:
The Earth Sourced Line is a natural skincare line with 98% plant-based ingredients. The line is suitable for normal, combination, or dry skin types. Earth Sourced products contain no synthetic compounds. Paula strives to pick the best ingredients based on skincare research. According to the website, Earth Sourced products can help to repair wrinkles, reduce environmental skin damage, and diminish signs of aging. Have you used natural products in the past that irritated your skin? I sure have. Well, Paula's Choice knows to keep natural ingredients out that are known skin irritants like cinnamon, peppermint, and citruses. The natural ingredients in Earth Sourced products are both gentle and effective! These products contain no dyes nor fragrances. The line is really a great option for sensitive skin!
For this review, I tried out the Earth Sourced Cleansing Gel, Refreshing Toner, and Antioxidant Enriched Natural Moisturizer. To find out how I liked these products, please keep reading!
My Skin Background:
Before jumping into my review, here is a little bit of background info on my skin type and concerns. I know it always helps me to read a product review when I know what type of skin the reviewer has. :) My skin is typical combo skin. It is normal-oily in the warmer months and normal-dry when it gets colder. So, I deal with everything from dry patches to an oily t-zone. My skin is also extremely sensitive and prone to redness (depending on the products that I use). I rarely breakout. However, when I do, it is almost always on my chin and sometimes around my nose area. No major wrinkles yet. However, I do have some fine lines cropping up around my eye area. Since I am in my late 30s, I am interested in products with good anti-aging ingredients. My most major skincare concern? My super dark under-eye circles (from hereditary, lack of sleep-I have a baby girl, and allergies).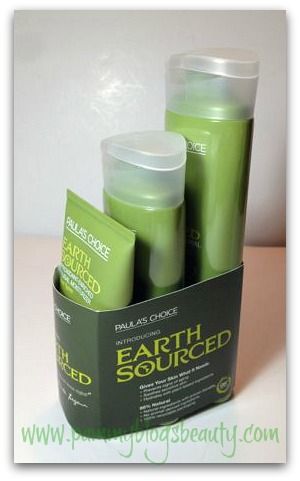 Paula's Choice Earth Sourced Line:
I must say, I am really happy to find a natural and plant-based line that does not irritate my skin! It really perplexes me when I see that natural skincare lines include irritating botanicals. They do it so frequently that I often find myself turning down Natural Skincare line reviews based on my preliminary research which reveals said ingredients. It is no surprise to me that Paula left out these ingredients as it was reading her book, "Don't Go to the Cosmetics Counter Without Me", years ago that taught me to avoid such things!
Earth Sourced Perfectly Natural Cleansing Gel:
This cleanser is such a stand-out product! It is easily my favorite product from this line. It is a clear non-scented gel cleanser. This cleanser works extremely well! It removes all of the dirt and makeup from my skin without irritating nor over-drying. Actually, this cleanser is quite soothing!
This cleanser creates a bit of lather and it is clean-rinsing. My skin does not feel tight nor dry after I rinse this cleanser. It just feels smooth, comfortable, and clean. I follow this cleanser up with the Earth Sourced Toner and Moisturizer.
This cleanser is packaged in a tall 6.7 fl oz bottle. The cap flips up and you squeeze out the product. You really only need a small amount of this cleanser as it is quite concentrated. So, this bottle should last a long time!
The website even states that it is gentle enough for babies too! So, I tried it on my baby and I agree! Plus, I feel good about using a natural cleanser on my baby girl.
This is a great basic cleanser! I would recommend it to anyone looking for a great non-irritating gel based cleanser. I really like it and will continue to use it!
Retails for $16.95
Earth Sourced Purely Natural Refreshing Toner:
This is not your "typical" toner. This toner is really more of a light moisturizing gel. The consistency is a thin and somewhat slippery gel. If you are expecting a lightweight or refreshing water-consistency toner, this might not be the toner for you. However, if you think of this toner as more of a lightweight gel moisturizer, then you might just love it! Once I started thinking of it in this way, I liked it a lot better!
After I wash my face with the Earth Sourced Cleanser, I put a bit of this toner onto a cotton pad and smooth it over my face. Often this is the only moisturizer that I need (it has been a warm winter here in GA. So, my skin is currently in combo-oily mode).
The product is packaged in a 5 oz flip top bottle. While I wish it was in a pump, the packaging is functional.
This toner is extremely gentle on the skin. I find that it hydrates my skin well. Plus, the antioxidants really are soothing to the skin.
While I generally prefer a thinner toner, I did enjoy using this product. I just think of it as more of a lightweight gel moisturizer than a "toner".
Retails for $16.95
Earth Sourced Antioxidant-Enriched Natural Moisturizer:
This moisturizer has an antioxidant-rich formula with ingredients to stimulate collagen production. It is a rich lotion; yet, it is totally non-greasy. Like all of the Earth Sourced products, it is not scented and very gentle on your skin. It did not cause any irritation nor breakouts in my skin. You only need a small amount of this moisturizer for your whole face. So, this tube is a great value and should last a very long time.
While the ingredients are great and the product is very gentle, I was not personally a huge fan of the texture or finish of the product. I found that the product felt somewhat "tacky" on my skin. Also, it gave the sensation that the product was sitting on top of my skin and not absorbing. However, that is just me! I see that the moisturizer gets good reviews on the Paula's Choice site. The great thing is that you can request samples from Paula's Choice. So, you can try it out before purchasing a full sized. If the texture is not an issue for you, then you might love this moisturizer as it is packed with fabulous antioxidants.
Retails for $20.95 for a 2 oz tube.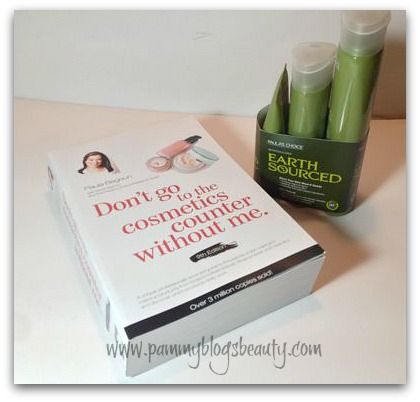 Don't Go to the Cosmetics Counter Without Me: You must get this book!
This is just one of those books that I think that everyone should have! This reference-style book is a must have for any product lover or anyone that just wants to do their research before buying. This book can help you shop wisely and be a smarter consumer. It debunks beauty myths and really teaches you about what works for your skin type and what ingredients to look for.
This product and cosmetics brand review book is currently in its 9th edition and it retails for $19.95. As I mentioned earlier in this post, this book really got me started with my love of product research! You will learn so much from this great book!
Don't Go to the Cosmetics Counter Without Me, 9th Edition features reviews from the brands women ask us about most. Throughout this book you'll find reliable information you won't find in any other book about cosmetics, wrinkles, or acne including:
How to get the best products for your skin type and concerns
How to shop smarter so you'll find products that work and save money
Which products really fight wrinkles and dark spots based on facts, not fantasy
Which products control acne and blackheads for clearer, radiant skin
Surprising facts the cosmetics industry at large doesn't want you to know
If you are looking for gentle and natural skincare, be sure to scope out Paula's new Earth Sourced Skincare line! I especially recommend the cleanser! I really love it and think it is suitable for all skin types. Paula's Choice has some other great products too like the 2% BHA. It has been awhile since I have last used it. However, I was a fan for many years!
Thanks so much for reading!
XOXO!!!