The Spring 2013 Collection:
Bio-Performance Super Eye Corrective Eye Cream ($60): Inspired by the plumping-from-within effect of hyaluronic acid injections in the skin, the formula in this new eye cream builds elasticity in all three layers of skin to lift, diminish wrinkles, and reduce dark circles with noticeable results in just one day
Perfect Hydrating BB Cream ($33): Multifunctional with an advanced antioxidant formulation to provide the most effective and luxurious coverage available in one easy step.
Perfect Rouge ($25): 11 NEW shades and 9 re-formulated best-sellers of this luxurious creamy formula, now includes Hyaluronic Acid to provide long-lasting moisture and are beautifully packaged to represent the brand's Japanese heritage
Perfect Rouge Tender Sheer ($25): 6 NEW shades provide a gentle wash of color in one coat with the words "Tokyo Ginza" in an embossed band around the bottom of the lipstick for an element of surprise
Lacquer Rouge ($25): 4 NEW shades join the unique liquid lip colors launched in Fall 2012, inspired by 9,000 year-old lacquer artistry with deep pigments a wet-look finish
Luminizing Satin Eye Color Trio ($33): 2 NEW shade palettes that were inspired by beach grass near an old island fort in South Carolina and sand dunes in the setting sun
Luminizing Satin Face Color ($30): 2 NEW shades that deliver radiant, healthy-looking skin, from naturally fresh and sun-kissed to illuminated with delicate radiance
Urban Environment Tinted UV Protector SPF43 ($30): Launching in March! A sheer, oil-free, tinted formula that combines anti-oxidative and moisturizing effects to defend skin against UV rays and environmental aggressors while providing flawless coverage
White Lucent Power Brightening Mask ($68 for 6 masks): Launching in March! A mask that works in two steps by powerfully embedding Shiseido's exclusive brightening ingredient and removing excess pigment for immediate brightening results
I tested out the Satin Color Trio
and the
Luminizing Face Color from this collection. Keep reading for more details about these beautiful makeup items!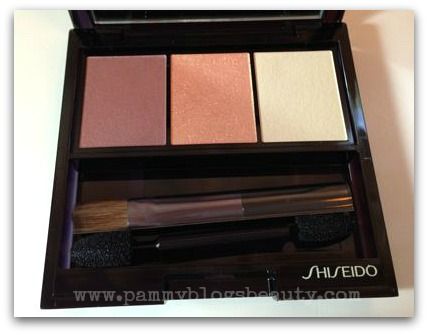 I am so excited about these gorgeous makeup items from the NEW Shiseido Spring Collection 2013!
Satin Color Eye Shadow Trio in RD299
:
What a lovely shade assortment! This color combination somehow reminds me of a sunset on the beach. The shades are so beautiful! Colorful yet wearable and natural. So often I get "stuck in a rut" with wearing neutral shadows. These are *just colorful enough* to be fun; yet, also subtle enough to be everyday wearable. This is currently my fave combo for my eyes!
This trio contains 3 shadows: a deep shimmery brownish plum, an peach gold shimmer, and a soft golden vanilla. Even though these shadows lean towards warm, I find them to be very wearable with my neutral-cool coloring. Actually, I think that the warm tones really bring out my blue eyes!
The shadows themselves have an amazing buttery texture. The shadows are highly pigmented. They apply and blend like a total dream! I get amazingly long wear as well. These shadows last all day with no problem!
Here is my go-to Look with this beautiful Satin Color Trio: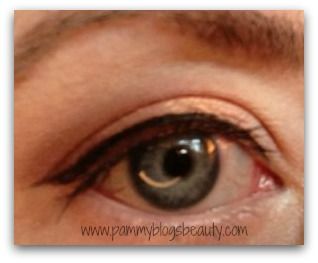 Luminizing Satin Face Color in OR308:
As many of you know, my weakness when it comes to makeup is blush! Nothing beats a great blush color for perking up your face and pulling your entire look together.

This gorgeous blush from Shiseido's new Spring 2013 Collection is exactly the type of soft peach blush that I love to wear. It has very subtle shimmer. It provides the perfect pop of soft peach for my fair skin. Totally lovely! It has quickly become one of my go-to blushes.

What do you have your eye on from this Spring Collection?
Thanks for reading! XOXO!!!