Is your wardrobe ready for Spring? I am just starting to get my closet in gear for the Spring season! :) This time of year I always spend time sorting through items that need to go and adding new pieces to my collection. I can't wait to share the press samples that
JustFab
sent me for my March 2013 Selections!
What am I into this Spring???
Mint Green
!!! Look no further than my newly re-done blog logo and blog design color accents to see that mint green is my "thing" right now! As soon as my Pammy graphic was designed wearing mint jeans, I just knew that I had to find some to wear for real! Well, of course I was thrilled to find out that
JustFab
released some pearl-finish mint jeans for Spring 2013! Plus, I found a super cute handbag from
JustFab
with mint accents!
What is JustFab?
JustFab
is an online fashion site and styling service. They offer trendy and affordable shoes, handbags, jewelry, jeans, and accessories to subscribers (called VIP members). When you
sign up to become a VIP member
, you take a style quiz. Then
JustFab
pairs you with a stylist who creates a personalized online boutique for you to shop from. Everything on the site is $39.95!!! You will be charged a monthly fee (unless you elect to "skip a month" then you won't be charged) which gives you credit for one item. So, that is one monthly fee for one item (not an item plus an additional fee). Of course, you could always purchase more than one item a month. They seem to have a lot of 2 for/ $39.95 deals, too. So, you can almost always find a good sale!
JustFab
selections, I choose the
Signature Skinny Jeans in Min
t and the
Offshore bag in Mint
. I just adore both of these items!!! To see more pictures and hear more details, keep reading!
JustFab March Selections
:
The Signature Skinny Jean in Pearlescent Mint:
OMG! I really adore these jeans! This is my very first experience with
JustFab denim
and I am already hooked! I will fully admit to being a reformed designer jean junkie. After realizing that I spent way too much on jeans a few years back, I now only look for affordable jeans! The good news is that there are so many options out there for great fitting jeans at affordable prices. I am a complete convert!
I am extremely impressed with the quality and fit of
JustFab jeans
! So much so that I have already ordered another pair!!! The jeans seem to fit a bit big. I am usually either a 26 or 27 and I ended up being a 26. At first I ordered a 27 but I had to return them for a 26. The 26 fits pretty good. However, I might actually be a 25 (if I wanted to wear them tight). For now, I am going to stick with the 26 and wear them a bit looser. Ever since I had a baby last year, my size is hard to predict! I am still about 5 lbs away from my pre-baby weight (and who knows if that extra 5 lbs will ever come off). For reference, I am usually a size 0 or 2 depending on the brand.
The
Pearlescent Mint jeans
have a very pretty somewhat shimmery and satin/pearl-like glossy finish. The effect is *so pretty*! The rise on these jeans is just slightly higher than I am used to (and higher in the back than the front: Front Rise: 8 1/2, Back Rise: 13 1/2). They are still "low rise" but sit about an inch higher than what I am used to. I actually really like that the rise is higher! Especially since I am constantly bending over to pick up my baby girl. The jeans are super slim and fit amazingly well! Also, the leg openings feature bottom side zippers. The pockets on the back are well placed and have a somewhat slimming effect. The fabric is a mix of cotton, polyester, and spandex. I just adore these jeans! People always ask where I got them!
My Outfit of the Day: With JustFab Jeans and Handbag!
I love pairing them with a simple white top and a scarf. Pictured here: I am wearing a white tee and scarf from Old Navy and Oka-b flats. I feel very matchy-matchy with my JustFab Offshore handbag! The overall look feels very "pulled together" even though it is really just jeans and a tee-shirt! The pearlescent finish of the jeans really dresses them up a bit! Plus, the handbag really has an elegant feel.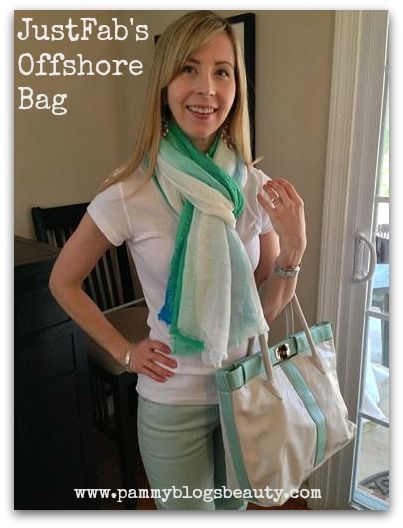 The Offshore Bag in Mint:
What a cute tote! This bag is a great way to pull in the mint-trend for Spring and Summer! I love pairing this bag with my mint jeans! It really dresses up the look. :) It is so refreshing to carry a white bag at the beginning of Spring! Especially since I carried dark purses all winter long! I use this bag as a purse/diaper bag combo. It is just large enough to carry around my things plus diapers and toys for my toddler. Plus, I love how expensive this handbag looks! No one would ever guess this is a $39.99 bag! The quality is super-duper nice!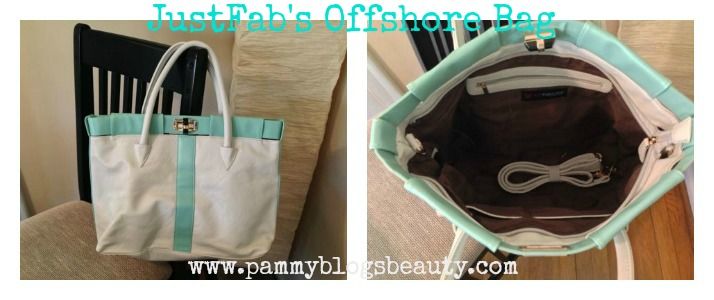 The Offshore bag is an off-white (a grayish white) with mint colored trim. The bag features a cute toggle closure at the top. The shoulder strap drop is 6 inches which is a comfortable drop to wear this bag from your shoulders. The inside features 2 side pockets and one zippered pocket. There is also a removable shoulder strap. I keep the shoulder strap stored inside the bag at all times. I find that I can hang this bag from my stroller when I attach the shoulder strap. Perfect! Also, I love the size of this bag! It is just "big enough" without being too big.
Have you had a chance to scope out
JustFab
yet? If not, I highly recommend them for handbags and shoes as well as cute denim! If you like fun and trendy fashion,
JustFab
is great! I love it that I can update my wardrobe without having to spend too much. Their prices (and sales) are really great!!!
Thanks so much for reading!
XOXO!!!