Affiliate Link
Press Sample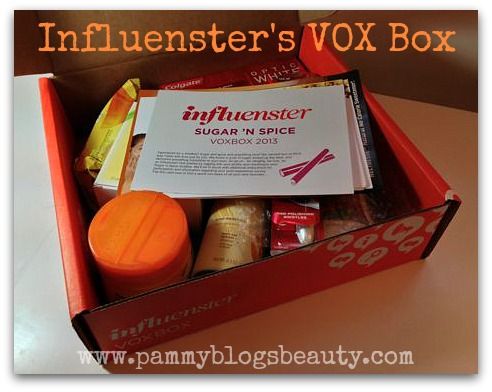 It is time for another
Influenster
Box Opening: The Sugar and Spice Vox Box 2013! These vox boxes are so fun! They are always packed with great new drugstore items!
What is Influenster?
If you are a blogger and you love trying out new products, then you should certainly scope out Influenster. Influenster is completely free for bloggers!
How it Works: Influenster sends out periodic Vox boxes across a variety of categories or "badges". Each box has a "theme" and they are packed with full-sized samples and some sample size items and coupons, too. You get selected based on your expert badges, lifestage badges, Influenster score, and demographics. These Vox boxes are filled with items and coupons for your particular category. The Vox Boxes are totally free! While Influenster seems to be sending out boxes across the blogosphere all the time, you will only get boxes that you qualify for. If you stay up to date on Influenster and participate, you will eventually get a box!
What do you do when you get a VoxBox? The idea is that each Influenster should qualify for boxes to match their interests. So, basically you just get to have fun and test out the items that you get! Influenster will send you a survey to fill out with your honest opinions. If you go above and beyond by blogging about your box, reviewing products on the Influenster site, and informing your social networks, you are more likely to get selected for future boxes. Plus, you can have the opportunity to qualify for specific brand challenges from your box as well. This has worked out really well for me! Usually the boxes indeed do have items that I have fun trying out (and therefore love to blog and tweet about).
So, lets take a peek inside this new Influenster "Sugar and Spice" Vox Box!
Inside the Box: Box Opening and First Impressions:
Vaseline Spray and Go Moisturizer ($7.99 for 6.5 oz can): What a cool idea! It is a *spray* moisturizer! I am always trying to save time in my "getting ready" routine. Spraying on my moisturizer sure does sound much faster! Plus, this spray lotion absorbs super fast. So, less "dry time" before putting on your clothes. I couldn't resist trying this one out right away! The spray has a nice fine mist and it is actually really fun to apply. I am going to just love using this right after my morning showers. Plus, I have always enjoyed moisturizers from Vaseline. This Spray & Go Moisturizer is from the Total Moisture line. It is totally non-greasy and it smells amazing!
Nectresse 100% Natural Sweetener ($6.99 for 5.9 oz container or $3.99 for a box of 40 packets): This looks interesting! I honestly have not seen this yet. See, this is exactly why I love getting Vox Boxes...introduction to new products! Recently, I gave up artificial sweeteners. However, I am interested in exploring natural sweeteners. This sweetener is from the maker of Splenda and is a monk fruit-based sweetener. Apparently it is even sweeter than sugar! The conversion: 1/4 tsp Nectresse = 1 tsp sugar. I can't wait to try this!!!
Dickinson's Original Witch Hazel Oil Controling Towelettes ($5.99 for a 20-count box): Like the name states, these are individually wrapped witch hazel towelettes. While I don't use witch hazel often, I always have a bottle of Dickinson's Witch Hazel on hand in my house. These towelettes will be great for on-the go freshening! I am going to go ahead and toss a couple of these each into my purse, diaper bag, and gym bag.
Colgate Optic White Regimen (Toothpaste $2.99 for 4 oz tube, Mouthwash $2.99 for 8 oz bottle, and Toothbrush $2.99 per brush): I am so excited to see Colgate products in this Vox Box!!! I always go for whitening dental products and Colgate is one of my go-to brands. This system promises whiter teeth in just five days. Can't wait to use all of these!
belVita Breakfast Biscuits ($3.69 for a box of 5 packets): I am very excited to see this little sample of belVita Breakfast Biscuits! I am excited because I always see these at the grocery store and wonder about them. Basically, these look like a healthy "morning" cookie. These should be great when you are running out the door and literally don't have time for breakfast or for that mid-morning snack. Ever since I studied abroad in England many years ago, I have been a fan of "biscuit" style cookies! :)
Plus: Coupons from Dickenson's and an info booklet with recipes from Nectresse (must make those pumpkin pancakes!)
What a great Vox Box! It is full of interesting new products that I will enjoy trying out! Is there anything here in particular that you would like to see me review?
Thanks for reading!
XOXO!!!