It is that time again! Time for my monthly Julep Maven Nail Subscription Box Opening!!!
As ya'll know, I just love my Julep Maven subscription! I am a bit of a nail polish lover (read: fanatic, lol!). To me, there is simply no better way to bring color into your look than a great polish! I almost view nail color as an accessory. You can vary your look or just display your own individuality with your nail color selection.
I am always excited about the arrival of my Julep Maven box! Even though I know what I am getting ahead of time (because with Julep, you can select your exact box), there is still great anticipation! Plus, they always throw in nice extras and surprises.
How does the Julep Maven Nail Polish subscription work?
The
Julep Maven program is a Monthly Beauty Box subscription
. In the vast sea of beauty sample subscriptions, this one really stands out! It is a beauty subscription for nail polish lovers! Plus, you get to select which box you want each month!!! When you sign up for Julep, you take a style quiz. Then, Julep matches you with a Style Category. For the Monthly Box, Julep pre-selects a box for you based on your beauty style profile. You get an email with a graphic (see the picture below) representing your box. My style on Julep is "Boho Glam". If I do not want the box for your particular style category, you can easily switch to one of their other boxes. This month I choose "American Beauty". It is always hard to pick as all of the boxes appealed to me.
Another good thing? With Julep, you can skip a month! If you can't find a box that you like or if you just don't feel like spending the $20.00 for a particular month, then you can simply opt to skip a month.
Subscriptions are $20.00 per month (but remember you can skip a month if you need to).
You get to choose your box! They have a great assortment every month.
Each box contains 2 full-sized Julep Nail Polishes plus one Julep Spa full sized product. Also, there is always one box that has 3-full sized Nail Polishes and no spa product. I have literally loved every spa product that I have gotten! Seriously, I have found some favorites at Julep!
Box Value: The value of the box far exceeds the $20.00 cost! The nail polish normally retails for $15.00 a bottle and the product prices range from $14.00-$38.00.
You can earn credits for referrals! Julep has recently re-vamped their rewards system and website. So, I am just learning how the new system will work for rewards. Here is how you earn "Jules": You earn 1,000 Jules for referring a friend to Julep Maven, 300 Jules for each full priced Maven box you are billed for, 200 Jules on your Birthday, 500 Jules on your Maven anniversary, 750 Jules when you pay for the monthly upgrade box. You even get 100 points just for becoming a Maven. As you can see, there are many ways to earn! Note: Current Julep Mavens: Your referral link has changed! So, be sure to log into your account to grab your new referral link to use. :) Here is how you redeem your Jules: You can redeem 2,000 Jules on Maven boxes, 750 Jules on nail color add-ons, and 5,000 Jules on Upgrades.
This month the boxes are festive for the Holidays with lots of gorgeous glitter polish! To find out what I got in my December Julep Maven American Beauty Box, please keep reading!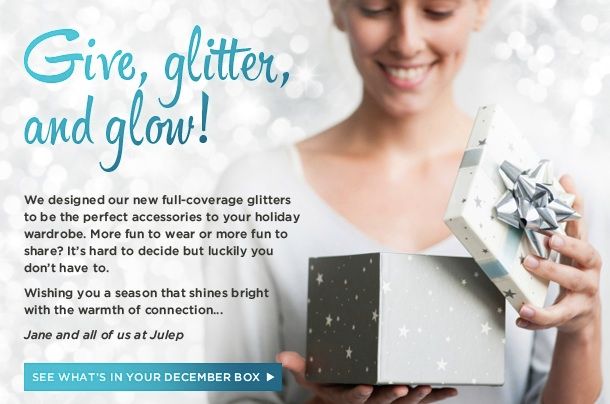 original photo

s

from Julep
Glitter and Go: Julep Maven "American Beauty:
This month's Holiday theme "Glitter and Go" features festive polishes from Julep's new glitter collection. Let me tell ya'll, these polishes are just gorgeous! I will fully admit to being a sucker for a great glitter polish. Julep really wow'ed me this month with two beautiful and unique glitters! Even with all of the glitter polishes that I already own, I didn't have anything quite like the two that I got in this box.
The Packaging:
As always, the Julep box came well-packaged. The tissue has cute snowflakes and goes with the Holiday theme. Plus, they threw in a little peppermint. You know, those little touches really do make a difference and make the box seem more "special". Plus, I must note that the box contents are always nestled in shredded paper and the polishes double wrapped with bubble wrap and a paper bag. I have never had a single item ever arrive broken! Well done Julep with the packaging!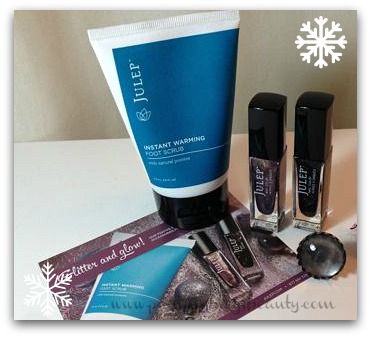 Inside the Box:
The box contains 3 Full sized items plus an adorable little extra "present"!
Nail Color in Patti (Full sized Polish: Value: $14.00): Full-coverage black multi-dimensional glitter. Now this is the way that I like to wear black: a full-coverage glitter! You get dense black microfine glitter with larger chunks of silver glitter embedded in a sheer black polish base. The overall effect is completely black and glittery. LOVE!
Nail Color in Julia (Full Sized Polish: Value: $14.00): Purple orchid with golden micro-glitter metallic Purple orchid with golden micro-glitter metallic. This polish is soooo pretty! The purple is about medium in intensity. However, the gold micro glitter is so sparkly that it gives a mega flash of gold. It looks like a different color every time the light hits it or you move it. A very complex color!!! Gorgeous sparkle! This color is just so "me"! :)
Instant Warming Foot Scrub (Full sized, Value $22.00): This scrub has the same lovely cucumber mint scent as their foot cream. This scrub contains pumice, chili pepper oil, and vitamin e to exfoliate and nourish your feet. I can't wait to do a home-spa pedicure and use this!
Extra: Cabochon Ring: OMG! How cute! I have never seen anything like this before! It is an adjustable size antiqued silverish metal ring with a removable clear stone. The idea here? You can customize the color of the stone by painting it with Julep polish. So cute!!! I can't wait to make it! I am such a fan of DIY stuff. So, this item is right up my alley and is a really cute extra for me! I wonder, can you keep changing the color of the ring? I bet you can just use remover and just paint it again? The ring itself is actually pretty decent quality considering it is a "craft" type item. It came in a little velvet pouch. Cute!
There is no question that this month's Julep Maven American Beauty Box is an amazing value. You get $50 worth of products for $20! You really can't beat that! Plus, the polishes are beautiful and the Julep products are always a treat to use. Another great box from Julep! If you haven't subscribed yet, I highly recommend this subscription service. Especially if you are a polish lover like me! :)
I think that the two polish shades that came in this box: Julia and Patty might just be my favorite Julep polish shades ever! Patti is for sure destined to be my favorite black (and certainly my fave black glitter)! :)
Thanks so much for reading!
XOXO!!!
referral links in post