Have you finished your Holiday Shopping yet? Me? I am up to the last minute here with my gift buying. If you are looking for a fabulous makeup gift for either a makeup enthusiast or any woman who loves luxury items, then this gorgeous
Glamour Wardrobe Dual Decker Palette for Eyes, Cheeks, and Lips by Laura Mercier
might be just what you are looking for!
The Glamour Wardrobe literally has it all! It has everything you need to create a complete look: Eyes, Cheeks, and Lips! I am pretty much in love with this kit. Every time I use it, I just feel like my makeup ends up looking so polished and sophisticated.
To find out more about this beautiful palette and to see photos and swatches, please keep reading!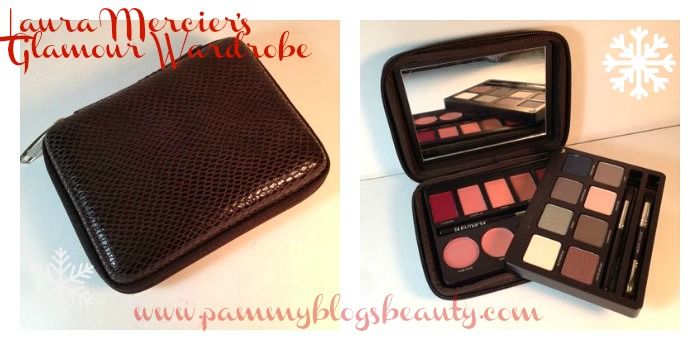 Palette Design:
Laura Mercier packed a ton of product into this extremely efficient and sleek design. The palette has a soft and somewhat leathery faux snake skin dark outer packaging. It fully zips open and shut. The products inside seem very well protected from the packaging. Therefore, this palette is ideal for travel! The palette opens up to reveal a full-sized mirror and the products. The products are organized in double layers. The palettes are attached at a top corner hinge. The top eye palette slides open to reveal the cheek and lip colors beneath. The design is very functional.
Inside the Palette: 8 Eye Shadows, 5 Lip Glazes, 4 Sheer Creme Cheek Colours, and 3 mini brushes.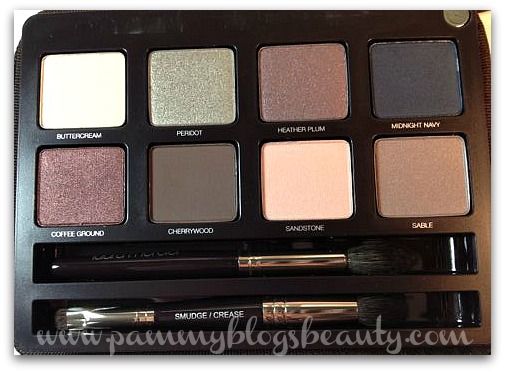 Eye Shadows:
If you have never experienced Laura Mercier eye shadows, they are absolutely amazing! They are nicely pigmented and have a lovely texture. The shade assortment in this palette has so much variety! You have everything from light shades to darks from semi-matte to a shimmer/sparkle finish. You can create both subtle and smokey looks with this collection of shadows. Actually, the shade assortment reminds me somewhat of my beloved Smoked Eye Shadow palette from Urban Decay (except that I like the assortment in this Laura Mercier palette *better*!). The Heather Plum and the Sable colors are my new faves for my crease color! These shadows are so easy to wear.
*Limited Edition* Shades: Buttercream, Peridot, Heather Plum, Midnight Navy, Coffee Ground, Cherrywood, Sandstone, and Sable
The Eye Shadow brushes are actually really nice, soft, and usable!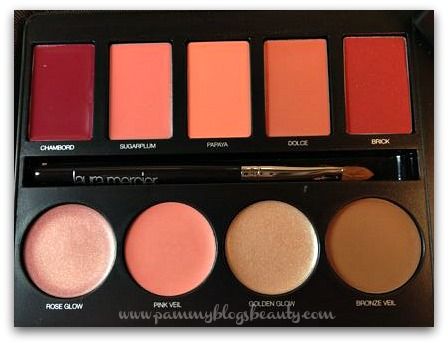 The Lip Glazes:
The palette contains 5 Lip Glazes. They are incredibly creamy and they pack beautiful shine. Plus, you get a nice variety of shades: from a deep brick red to peach, pink, and neutral shades. The finish is glossy and creamy with no shimmer. I find Laura Mercier Lip Glazes to be a bit on the sheer side. Also, these glazes are incredibly moisturizing!
Shades: Chambord, Sugarplum, Papaya, Dolce, and Brick. My faves are Sugarplum and Papaya.
The Sheer Creme Cheek Colours:
I love the texture of these! You get a beautiful shimmery blush, a non-shimmer blush, a pearly highlighter, and a bronzer! I am pretty "new" to cream bronzers and found this one (bronze veil) to be easy to work with. The shimmer on the highlighter is absolutely amazing! Gorgeous!!!
Shades: Rose Glow (shimmery rosey pink blush), Pink Veil (medium creamy pink), Golden Glow (luminous Champagne Shimmer), Bronze Veil (light brown/no shimmer).
This palette retails for $98.00 (with $256.00 worth of products inside!). Yes, this is a very high price for a makeup palette. However, when you look at the value considering the typical cost of Laura Mercier cosmetics, you can see that it is actually a very good value.
This palette is absolutely gorgeous! Weather you are looking for a last minute gift, or just a luxury treat for yourself, this decadent palette is just fabulous! It is certainly a palette that you can use every single day as well as for travel. It is so sleek that it can fit right into your handbag if you need to do your makeup on-the-go. Also, you can easily take your look from day to night with this one kit!
What a gorgeous palette! I am in love!
XOXO!!!