Can you believe that it is almost Christmas? The time sure does fly! This post is the last of my Holiday 2012 Gift Guide Posts. If you are still looking for makeup gifts, you still have time to shop!
While this is the last post in my gift-guide series, I am still testing out a few Holiday Sets. However, those reviews will post after Christmas as I like to have a good amount of time to test out items before posting my reviews. So, stay tuned for those reviews in January! This has been an amazing year for fabulous Holiday releases!!!
Napoleon Perdis
outdid himself this year with his Holiday Collection! The collection was inspired by his love of owls:
"I've been acquiring owls for years now and have well over 500 in my collection
," confides Napoleon. "I've always been drawn to the owl which was such an important figure in Greek mythology, a symbol of protection, wisdom, and inspiration. I guess you could say it's become a personal mascot of sorts and so I wanted to pay tribute to the owl in my Holiday 2012 collection."
The collection consists of the Magical Brush Collection ($59), the Holiday Lip Gloss Collection ($29.00), the Eye Shine Duo ($35), and the Ultimate Nude Palette ($59). For this review, I tested out the Holiday Lip Gloss Collection and the Ultimate Nude Palette. To find out more about these amazing items, please keep reading.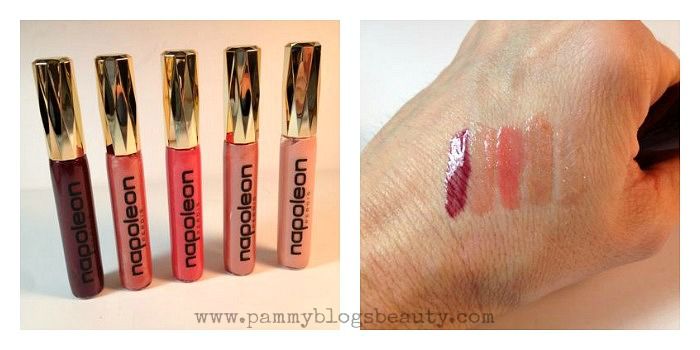 The Holiday Lip Gloss Collection:
Nothing beats a great lip gloss! I mean, what girl does not love lip gloss? If you are looking for an easy makeup gift or a stocking stuffer, this lip gloss collection is just perfect! I think that girls and women of all ages would love this assortment of lip glossses! The shades are universally flattering and the formula is amazing.
Unlike a lot of other lip gloss collections available for the Holiday, this collection from Napoleon Perdis features *full sized* glosses (5 x .40 fl oz each). So, you are getting an amazing value for the price!
Each gloss

contains

antioxidant vitamins like Green Tea and Pomegranate Extract and

nourishing ingredients

such as Beeswax and Sweet Almond Oil

to protect and

moisturize

the lips.
The glosses feature a wand style applicator with a brush for easy application.
The pink, light and dark nudes and peach shades give sheer pigment payoff while the shimmer shade tricks the light to add the illusion of volume.
The glosses have a slightly fruity scent. I like that these glosses are not at all sticky. They just feel soothing and moisturizing while on y

our lips.
The Skinny:
Retails for $39.00. Available at
Napoleon Perdis Concept Stores, NapoleonPerdis.com, Nordstrom, Ulta and Dillard's.
The Ultimate Nude Palette:
This is truly a unique palette! There is absolutely nothing else like this in my (cough) extensive makeup collection! There is such a simple beauty to this palette. Don't let my somewhat lackluster swatches dissuade you, the quiet beauty of these shadows just didn't translate in the swatches. These shadows are not about a wow-factor finish. This palette is designed to give you a flawless nude look: Meaning that this makeup makes *you* stand out not your makeup! This palette is all about creating definition and accentuating your bone structure using contrasts of light versus dark. You can contour your entire face with this kit! Doing so makes me feel like a makeup artist (and believe me, I do not have the amazing skills that MU Artists have!).
The Shadows and Powders:
This palette is comprised of entirely matte shades. Matte shadows and powders are often tricky. While many brands have nice shimmer shadows, often mattes can come off as chalky. It takes truly great formulation for a matte shadow to have a silky and non-powdery texture. Napoleon Perdis achieved some fabulous formulation here as these matte shadows and powders have a very soft and silky texture. They are just a dream to apply and blend.
This palette is
a

n expert edit of nude and neutral tones for eyes and cheeks. Consider it can't go wrong color; these so-wearable shades of eight eye shadows and four highlighting and contouring tones of blush blend easily, allowing you to build your makeup from a subtle neutral look through to a glamorous, on-trend evening statement.
The

Palette

Itself:
The Kit contains 8 eye shadows and 4 highlighting and contouring tones. The entire palette is clear acrylic and the inside features a small round mirror. The size of the palette is compact (about the size of the length of my hand). So, it is great to pack for travel! My only critique is that I wish the mirro

r was larger.
I honestly have

rarely

created and entirely matte looks (cheeks and eyes) before having this palette. I am completely won over with how naturally beautiful you can look using entirely matte shades! It is like a "you, but better" look. Now, you don't always have to go entirely matte. You can use this palette for your contouring and they you can apply a shimmery highlight or a pop of shimmery color elsewhere on

your face

.
Standout Shades from this Kit:
My favorites are the top upper left matte vanilla shade (for the browbone), the top left peachy blush (nothing beats a fabulous matte blush! Blush is an item that I almost always prefer in a matte shade), and the bottom right hand dark

taupe (absolutely beautiful in the crease).
I just love playing around with this amazing palette! I think it is a must-have for makeup lovers. I feel like it has really expanded my collection in a good way. As much makeup as I have, I d

id

seem to "lack" great products for contouring.
T
he Skinny:
Retails for $59.00.
Available at Napoleon Perdis Concept Stores, NapoleonPerdis.com, Nordstrom and Dillard's.
I really love the Holiday offerings from Napoleon Perdis! In the sea of nude palettes that seem to be available these days, the Ultimate Nude Palette really stands out as an amazing matte nude palette! Plus, the Gloss Collections is just so gift-worthy (be it for a friend or yourself!). Be sure to check out these great items while they are still available.
Thanks for reading!
XOXO!!!