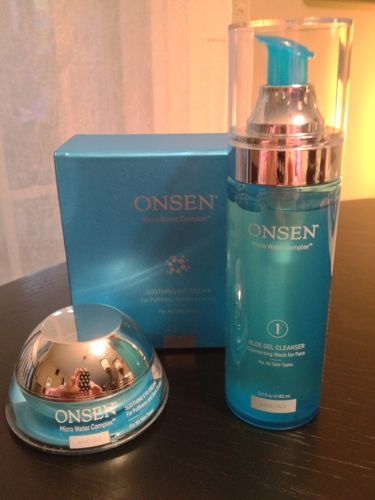 It is so exciting to explore a new skincare line! Sure, I love my old favorites but it is always fun to test out some new products.
What is Onsen?
Onsen
is a high-end skincare range. Their products feature a combination of natural ingredients and their patented
Micro Water Complex
. Onsen's Micro Water Complex uses waters derived from Japan's volcanic hot springs which is legendary for its healing properties for mind, body, and spirit. According to the Onsen website, their active water system somehow transforms water into an antioxidant to heal and protect your skin. I am not sure exactly how this transformation occurs but I am intrigued.
My Skin Background:
Before jumping into the review, I wanted to tell you a bit about my skin. I have combo skin which is combo-dry in the colder months and combo-oily in the warmer months. So, my skin's needs are all over the map depending on the time of year and the weather. I do not break out often. However, when I do, it is usually on my chin and only a minor breakout. I am in my late 30's. So, I am interested in anti-aging skincare and any skincare that does not irritate my very sensitive skin. Luckily, I do not have any major lines or wrinkles yet. Occasionally I see some fine lines crop up in my eye area when my skin is dehydrated. My biggest skin complaint? My very dark under eye circles. My dark circles are so dark that I literally look like I have black eyes. It is terrible! Also, my eyes can get puffy depending on my allergies and my diet. With my allergies, heredity, and sensitive skin, a good eye cream is a must!
The Onsen line has a nice variety of products in four categories: Basic Face, Basic Eye, Anti Aging, and Body. The products that I tested were from the Basic Face and the Basic Eye categories.
Discount Code!
In addition to my product reviews, this post will also contain a 20% off discount for you readers! So, keep reading to get the code. :)
Recently, I have been testing out some really nice skincare products from Onsen's Basic Face and Eye categories: The
Aloe Gel Cleanser
and the
Soothing Eye Cream
. To find out how I liked these products, please click to keep reading.
The Onsen Products "At-A-Glance": Price and Packaging
The Prices:
Across the board these products are incredibly expensive. While the Basic Face items are priced competitively from $40-$70, some of the anti-aging products and kits range from $250 up to around $1,000! OMG! That is a lot of money to spend on skincare. However, if you look at the prices that you might pay at the dermatologist's office for prescription skincare and treatments then I suppose it is somewhat comparable? Still, historically, I do not think that I have ever spent over $200 on a skincare item or system. With that said, there are certainly affordable options available with this line! The cleanser that I tested is $44.95 which is totally comparable to other high end and dermatologist office cleansers that I have tried. The eye cream that I tested is priced at $149.95 which is very expensive. However, the price is comparable to other luxury eye creams on the market.
The Packaging:
The packaging of this line is just beautiful! The light blue bottle color and the silver accents really go along with the "water" theme of the product line. The overall look is very sleek and modern. The containers are extremely sturdy. The cleanser bottle features a pump which dispenses the perfect amount of cleanser for one washing. The eye cream comes in a jar. I must admit, I do prefer my eye creams to come in pump containers. Oh well! The eye cream packaging is bulky which makes it a bit awkward for travel. Also, I found the jar to be a bit difficult to open because of the domed shape. When I closed the lid tight, I found it to be a little hard to twist open because of the angle.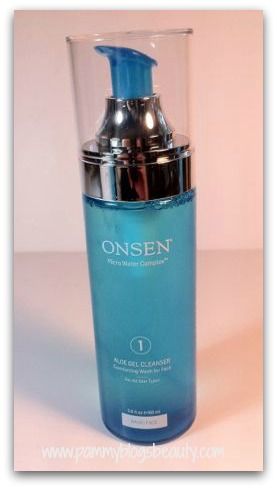 Onsen Aloe Gel Cleanser: Comforting Wash for Face
This is a clear alcohol-free gel-based cleanser from Onsen's Basic Face line. This product is formulated to work with normal skin. The cleanser has a refreshing and light "clean" scent. While I prefer my skincare products to be unscented, I do like the scent of this product and did not find that the scent was irritating. I use this cleanser twice a day in the mornings and evenings. One pump gives you just the right amount to cleanse your face. The product seems to be quite concentrated and this bottle will likely last me a long time! This is not a foaming cleanser. So, you are not going to get much foam with this product. I do not mind this as I know that foam is not essential for a cleanser to be effective. The product rinses clean and does not leave a residue behind nor does it leave you feeling tight nor dry. I really enjoy using this cleanser! Price $44.95 for 5.6 fl oz.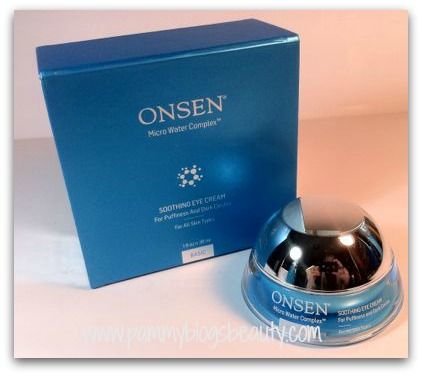 Soothing Eye Cream: For Puffiness and Dark Circles:
This eye cream is from Onsen's Basic Eye line. This is a mid-weight eye cream formulated for delicate eye skin. It targets both puffiness and dark circles as well as fine lines and uneven skin texture. I use this eye cream twice a day (mornings and evenings) after cleansing my face. The eye cream has a very light scent. The scent does not seem to irritate my eyes at all. I love the feel of this eye cream! It is thick and rich without being the least bit heavy. I would describe it as a mid-weight cream that is completely non greasy. It absorbs fast and feels immediately soothing to the eye area. It does not leave behind a greasy look nor feel. So, it is really the perfect base for under eye concealer. I find that I do not need an additional eye serum as this product smooths my eye area beautifully! It leaves my entire eye area very hydrated and smoothed. After using for a few weeks, I noticed improvements in my dark circles. The surface area of the skin appears to be a bit lightened. Granted my dark circles are super-duper dark. So, the improvement is minor but noticeable. I need all the help I can get in this area. So, I am pleased with the results with my dark circles! Also, the cream does help with depuffing and the cream does not irritate my eyes. I really adore this cream and love the results that I got! Price $149.95 for 1.0 oz.
Discount Code:
The folks at Onsen were kind enough to offer a 20% off discount code for my readers! These products are pricey. So, 20% off gives you a very nice discount! Use the code: beauty20
If you are looking for
anti aging skincare
, body products, or basic face items, be sure to check out Onsen! Sure, the Onsen line as a whole is expensive. However the cleanser that I tried out is totally affordable. Also, when you look at their eye cream, it's price is competitive with other high end eye creams. I know that I am excited to explore this line more in the future! I really like the items that I have tried so far and have had great results!
Thanks so much for reading!