Gift shopping for the guy in your life can be a challenge! I lucked out with the fact that my husband wears cologne and loves for me to pick it out. So, I end up getting him cologne almost every single year for Christmas. I tend to go for prepackaged gift sets because not only do you get more for your money, but also it just looks and seems like a bigger gift.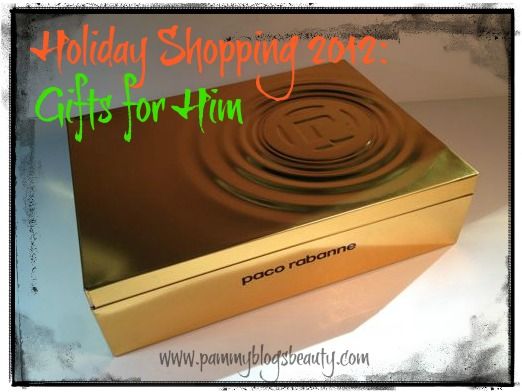 When I have a hard time picking out scents, I tend to go for best-sellers.
1 Millon
by
Paco Rabanne
was the world's best selling scent in the year 2011!
The Scent Description:
1 Million exudes the freshness of grapefruit, mint and blood mandarin; while the middle notes are composed of rose absolute, cinnamon and spicy notes. The scent is rounded out with leather, white wood, amber and Indonesian patchouli essence.
This
Holiday Gift
set from
Paco Rabanne
is just the type of set that I go for! It is a gorgeous and luxe looking set at a fabulous price point: only $78.00 for 3 full sized products. The set includes: 1 Million Eau de Toilette (3.4oz), 1 Million After Shave Lotion (3.4oz) and the 1 Million Deodorant Stick.
Erik's Impressions and My Thoughts:
My husband, Erik, tested out this scent and gift set already. The 1 Million scent immediately became a favorite! We both love it!!!
As the
1 Million
name implies, the scent just smells high-end. It makes me think of a powerful and confidant man. The scent actually reminds me a lot of the Dolce and Gabanna scent (or I think it was Dolce and Gabanna?) that Erik used to wear when we first started dating. He does currently have a bottle of the D&G for me to directly compare. Either way, the 1 Million smells amazing and carries a bit of a nostalgic twist for me since the scent is somehow familiar.
When my started testing the
1 Million
set, he first tried to layer the items. However, when he layers the items, he finds that the scent becomes a bit too strong. So, now he typically wears only one item at a time. The Deodorant caused a little bit of irritation and stinging in his underarm area. So, he might discontinue using that item but loves the rest of the set. This was the first time that he ever tired a cologne-based deodorant.
The One Million Eau de Toilette has become Erik's everyday cologne! He loves it and I love the way it makes him smell. Mmm!!!
This 1 Million Gift set just launched November 1st at
Macys
.