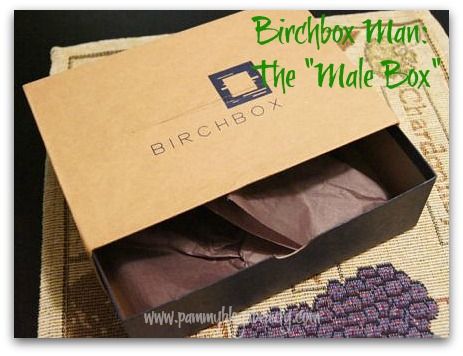 For the Man in your Life: Birchbox Man!
Hey
Birchbox
and beauty sample service lovers, did you know that Birchbox offers a product sample box for men? Yes, that is right! Men can get their grooming-fix with Birchbox Man!
The "Male Box"
:
Birchbox recently reached out to me to see if my Husband, Erik, wanted to check out Birchbox Man. While my husband is not as product obsessed as me, lol, he does like quality products that work. My Hub knows how much I love my Birchboxes. So, he was happy to give it a try. Plus, he came up with a new name...
The Male Box
! Seriously, Birchbox should consider renaming it, lol!
The Birchbox Man: The Skinny
Birchbox Man
is a monthly sample subscription for men! The sample boxes contain luxury grooming products and "lifestyle products" designed for men! Like the female version of the Birchbox, this box arrives monthly right to your doorstep for $20.00 per month. Yes, this is more than the female Birchbox price. However, the samples do seem larger. With this subscription, your Man also can earn rewards points for product feedback on the Birchbox site as well as have access to great content and advice on the Birchbox site!
For this post, we will unbox Birchbox Man! To find out how my husband liked his "Male box", please keep reading!
The Un-Boxing:
I have to give a little chuckle here. First of all, the day that the Birchbox Man arrived, my Hub was expecting his Apple TV delivery. So, he was so excited when he saw a box at the doorstep! He was like, "whoo-hoo, my Apple TV has arrived"...However, it was not his beloved and highly anticipated Apple TV, but his Birchbox Man box. LOL! Oh well, he was still happy to get a package! What can I say, men love their toys.
The Packaging:
Another chuckle...My Hub didn't realize that I wanted to take pictures of the box all wrapped up. He opened it and then discarded everything. I was able to fish the box out of the recycling bin to photgraph it; but, the tissue was long gone. Oh well! Just know that the box was wrapped extremely well: much like the woman's Birchbox (but in "man" colors!).
The box itself looks like a typical Birchbox; but, it opens differently! Instead of having a lid, the box part slides out like a drawer. I must admit, I have box envy! I wish the woman's Birchbox opened up like this! I can imagine that you could stack these and come up with a very nice system for organizing your Birchbox samples, or jewelry, or anything! Birchbox: Can you change the woman's box to one of these cool slide drawer boxes? Pretty please??? I am totally going to decoupage this box!!!
Birchbox Man Box
:
This box seems to have a bit of a "sports" theme according to the card. There are random facts about the history of Marathons. I find this interesting...guys seem to like sports trivia, right? I like how Birchbox lays out the info on the card. Each item has a "what" and "how" listed.
Right away I notice a difference between Birchbox Man and the female Birchbox: The samples in Birchbox Man are HUGE. They should be since this subscription is double the price.
Suds: Kerastase Homme | Bain Capital Force Anti-Oiliness (Full sized cost: $36.00, sample size 2.71 oz): Erik was really happy to get this shampoo! He said, "This is going right in my shaving kit for our next trip!" He was not familiar with the brand (but I told him it was good!). This shampoo smells good... "like a man".
Anthony Logistics for Men | Glycolic Facial Cleanser (Full sized cost: $36.00, sample size 1.2 fl oz): Erik is very excited about this sample too! Actually, this is the sample in the box that he was happiest to get. I always drag Erik into Sephora when we are at the Mall. Last time we were at Sephora he was browsing this brand and was intrigued by the products. Now he gets to try one through Birchbox! This is a gentle face wash with Glycolic Acid. It has a subtle and pleasant scent. My husband does not buy a ton of products; but, a good cleanser is one of those products that he does buy.
John Varvatos | Star U.S.A (Full sized cost: $55-$70.00, sample size: small glass vial): This sample is rather small considering the price of this subscription. However, my husband didn't seem to mind. I don't think that men get bombarded with these little glass vial samples like women do. Actually, he was thrilled to get this sample! He likes John Varvatos's fragrances and has worn some in the past. Erik is excited to use this! The scent has a blend of ginger, juniper berries, and vetiver.
RumbaTime | VanDamGO Watch (Full size: $35.00): Okay, Erik was sooooo perplexed by this item! He really didn't understand why it was in a box of product samples. What is it? Some sort of sports watch that you can log online. At first I thought that my husband should like this. He is an avid cyclist and spends many hours on his bike. But no, he is not happy with this sample. Even as an athletic guy, he has no use for this item. He expressed, "I would have much rather had more samples than this". Besides him not seeing the point in this item, it didn't even fit him and he did not like to look of it nor the color.
A Man's Opinion:
Erik found some hits and misses in his Birchbox Man Box. While he loved the products, he was completely baffled by the watch. He said he would have much rather seen more products than get a watch that he will not use. With that said, the products were a total hit with Erik! He will certainly use all of them! The watch kinda ruined the box for Erik. He said that if he paid for his Birchbox, the watch was not what he would have "signed up for" and if he "got a bunch of random items in a Birchbox subscription he might cancel". I am not sure, do all Birchbox Man boxes have random tech items? I think so since the description says it includes "lifestyle" items. My husband is picky when it comes to his tech items. He usually highly researches his purchases and has specific brands in mind. If your guy is less picky about these things, he might like these additional items like the watch.
Does your guy get
Birchbox Man
? I think that Birchbox Man could be a good option if you are looking to get the man in your life a gift.