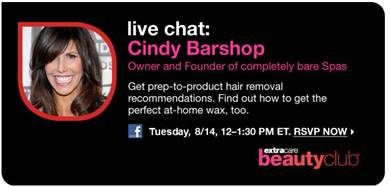 As ya'll may know, I love a good discount! Since I often find myself in CVS picking up random things, I always scope out their beauty deals with their
Beauty Club
.
CVS's Beauty Club
offers many great rewards for shoppers including great "Extra Bucks" deals like the Beauty Club spend $50, get $5 promotion.
Here are some fun upcoming
CVS Beauty Club Facebook Promotions
:
Tomorrow, Tuesday 8/14, CVS Beauty Club will be hosting a Live Chat on their Facebook wall with Beauty Board "Guest Expert" Cindy Barshop, the founder of Completely Bare and former Real Housewife of New York City. She'll be answering fan questions live and offering tips on how to beat your waxing woes! Join in on the fun from 12pm-1:30pm EST.
On Tuesday 8/21, CVS will be sharing an exclusive 20% off Beauty Shopping Pass on the CVS Beauty Club Facebook Page.
Be sure to visit
CVS's Facebook page
and their
twitter
for these deals and more!